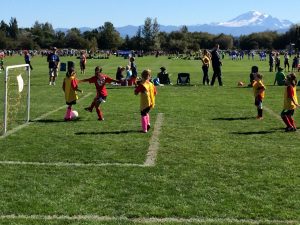 For the past 30 years Whatcom Sports and Recreation — in one form or another — has provided an affordable, safe, fun and healthy environment for community members of all ages to enjoy a wide range of recreational programs and activities.
From spectator sports to hands-on Learn to Play programs, Whatcom Sports and Recreation provides opportunities for budding athletes to find their footing and work their way up the ranks to play on teams like the Bellingham Blazers and Bellingham United F.C.
Learn more about Whatcom Sports and Recreation — including how to get involved in their many sporting events, programs and other activities — in the articles below.
Whatcom Sports & Recreation
1225 Civic Field Way
Bellingham, WA 98229
360-676-1919
www.whatcomsoccer.com and www.bellinghamsportsplex.com