Stepping onto the ice in skates for the first time can be exhilarating and scary all at the same moment. There is something special you feel when the cool air of the ice rink hits your face as your skates touch the ice for the very first time.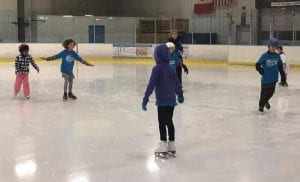 The Bellingham Sportsplex Learn to Skate and Learn to Play programs are set up to create a safe and fun environment for anyone of any age to learn to skate and play hockey. The Learn to Skate program has sessions available on Saturdays or Mondays and is open to ages three years and up including adults. New skaters will learn how to lace up skates and balance, as well as the basic skills of skating.
And if you have a future hockey player in the family, come see what Learn to Play has to offer budding skaters. Learn to Play is open to ages three years and up and is offered on Tuesdays and Thursdays. With volunteer coaches from the Blazers Hockey team, young skaters are sure to have fun while learning to skate on hockey skates and exploring the basics of the game.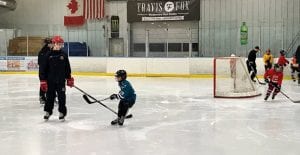 Both the Learn to Skate and Learn to Play programs include a free public session during the week to get in a little more ice time and practice. Each twelve-week session of Learn to Skate is $145 to $175 and includes skate rental. Learn to Play Hockey is $295 with a $55 rental for hockey gear for those that need it.
Still not quite sure if ice skating or hockey is for you? The Bellingham Sportsplex has now expanded public skate sessions and added price discounts during the week. Come to a public session and give skating a go before signing up for a Learn to Skate or Learn to Play program.
With all these great opportunities, what are you waiting for? Swing by the Bellingham Sportsplex and learn to skate or play hockey today!
Sponsored