Jensen Ferndale Floral is truly an icon in the Ferndale community. Owners Clary and Rosalie Jensen, both local Ferndale residents, have brought beautiful floral arrangements to the community throughout the generations. The florist shop opened in September of 1957, when Clary was just 19 years old. Jensen Ferndale Floral will celebrate 60 years in business this year. In addition, this year also marks their 20th anniversary as Ferndale Chamber members.
Clary and Rosalie Jensen have had the enormous pleasure of being a part of Ferndale throughout their entire lives. Both are graduates of Ferndale High School. After graduation they decided to stay in the community and build their family and business here together. They have seen births, weddings, anniversaries and deaths as they have provided the floral arrangements for each milestone in the lives of their many, many customers.
Now managed by Kerry, their daughter, Jensen Ferndale Floral continues to provide arrangements to the Ferndale community and beyond, just as they have for over 50 years. As a very long time Ferndale Chamber of Commerce member, Jensen Ferndale Floral is the only remaining locally owned florist in Ferndale. According to Kerry, the family feels strongly about giving back to the community that they feel has given so much to them.
Throughout the years, the Jensens have been heavily involved in the Old Settlers Days, the local Grand Parade (including helping with the floats) and even the local schools. Of course, as Ferndale Chamber of Commerce members, they have certainly been familiar faces around the chamber's events and meetings as well.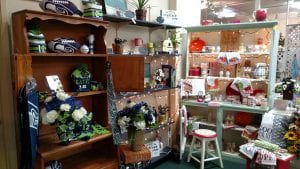 As Ferndale's true neighborhood florist, Jensen Ferndale Floral provides virtually anything you need when it comes to floral arrangements. For the last eighteen years, they have been in their current location on Vista Drive in Ferndale creating floral arrangements for weddings, friends, anniversaries, funerals and gifts.
Stop in and say hello to the Jensen family and experience this long-time locally owned business. They are still servicing the community, enjoying the people they meet and the connections they create.
Sponsored