---
Eight-in-ten U.S. adults get news on mobile devices either sometimes or often. *
---
Are you connecting with these readers?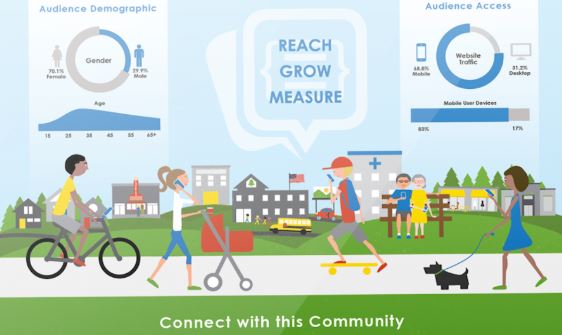 Reaching your local patrons using global tools can be overwhelming. Being "everywhere" online—but still being "local"—is a lot of work.
When you tell us your story, we are local, and we hear you. So will our readers.
We provide you an introduction to your local digital community by a trusted acquaintance, and professional storytelling by a respected third party.
Our promise to our audience:
Local stories by local writers | No paywall or subscription | Inspiring and informing
Our path to our audience:
We've established an extensive delivery network to find your community online. While we host stories and ensure delivery via social media such as Facebook and Twitter, we also enjoy viewership on news delivery services such as Google News and NewsBreak, and a high engagement to our stories on search platforms.
You don't need to figure out how to be all those places on your own.
All you need to do:
1. Meet with a local Talk Team member. 
2. Tell us about what you do.
3. Our team will introduce your brand to the local community.
Who are our readers? Decision makers. 
·         70% of our readers are female
·         Our average age is 25- 44
·         100% of our readers connect with us online
·         72% connect with use via mobile
Who are our readers? Active participants in your community
·         We can tell by inbound search terms these folks are doers.
·         They search events, how-tos, and love stories on the local businesses and culture they both enjoy and create by living here.
Let us connect you with your active community today.
---
What kinds of marketing initiatives do we support? Here's some things you can accomplish:
---
Content Marketing
Professionally written articles telling you and your customers' stories—articles of your choice that our local team will create, post, and distribute
Share Expertise
Establish your deep knowledge in a field with how-tos, behind-the-scenes pieces, or other helpful material—readers will remember and come to you
Association Branding
Is there another organization whose work you support (and whose audience is a great fit for you) that has great stories? Tell everyone their information is "brought to you by" . . . you!
Awareness Outreach
Place your logo on positive community stories, or have a banner ad "billboard" to stay in the public eye across a diverse mix of our audience
Reach out to your local Business Development specialist today, and let us handle the rest.
sales@whatcomtalk.com
*Pew research study, 11/2019