Every day at the Bellingham Sportsplex is different, particularly now with all the fun summer programs being offered. From Bocce Ball for seniors to ice skating camps, the Bellingham Sportsplex definitely has something for everyone. It is the perfect place to keep busy during the summer months.
One of the largest programs is the Sportsplex Youth Activity Camp, known as SYAC, which serves up to 40 kids ranging in age from approximately seven years old to 12 years old. The program runs Monday through Friday during the summer months. Kids arrive each day to an array of activities throughout the facility. "We are very creative in how we use our space," described Bellingham Sportsplex Front Desk Manager Alyssa Jackson.
SYAC also offers outdoor adventures such as trips to the park and nature walks. SYAC activities range from soccer and dodgeball to ice skating and swimming at the aquatic center. Kids can bring their lunch or the Sportsplex will provide it for an additional four dollars per day.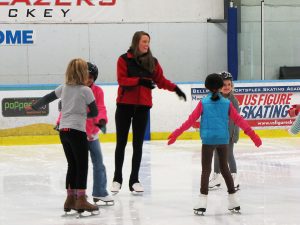 The Bellingham Sportsplex also offers several soccer camps in June, July and August and a six-week Learn to Skate program beginning July 10. A shorter, four-day all-skills skate camp will be held from August 14 through 17 from 10:00 a.m. to 1:00 p.m. with lunch available for purchase.  This great camp is open to anyone learning to lace up their skates to those learning to spin and jump.
Feel like a quick game of hockey or soccer?  You can do that at the Bellingham Sportsplex! With Drop-in Hockey and Drop-in Soccer for adults age 16 and older, anyone can grab a quick game. It is an easy and affordable source of exercise at only $4.50 for drop in soccer or $9.25 for drop in hockey.
For our avid soccer fans, summer brings Bellingham United games at Civic Field. Bellingham United is our local semi-pro soccer team which features the best in local talent and even players from abroad. Watching a game is a great way to spend a sunny Sunday afternoon!
The Bellingham Sportsplex is operated by Whatcom Sports & Recreation, a local not-for-profit that also operates and maintains Phillips 66 Soccer Park, along with operating Bellingham United FC semi-pro soccer squad and Bellingham Blazers Junior A Hockey Club. For the latest on activities at the Bellingham Sportsplex including dates, times and costs, check out their website and choose your activity! It is a great way to spend the summer!
Sponsored