Do you or your kids have an interest in learning to skate or play ice hockey? How about soccer? Bellingham Sportsplex offers a variety of learning academies for youth and adults. Put on by local non-profit organization Whatcom Sports and Recreation, these classes are both fun and educational. Participants can drop in for a single class or sign up for an entire multi-week course. Here's what to expect from each academy.
Learn to Skate Academy
The Skating Academy Basic Skills Program teaches ice skating on an NHL-size ice arena, right here in Bellingham.
"Our focus is to provide a great learning experience for all ages interested in ice sports," says Skating Academy Director, Keri Ferguson. "Skating in all forms is a lifetime activity and we are very fortunate to have the arena here in our community."
During summer 2016, a six-week basic skills course includes one 30-minute lesson and three practices per week. Rentals are included, and skaters receive guest passes to get friends out on the ice.
Summer Seminars are new this year and will feature two-time Olympic guest coaches in August. A variety of skate camps — from junior level to elite — are offered as well. Check the Bellingham Sportsplex website or contact Keri Ferguson (kerif@bellinghamsportsplex.com) for more information.
Learn to Play Hockey Academy
Bellingham Blazers Learn to Play and Hockey Academy is designed for those with little to no previous ice hockey experience. Learn to play hockey in a safe environment — full gear is required for all classes.
Bellingham Blazers head coach Mark Collins runs the hockey academy. "We can have anywhere from 30 to 50 kids on the ice, and all of the Blazers boys help coach the kids," says Mark. "It's another thing that we're doing to generate interest in the community and introduce players to hockey."
Academies run 10 weeks, with each new class building off the previous week's lessons. Players learn a variety of skills including power skating, balance, and edge control. Visit the Bellingham Sportsplex website for more information.
Hammers FC Soccer Academy
Kids interested in learning to play soccer can also get in on the action at Bellingham Sportsplex.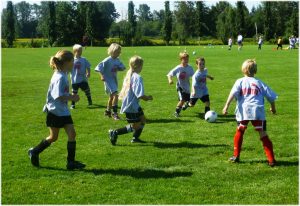 Lil' Hammers programs are for children between 3 and 6 years old. Four-week courses offer a mix of training and games, with a focus on fun. According to the Lil' Hammers program website, "Each training session and game is organized with an emphasis on fun in mind, to cultivate the love of soccer!"
The Jr Hammers program is for 9- to 11-year-olds. Players train and compete in tournaments during summer break, participating in Baker Blast and other big games.
Summer soccer camps are offered as well for ages 5 to 12. Each camp lasts a few days, and includes training, along with a Hammers FC Academy T-Shirt and ball.
For more information on Hammers FC Soccer Academy, contact Claire Morgan at clairem@bellinghamsportsplex.com.
Sponsored