They say the third time's the charm. And the Bellingham United indoor soccer team looks to continue their winning streak this 2017/2018 season by adding a third consecutive Western Indoor Soccer League (WISL) championship to their belts. Year after year the team keeps improving and exceeding expectations. This year will pose their toughest challenge yet as they look to three-peat.
The WISL season kicks off for Bellingham United on Nov. 18, when they will face the Olympic Force, who they have beaten in the championship the last two years. Following the season opener, Bellingham United will play at home for the first time on Dec. 2 against the Tacoma Stars Reserves at the Bellingham Sportsplex. The indoor soccer regular season for the WISL consists of eight games before playoffs begin. This year, Bellingham will be playing four regular season games on the road and four at the Bellingham Sportsplex.
General manager Marc Ronney says people can purchase tickets for the games online or at the door. Last year every game averaged around 400 people in attendance, which is considerable due to the size of the Sportsplex and viable viewing areas. Ronney says during playoffs the Sportsplex does indeed reach capacity. In the 2016/2017 season they had to stop letting people in after they reached a 750 capacity limit.
Ronney says they are looking forward to another successful season and he believes Bellingham United has what it takes to win a third championship in a row.
"All credit goes to Head Coach Brendan Quilici," Ronney says. "He has been there to help this team mature into a veteran team. Coach Quilici has been at the helm of the last two championships and I am lucky I have gotten to manage during them."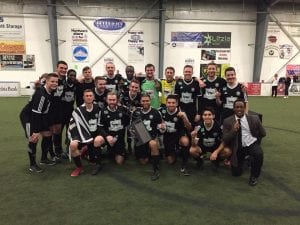 The Bellingham United indoor soccer team operates during their outdoor team's offseason. In fact, some players even play for both teams but it isn't a requirement to play for both outdoor and indoor. Bellingham United's indoor team even hosts tryouts during the month of October in order to fill some of their spots on the roster, although most of the team is put together through recruiting.
Ronney says there is a distinct difference between indoor and outdoor soccer. That is why certain players only play on one team exclusively. Some players are just a better fit for the indoor game while others excel at outdoor.
Most players live in or around Bellingham and have previous connections to the town. A lot of the players are former players from Western Washington University or Whatcom Community College. "The core of our team has been together for four years now," Ronney says. "We have former players from Western, players from Canada, guys who come from the community college and a lot of local guys."
Bellingham United players range in age, with the youngest being 16 and older players in their mid-30s. Ronney says most players on their roster are between the ages of 22 to 30. Anyone who is 16 and older can play on the team but if you are a current college or high school player there are some rules you have to follow.
For example, you cannot play on Bellingham United while your current team's season is active. Ronney says they will pick up players from WWU who are seniors that have just finished their last season. Once a player's final season is complete they are eligible to play for Bellingham United.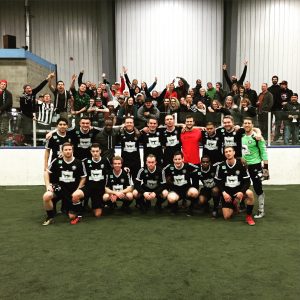 Bellingham United is classified as a semi-pro team and players are not paid to play. But players do not have to pay any league costs or travel expenses to play for the team. So although players aren't getting paid to play, there are some benefits.
Bellingham United will work with the Sportsplex this season to sponsor youth nights, providing discounted tickets to youth who attend home games. Ronney says last year they even hosted a couple "free nights," where people who wore a player's jersey could get into the game for free.
Tickets to see the Bellingham United indoor soccer team are $8 for adults and $5 for youth, military and senior citizens. To purchase tickets for this season's home games you can go to the Bellingham United website or purchase tickets at the door.
This will be an interesting season for the Bellingham United indoor team. It will be great to see how Coach Quilici and his players approach this year as Bellingham looks to build on the success of their last two seasons and take home a third WISL championship. A three-peat is no easy task, but this team seems up for the challenge.
Sponsored