Age is just a number. And perhaps nowhere is that truer than at the Bellingham Sportsplex, which features physical activity options for all ages. Whether you're 3 or 93, the Sportsplex is sure to have something you'll enjoy.
Children's Soccer and Hockey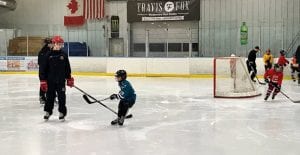 The Lil' Hammers program offers children ages three to six a chance to learn and love soccer. The four-week- program is taught by Hammers FC Academy trainers and includes a variety of fun, action-packed games.
One-hour classes take place on Mondays and Wednesdays. For ages three to four, it's 4:00 to 5:00 p.m. For ages five to six, it's 5:00 to 6:00 p.m. Cost is just $50 and includes a Lil' Hammers t-shirt or $45 without a shirt.
For those seeking a more flexible schedule, "Tots Drop In" soccer is available each Tuesday and Thursday, year-round, from 10:00 to 11:00 a.m. An hour of fun for ages three to six is only $6 per session, and Lil' Hammers passes provide additional savings.
The Sportsplex Hockey Academy's learn-to-play program will teach children as young as three the fundamentals of hockey. All participants wear full hockey gear, available for rent through Hockey Director Mark Collins.
Weekly lessons build off each other, teaching a variety of skills. The introductory class, specifically for those three to four years old, takes place from 5:00 to 6:00 p.m. each Tuesday and Thursday, over 10 weeks. Cost is $175. Children focus on balance, coordination and proper movements with hockey skates, all in a way that's fun for everyone! Registration can be found online.
Adult Soccer and Hockey
The Sportsplex features plenty of adult leagues for both soccer and hockey. In soccer, leagues include co-ed, women and men's teams of various ages, and an over-40 men's team.
For those ready to grab a stick and puck, adult hockey leagues are organized based on skill level for participants 18 and older. There's also an over-40 league, meeting on Sunday evenings at 8:00 and 9:30 p.m. People in their 60s and 70s have played in the over-40 leagues of both sports!
Ice Skating
The Sportsplex features adult ice skating sessions for those 16 and older every weekday morning from 8:30 to 10:00 a.m. Weekend Public Skate sessions for all ages run Saturday from 11:00 a.m. to 1:00 p.m. and Sunday from 1:00 to 3:00 p.m. Cost is $6 plus skate rental. In addition, the Learn to Skate programs at the Sportsplex begins with children as young as three, teaching them skating fundamentals in a fun and safe environment.
Walking Soccer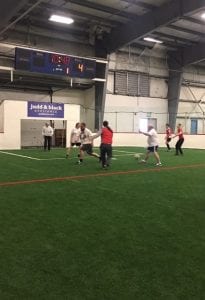 One of the newest Sportsplex opportunities, and one gaining momentum across Washington State, is walking soccer. The slower, gentler version of the Beautiful Game limits players to no more than brisk walking during matches. Games are put on by the Whatcom County Adult Soccer Association, which rents the small soccer field each week.
Lindsay Spencer, a WCASA member, organizes the gatherings. She says there are more than 100,000 practitioners of walking soccer in the United Kingdom. She'd never heard of it until about a year ago, but learned the United States Soccer Federation had given Washington State a grant to promote and demo the sport.
An initial demonstration of the game took place at the Sportsplex, and it has remained there since. In walking soccer, a smaller, heavier ball (called a futsal ball) is used. It can't be headed or kicked over a certain height, among other rules. Halves are about 25 minutes long.
Spencer says preventing anyone from running evens the playing field. This is especially important, since participants range in age from their mid-20s to mid-70s. It's easier on the body for those with knee or hip issues, or anyone lacking the physical ability to handle traditional soccer anymore.
"You wouldn't think that you'd get such a workout, but you do," Spencer says. "It's a lot of fun."
Games take place on Sunday afternoons at various times, but will shift to Wednesdays beginning in March. It's $6 to show up and play, or free if you have a Washington State Adult Soccer Association member card.
Senior Bocce Ball
Among the most age-defying activities at the Sportsplex is bocce ball, which takes place on the small soccer field every Monday and Thursday from 10:00 to 11:30 a.m. The activity is open to seniors ages 65 to 95, but Cheryl Kelly, who organizes the gatherings, says they're not picky if players are slightly younger than 65.
The bocce group originally met at the Bellingham Senior Activity Center, but worsening outdoor field conditions made them consider alternatives. At the Sportsplex, they found a place they could play year-round. People attend from as far away as Sedro-Woolley, and the oldest current player is 93 years old. Monthly playing fees, paid to the Sportsplex, are $24 a month during the winter, and $20 during the summer. That works out to just a couple bucks per meeting!
"The competition is more than friendly," Kelly says of Sportsplex bocce. "It's a no-pressure game."
Sponsored