The 2019 season has been exceptional for the Bellingham United Football Club. Led by second-year coach Jason Conway, the semi-professional men's soccer team is leading the Evergreen Premier League of Washington (EPLWA) standings. With a record of 6-0-2, the team has already clinched a postseason berth, guaranteeing them at least a semifinal finish in the EPLWA's playoff format, which began last year.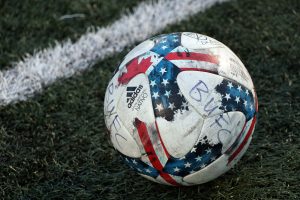 Conway, who led the team last season to a 5-4-1 record and a semi-final playoff appearance, says the team is playing with full focus and a possession-based strategy that's paying off.
"Our whole concept is to keep the ball, because we're better in possession than we are chasing the ball," he says.
The United began their season in May with three straight wins, two of which were road games. They added two ties in early June, followed by an additional three straight victories, including consecutive shutout wins on June 16 and 30. Now, only two regular season matches remain: a road game on July 7, and a July 13 home finale.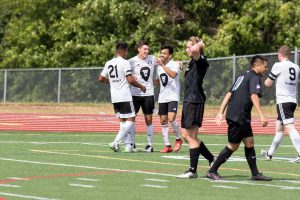 The semi-final playoff round happens on July 20 and 21, with the championship round on July 27 and 28. The United have never played in a title-deciding EPLWA game; last year, they entered the playoffs as a wild card entry, losing to eventual champions Washington Premier FC in the semifinals. This year, things are coming together for a championship push.
"We feel we can compete with anyone in this league," says Spencer Wolfe, the United's 25-year-old centerback. "And when we play our best, we can beat anybody in this league."
Living and Loving the Game
Although in just his second year of coaching the United, Conway has been around soccer his entire life. He grew up just south of Dublin, Ireland, playing for local soccer clubs until age 18. At 19, he took a summer job at a YMCA in Spokane, and three years later, in 1995, moved to the United States permanently. After both playing and coaching gigs in the Spokane area, Conway moved to Bellingham in 1997, where he's been a WFC Rangers coach for nearly 23 years.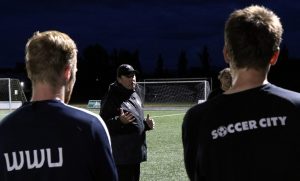 About 10 players from the United's 35-man roster are former Rangers members. Conway coached several of them as pre-teens, and is now coaching them again as young men. The fact they continue playing soccer at a high level into adulthood, Conway says, speaks not only to their talent, but to a passion for the sport that hasn't faltered.
"Maybe all the coaches they've had—not just me—inspired a love of the game?" he says. "Why else would you keep doing this in your mid-20s, beating your body up, if you don't really love the game?"
Players range in age from 18 to 36; many members are on summer break from area colleges, and the United offers them a chance to keep their skills sharp. Despite relationships, jobs, and looming career decisions, they keep playing.
Although Wolfe grew up in Bellingham, playing in rec leagues, high school, and Rangers, he just joined the United a few months ago. His previous six years were spent in Spokane, playing and coaching soccer while attending Whitworth and then Gonzaga Universities.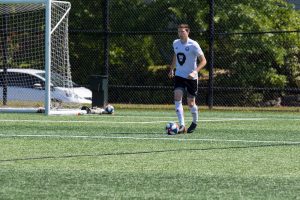 Wolfe says the team's possession-based style fits his defensive style, and the team has great chemistry. One reason for the latter is because many players are together year-round, transitioning from the United's summer outdoor team to its winter indoor league team.
"It creates a really tight-knit group of guys who aren't just teammates, but are also friends off the field," Wolfe says. "You create a lot of unique bonds. So, our chemistry is really, really high. One of the strongest I've been a part of on a team."
As the season enters its final act, Conway is pushing his team to play their best. He says the goal is to remain undefeated while preparing for their semifinal game later this month. From the front office to the backline, the United have the people and potential to end 2019 on top.
"It really feels like a family here," says Wolfe. "There's a strong bond between the players, coaching staff, and the community. It's a special group, and we're hoping to continue our success."
Sponsored