Bucket lists trips are often so big to bite off that people never get around to taking them. Bellingham Training and Tennis Club owners Robin and Doug Robertson wanted to make sure this wasn't the case for them.
Cycling across the United States was on their bucket list; a dream to really see the country and get to know the people. With Bellingham Training and Tennis Club to run together, and Doug having classes to teach, the couple being gone for months to accomplish this just wasn't realistic—so they broke the trek into five trips. This summer they tackled their third leg, cycling from Sioux City, Iowa, to Nashville, Tennessee, covering a wide range of terrain, weather, and small towns.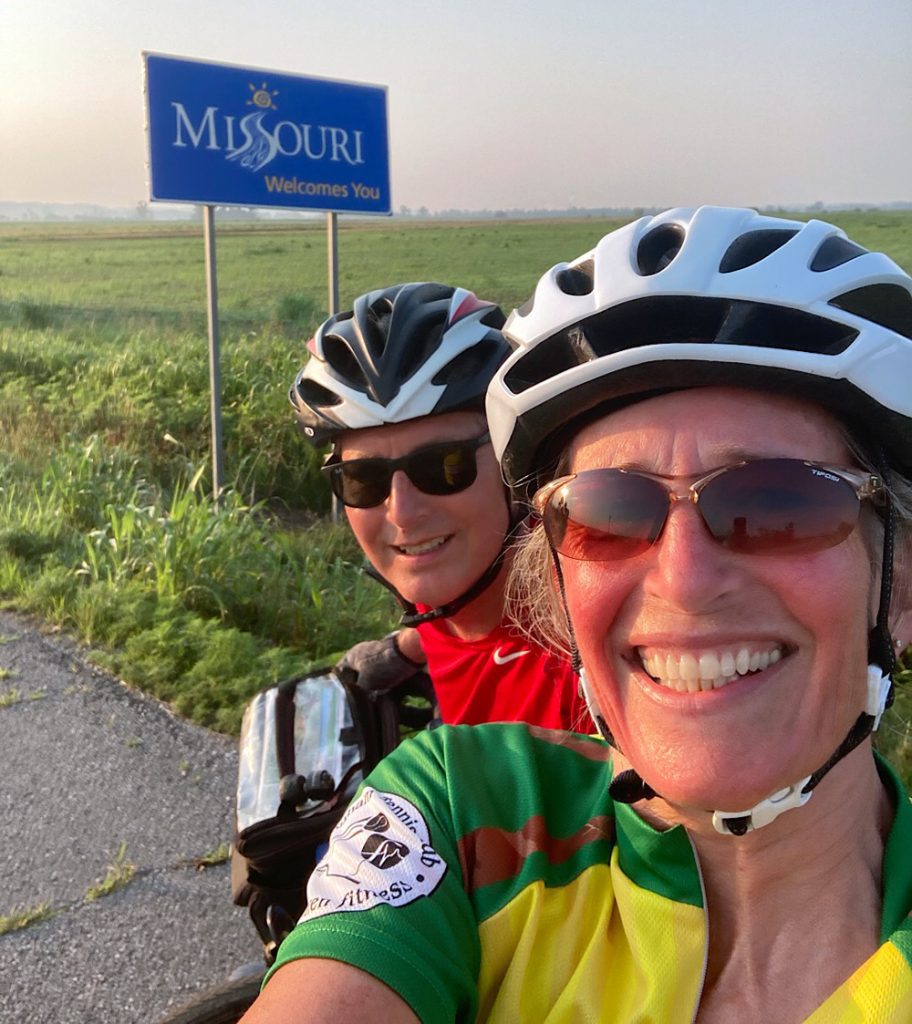 "When you're on a bike you go fast enough to get somewhere but slow enough to be able to stop any time you want, to hear the birds chirp or talk to interesting people," says Robin.
Cycling has been a transformative activity for Robin, allowing her to keep living an active lifestyle. So much so that she's written three books about her passion for cycling (Healthy Knees Total Knee Replacement, Healthy Knees Strength,and Healthy Knees Cycling; all three available through her website and on Amazon) and has, naturally, been documenting her and Doug's cross-country biking trips at www.healthykneescoach.com.
Yes, you can share in their journeys as they struggle up steep hills, wait out downpours in picnic shelters, and Doug serenades campsites with his mini-French horn.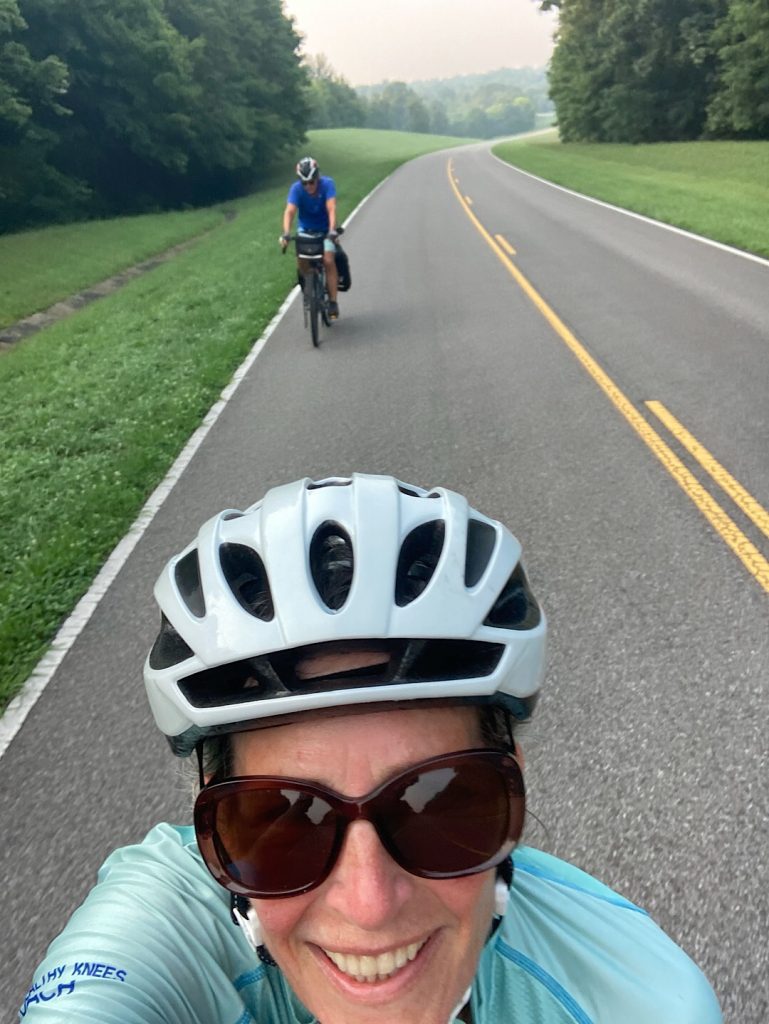 To choose their route for each cross-country leg, the couple used Adventure Cycling Maps, which also helps them find services along the way. With the goal of cycling between 50 and 60 miles a day, Robin and Doug plan where to stop for food, water, hopefully a shower, and a place to pitch their tent or secure other lodging.
With cycling being such a big part of Robin's life, it's no surprise that Bellingham Training and Tennis Club offers cycling gear and classes. "Cycling should be for everyone," Robin says. "As a cross-training tool, it's a high-calorie burn, so if somebody wants to lose weight it's a great way to do it and it's low impact on your body." She also recommends cycling for tennis players, because it helps the cardiovascular fitness.
The club offers a variety of cycling options to fit a wide range of goals. There are group ride classes; Cycle Moles, which is designed to build towards performance; and Robin's Healthy Knees program, which combines strength training and cycling classes to improve people's knees. Bikes are also available for people to use individually, separate from a class.
Getting started on the bike always means a trainer will help you get the bike positioned correctly for your body to ensure the best results from your rides. If getting into the club is a challenge, there are online courses available, so no one needs to miss out.
Training for their cross-country trips, the Robertsons use a combination of indoor and outdoor cycling, as well as strength training to ensure they're as prepared as possible.
"A lot of time in the saddle ahead of time does two things: prepares your muscles for the work but also prepares your hiney for sitting on the saddle for so many hours," says Robin.
Once they're on the road, their touring bikes loaded down with gear, speed is reserved for going downhill, which results in some days being on the bike for up to 11 hours. The result of this summer's leg: they had a blast, they made it, but not without some tired muscles and saddle sores.
Not ones to be discouraged, Robin and Doug already planning their fourth leg for next summer, and will be excited to once again share the experience.
If you're interested in taking a cycling class or want to prepare for your own cross-country trip, all BTTC classes and schedules can be viewed at www.betrainingtennis.com. And, as always, your first class is free.
Featured photo of Robin and Doug at the completion of their ride in Nashville courtesy Robin Robertson
Sponsored