I recently sat with Mark Collins, Bellingham Blazers Head Coach and Hockey Director at the Bellingham Sportsplex to learn about their Learn to Play and Hockey Academy programs, open to ages four to 14. For kids, this is a special experience which gives them the incredible opportunity to interact on the ice with the Bellingham Blazers.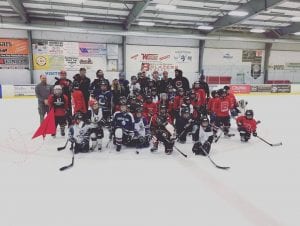 Young kids participating in the program are awed as they meet the older, experienced Blazers team members. "These guys are like celebrities," says Collins. "They look up to these players."
The Learn to Play and Hockey Academy programs teach boys and girls the game of hockey in a safe and fun environment. From brand-new players who are just learning to stand up in hockey gear to kids who are ready for the next level of skills, Learn to Play is organized to develop skills and create enthusiasm for the sport of hockey.
Collins is proud of the way the Blazers interact and engage with the young players. The newest players who are learning to stand, fall and get back up in hockey gear get one-on-one attention from a Blazer player. Older players who are learning more about the game engage with the Blazers players at a more advanced level.
With the next session of Learn to Play beginning after spring break, Collins explains there is also an opportunity for many kids who have never been on skates, but still have an interest in hockey, to get ready for the new session. The Learn to Skate program from January 6 to March 26 provides new skaters an opportunity to experience skating for the first time or even refine their skills on skates.
And if you want to get on the ice even sooner, join the Winter Skating Camp from December 18 through the 21 from 10:00 a.m. to 1:00 p.m. Drop-ins and all levels are welcome for this great on-the-ice experience.
For hockey players looking to improve and learn even more skills, Collins explains that the Monday Night Academy is for anyone wanting just a little more instruction and ice time beyond the Learn to Play program.  Players receive hands-on instruction in this one-hour session on more advanced skills leading to a better understanding of the game.
Collins, who started as head coach of the Blazers in 2012 has seen the program grow over the past few years. He is proud of the success of the Blazers players who have taken their hockey playing to the next level. Cody Rich, now playing at Westfield State University, and Alex Olson, playing for Iowa State University, are only two examples of successful former Blazers players.
Collins recalls that very first season when he led the team to the first of two Cascade Cup Championships. "It was exciting for all of us," he says with a smile. "I really enjoyed watching these players reach for that goal."
"We have always had great kids, even beyond being great players," says Collins who is always looking for kids that add to the team beyond athletic ability. "I truly enjoy watching these boys engage and get right down to the level of those kids learning to play, teaching and encouraging them."
While in the past, the Blazers had been primarily composed of local players, recently they have expanded to include a higher percentage of players from outside of the area. Ranging in age from 16 to 20, these players attend high school or college locally. They coach in the Learn to Play and Jr. Blazers Academy while they study and participate in the community.
"It's fun to watch these Jr. Blazers Academy players wait for the Blazers to come off the ice during games so they can high-five them," Collins continues. "They know they have a relationship with them and they look up to them."
As you prepare for the spring session of Jr. Blazers Academy and Learn to Play, take in a Bellingham Blazers game and see for yourself these inspirational young men playing the game they love. Collins is excited to see a whole new group of potential hockey players that share his passion for the game of hockey.
Check out the websites for more information on the Bellingham Blazers, Learn to Skate and Learn to Play and Hockey Academy.
Sponsored