Stand on Bellingham's waterfront at Zuanich Point's Fishermen's Memorial and you'll see waves hitting the shore, small and large boats coming and going with tourists and fish to sell, and several islands in the distance.
Lummi Island is the central, largest island, well known to visitors who ride the public ferry to explore this quaint oasis. But what do you know about the far-less-frequented islands in Bellingham Bay?
Portage Island and Eliza Island are at opposite sides of this scene to the viewer. Both retain more elements of a primitive nature in contrast to the hustle and bustle of nearby Bellingham.
Portage Island: Part of the Lummi Nation
Portage Island is similar to France's Le Mont-Saint-Michel in that it can be approached at low tide on foot. Of course, it's dissimilar in that there's no castle awaiting visitors, no services, and no improved roads. There's also no ferry service, unless you take your own tribal boat.
The island's population is zero. It's uninhabited but visited frequently by tribal members, as it lies entirely in the Lummi Native American Tribal boundaries. Yet, life still goes on there—much in the form of flora and fauna. Eelgrass beds along the marine shorelines are roosting ground for resident and migrating eagles. Aerial views through Google Earth show thick woods, rutted dirt roads, and fishing equipment.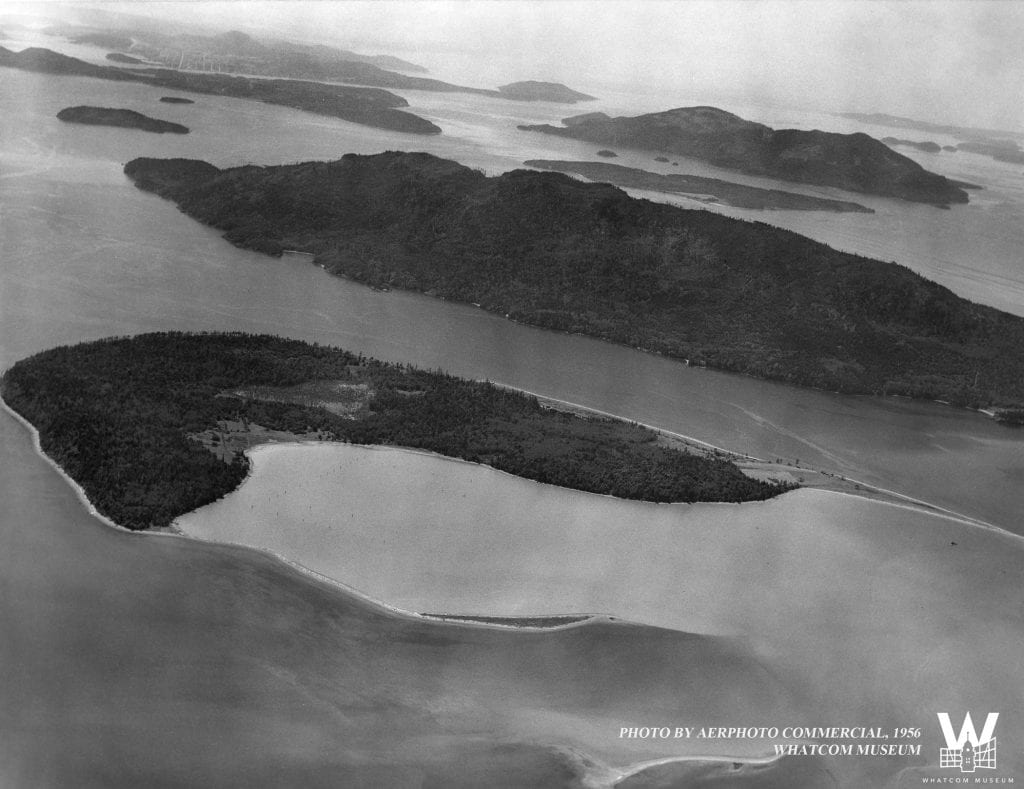 Elevation is 30 feet above sea level and its terrain quite flat. The island is separated from the Lummi Peninsula by Portage Bay and from the central part of Lummi Island by Hale Passage, with a land area of 1,000 acres. The connecting land is known as the "portage."
From Lummi Nation Atlas of March 2016: "We are the Lhaq'temish, 'The Lummi People.' We are survivors of the great flood. With a sharpened sense of resilience and tenacity we carry on. We pursue the way of life that our past leaders hoped to preserve with the rights reserved by our treaty. We will witness and continue to carry on our Sche langen. We are fishers, hunters, gatherers, and harvesters of nature's abundance and have been so since time immemorial…"
It continues: "The Lummi People historically have moved between longhouses located at a number of sites around the coastline of northwest Washington and lower British Columbia and that includes their present Lummi Nation site with Portage Island and the neighboring waters."
Those waters have also been part of legal action between the Whatcom County Park Board v. Portland Area Director, Bureau of Indian Affairs and Lummi Indian Tribe (11/28/1977).
The legal action mentions that at one time Portage Island was entirely allotted to individual Native Americans pursuant to the Treaty of Point Elliott and the Treaty with the Omahas (1854).
Legal records give insight into what had occurred in recent history on this island. Through the years, various Native allottees or their heirs obtained unrestricted fee patents to their parcels of land on Portage Island. Eventually some of these interests were purchased by non-Indigenous buyers, as tribal members sold or gifted property to non-tribal members for profit or to cover debt. By 1966, only about 50 percent of Portage Island remained in Native ownership. During 1965 and 1966, several of the non-Indigenous owners of land on Portage Island developed plans to subdivide their land for sale to other non-Natives.
From the legal record: "The Lummi Tribe and the Whatcom County Park Board were concerned about the possible individual development of Portage Island through such subdivisions. These two parties were also concerned about county proposals to link Portage Island with another island by bridge. From the tribe's standpoint, development of Portage Island posed a threat to the traditional way of life of the Lummi people. As the ancestral home of many Lummi Native families, the island and its tidelands have remained of cultural and historical importance to the Lummi Tribe. Also, from treaty times until today, the beaches and tidelands of Portage Island have been used by tribal members for food gathering."
Instead of becoming laden with homes, it retains its primitive nature. While discussion were had to consider using the land as a county park, that did not occur.
Not paying attention to the incoming tide has consequences here: On June 7, 2018, Whatcom News reported Whatcom County Fire District 8 fire and aid crews were dispatched to the land bridge connecting Lummi Peninsula with Portage Island for a water rescue. A pickup truck was stuck about 100 yards from shore, the water level rising as the tide came in. Fifty bystanders showed up to help. The three pickup truck occupants grabbed what they could and left the stranded truck, wading to the peninsula shore through nearly waist-deep saltwater. Eventually cables and ropes were brought in to pull the truck out of the water.
Then there are other "news" sources of activity on the island found in newspapers and blogs. One blog post written by boaters saw three Bigfoot circa 1990 as they went into the forest on the island. "Then they stood up and we knew they were not bears…they saw us of course, continued shaking and wiping the water off their bodies…The taller of the three turns and walks up the beach and into the trees." A blog post authored by Steve Pavlik describes hearing a loud scream that was "primate" and best described as a "howling" cry. He posted in 2014: "In reality, bear sightings on Lummi Reservation are far less frequent than Bigfoot sightings."
The Bellingham Herald reported a fire on Portage Island on July 4, 2015, which burned about five acres of forest land. Marietta Fire and the Washington Department of Natural Resources responded to the blaze. About 40 or 50 campers were on the island at the time, some of whom had accessed the island by driving on the land bridge at low tide; however, by the time of the fire, the tide had risen. They were evacuated by private boats and four-wheel drive vehicles that could handle the land bridge.
Since the area is part of the Lummi Reservation, it was not subject to a burn ban in effect elsewhere in the county.
Privately Owned Eliza Island
After spotting Portage Island in Bellingham Bay, move your sight south and you'll spot Eliza Island. Many folks don't even realize it's there. The island, per Wikipedia, was named by Charles Wilkes during the Wilkes Expedition of 1838-1842. One of the few names given by Wilkes that does not honor either members of his crew or American naval officers, Eliza refers to Francisco de Eliza, the Spanish commander of a 1791 expedition to the Pacific Northwest. Wilkes may have named the island for his daughter or his sister, both named Eliza.
Its 141 acres is south of Lummi Island and totally off the grid. There are no stores, hospital or medical facilities, and no fire department. Visitors are only allowed on the island with permission from a lot owner. There are generators and solar power panels for power and its own desalination plant, run by the residents. That plant was the first to be certified in the state in the 1990s. The island now has 143 lots and about 50 cabins, in contrast to five lots outlined on a 1935 survey by civil engineer Bert W. Huntoon.
Former Bellingham resident and researcher/historian E. Rosamonde Ellis Van Miert, produced a wire-bound volume about "Isla de Eliza" in 2007, available at the Bellingham Public Library. It contains a plethora of maps, history and visits with the locals. Surprisingly, she documents even the location of wells and eagles nests on the island and different geological studies. She delves into the island's commercial history, when Pacific American Fisheries ran a large salmon cannery, from 1899 to 1934; ships were built and repaired here, too. The U.S. Navy used the island as a practice bombing range during World War II.
Long-time caretaker, Joilynn Littleton, and her husband, Robert, relocated from Bellingham to the island decades ago after buying their property in October of 1991.
"There are only two full-time residents and that's the caretakers," Littleton says. "Most folks are part time, summer or weekenders. Most folks come by private boats or we have a landing strip for small airplanes. There are two passenger "ferry" boats by appointment: one from Bellingham and one from Anacortes."
"The islanders love to walk the roads and beaches. They agate hunt, kayak, swim, scuba dive, fish, crab and shrimp. Most like to visit and go back and forth for dinners. Some like to just cozy up in the cabin with a good book.
Eliza has a lending library and on summer Sundays, Littleton holds Coffee and Coffee Cake With the Caretakers. "I bake sweet rolls or coffee cake and the whole island is invited," she says. "We've had up to 150 folks join us. It's free, but people donate baking supplies."
A website for the Eliza Island Beach Club, maintained for current and future residents, contains rules and guidelines such as following a "good neighbor" policy and not leaving any brush or debris on property or beaches that could catch on fire.
While it retains a name indicative of a country club, the island does not have a golf course, swimming pool, or other amenities of that type. Eliza Island has a small airstrip that can only be used during daylight hours with tie-downs and no hangars to protect aircraft, and one dock, which is used strictly for loading and unloading.
Photo credit: Joilynn Littleton

Photo credit: Joilynn Littleton

Photo credit: Joilynn Littleton