There are few things that Whatcom County in general, and Bellingham in specific, do better than beer. Over the course of the last 20 years Bellingham has burgeoned into a craft beer bastion, not only of the West Coast but for the entire nation. The free flowing taps and adventurous mindset brewers bring to the city has increased Bellingham's appeal as a tourist destination.
Taking advantage of Bellingham's bountiful brewery scene, the Bellingham Sportsplex in partnership with local non-profit Rebound of Whatcom County, will host the second annual Bellingham Hoptoberfest. Held on Oct. 21 from 6:00 p.m. to 10:00 p.m., the event will raise money for the respective organizations so they can provide quality programs and upkeep of their facilities.
Sportsplex Front Office Manager Alyssa Jackson says a beer festival seemed like the natural route to pursue to raise money in a town like Bellingham. And due to their great relationship with Sound Beverage, the team decided they could give guests an experience like no other. Hoptoberfest will have over 70 different beers to try, from a whopping 30 plus craft breweries. Alyssa says the event isn't just a beer festival, however. In fact there will be food trucks and live music by Sunset Superman.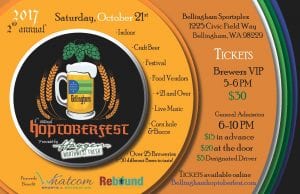 Breweries participating in the event range from local favorites such as Aslan Brewing Company and Kulshan Brewing Company, to regional powerhouses like Ninkasi Brewing and Elysian Brewing. Food trucks at Hoptoberfest will be run by Bellingham restaurants Jalapenos and Pizza'zza.
This year Hoptoberfest has changed their price points for both VIP and general admission tickets. VIP tickets are $30 and general admission are $15 pre-sale and $20 at the door. This year's event also comes with some new additions to the fun.
"We added a silent auction and raffle to boost funds raised and there are some awesome items for bidding. We have everything from ski lift tickets and Seahawks tickets to fresh fish from Alaska and a Zamboni lesson," Alyssa says.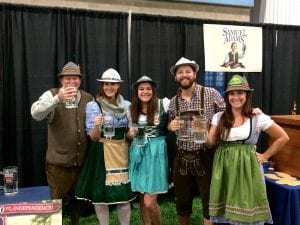 She says this year the goal was to make the event more well-rounded, so adding extra elements made sense. In addition to the newly added raffle and silent auction, Hoptoberfest will also have an expanded drink and food menu. This year, Alyssa says they will have desserts, coffee and potentially even locally distilled brandy, vodka and tequila at the celebration.
So what exactly does a ticket get you? Well, as mentioned, there are a couple options to choose from. The VIP ticket and the general admission ticket. If you choose to buy the $30 VIP ticket, you get a VIP meet and greet with the brewers before the event from 5:00 p.m. to 6:00 p.m. and you will receive a customized glass beer stein and seven tasting tickets. A general admission ticket gets you a customized plastic beer stein and five tasting tickets.
Regardless of your ticket choice, good times will be had by all. The event will be filled with community, celebration and, perhaps most importantly of all, plenty of beer.
Sponsored