It's a new season for the Bellingham Blazers, and with every new season comes challenges, hardships, victories and memorable moments. What will this year have in store? Only time will tell as the Blazers head into their home and season opener against the Seattle Totems, but one thing's for sure – they have their eyes on the prize.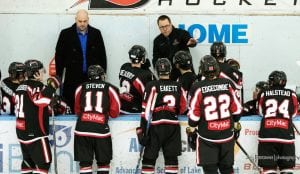 Last year, the Blazers advanced to the second round of the Western States Hockey League playoffs before losing to the Lake Tahoe Icemen. This was a considerable improvement from the year before, when they didn't make it out of the first round. With a returning team stocked with veteran players, Head Coach Mark Collins says a championship is on their minds.
"It's always the goal," Collins says. "Every time you take the ice you want to play hard to have a chance at a championship."
What makes this Blazers team unique is the high number of veteran players, the most veterans Collins has ever coached. Normally, he's used to younger teams, but this year's squad returns eight 20-year-olds and six 19-year-olds. Twenty-year-old players are in their last year of WSHL eligibility and many will move on to college hockey stints following their Blazers tenure.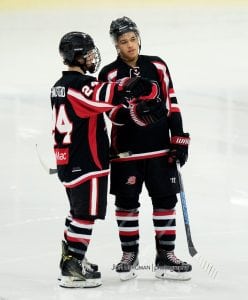 "People say that young teams find ways to lose games, and experienced teams find ways to win them," Collins says. "Now we need to use that experience and find ways to win important games."
Like most sports, time of possession in hockey is key. You want the puck in your control for as long as possible. After all, if you have it, the other team doesn't. Communication is essential to take care of the puck properly and eliminate turnovers.
Collins says too many young players take communication for granted; sound communication between players results in effective puck management, which provides more scoring opportunities. Proper puck management also means less scoring chances for the opposing team.
"Not every game is going to be pretty," Collins says. "But if we use our veteran leadership and experience to take better care of the puck this year, who knows how far we'll go."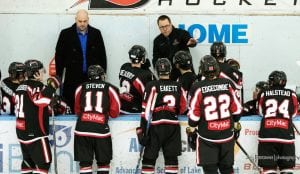 Training camp starts this week, and then the Blazers are off to play the season opener at home at Bellingham Sportsplex on Friday, October 5. Following the home opener, the Blazers will head down to Seattle to play the Totems on October 6.
Tickets for the Bellingham Blazers can be bought at the Bellingham Sportsplex or found on their website.
Sponsored