Ever since Colten Teubert first stepped onto an ice rink at age 2, his life has been about hockey.
Now 29, the former professional player is embarking upon a new chapter in his hockey life: that of coach and mentor. Teubert is two months into his tenure as Whatcom Sports & Recreation's hockey director, a position that includes being head coach for the Bellingham Blazers and director of the Blazers' hockey academy.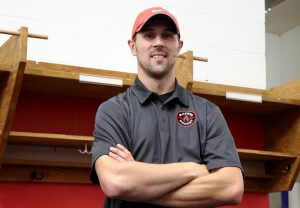 The Blazers—a Tier II junior hockey team in the Western States Hockey League—play about half of their 51-game, October to March season at the Bellingham Sportsplex. The team provides 16-to-21-year-olds a chance to showcase their athletic talent while seeking college opportunities.
Although it's a lot to take on, Teubert says he's excited by the opportunity to inspire younger players as a new-age coach whose positivity is instrumental to his leadership.
"I want to share all my hockey knowledge with people; I don't want to hold anything back," he says. "I just want to give back to the game."
Going Pro
When Teubert was a child, he visited the Hockey Hall of Fame and had his photo taken with the Stanley Cup. His father told him not to touch it, because one day, he'd lift it himself.
A White Rock, British Columbia native, Teubert's dream became winning the Stanley Cup as an NHL player. He was a gifted young athlete growing up, his raw talent guided by great coaches who helped him unlock his full potential.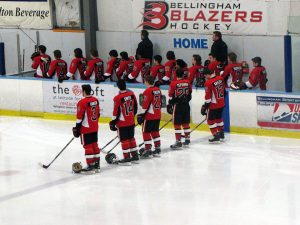 At age 15, Teubert was the number one draft pick in the 2005 Western Hockey League draft. Selected by the Regina Pats, he played several seasons with the team, eventually becoming a team captain. In 2008, Teubert played with Team Canada in the World U18 Championships, winning a gold medal. That same year, he was the 13th overall pick in the first round of the NHL Draft, and was picked up by the Los Angeles Kings.
Teubert spent time with the Kings' minor league affiliates, the Ontario Reign (California) and the Manchester Monarchs (New Hampshire). During this time, he also helped Team Canada win gold and silver medals at the 2009 and 2010 World Junior Championships. In 2011, Teubert was traded to the Edmonton Oilers. He played for the team's minor league affiliate, the Oklahoma City Barons, for two years, and met his wife in the process. The couple now has two children; a 6-year-old son and a 4-year-old daughter.
During the 2011-2012 NHL season, Teubert finally got the call up, playing 24 games for the Oilers. He and his wife then moved to Europe, where Teubert played for the Iserlohn Roosters and Nuremberg Ice Tigers before injuries—including one requiring back surgery—prematurely ended his playing career in 2017. As his playing career wound down, his wife also was treated for a brain tumor.
Teubert moved back to B.C. and began working a sales job, serving as a development coach for the South Surrey Eagles on the side. Meanwhile, he watched friends who'd stayed in the NHL hoist Stanley Cups, a fact that both bummed him out and motivated him to stay in the sport he loves.
"I do believe that if I'd stayed healthy, I would have gotten that chance [as a player]," he says.
So when the opportunity to join the Blazers—and work full-time in hockey again—came up, there was no way he could turn it down.
Looking Forward
From his office inside the Bellingham Sportsplex, a stone's throw from the rink, Teubert sees decades of coaching before him. The chance to help and mold young players, just as his coaches did for him early on, is something he feels he can put his heart and soul into.
A young player Teubert coaches today may one day hoist the Stanley Cup, and if that happens, he says being part of their journey would be validation for the lifetime of effort he's given to the game. Even if it never happens, Teubert says he's okay with that; he's focused on making the Blazers a competitive, mature team the community can be proud of.
"At the end of the day, if I can come home and have these boys represent Whatcom County and be a part of this culture that we're growing with the Blazers organization, and have little guys look up to them, that's what it's all about for me," he says. "It takes a lot of responsibility to be a hockey player, and that's what I want my boys to understand."
Teubert says community outreach is something the team is working on, with plans for members to serve as role models for a local outdoor life group for children with autism. In addition, Teubert plans to continue growing the Whatcom Warriors youth hockey program. He's also lobbying for more local ice rinks, including the building of an outdoor rink up at Mount Baker. And with Seattle getting an NHL franchise in 2021, he feels strongly that hockey's about to get a lot more popular in Whatcom County.
"I want this place to be put on the map for hockey," he says. "It's not going to happen overnight. But I'm all in."
The Bellingham Sportsplex features numerous hockey activities, including learn-to-play programs, drop-in sessions, adult leagues, and rental gear. For more information, visit their website.
Sponsored