Ever wonder what all the excitement is at the Bellingham Sportsplex on a Saturday night when the Bellingham United team is in town? You may just find yourself amazed and wanting to join in the fun.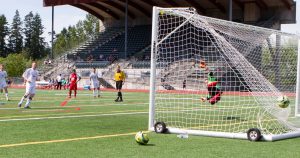 This semi-pro indoor soccer team is comprised of men ages 16 to mid 30's.  The team plays Saturday nights at 7:30 p.m. at the Bellingham Sportsplex indoor soccer facility. Their season, with a total of ten highly competitive games, ends around mid-February.
With packed crowds reaching 300 to 400 fans, this fast-paced game provides excitement for all who come to experience the sport of indoor soccer.  Last year when Bellingham United won the Western Indoor Soccer League championship there were over 700 fans in attendance.
Touting a beer garden and an area for the younger kids to run and play while they check into the soccer game from time to time means there is something for everyone in the family at these weekly events. Bellingham United also does a great job of featuring other pieces of the soccer community in Whatcom county- whether it be recognizing a local WFC Ranger team, or giving shout outs to local schools, BUFC does a great job of spotlighting community successes.
This new season sees Bellingham United as the reigning Western Indoor Soccer League champions. They already have a 2-1 record as the season gets underway.
Indoor soccer is fast-paced, competitive and exciting. The players play in shifts of one and half minutes to two and half minutes which means there's constant action happening on the indoor field.
Carrying approximately 30 players at any given time, with as many as 15 suiting up for each game, the players are mostly from Whatcom County with a few travelling from as far away as Seattle and Snohomish to play for BUFC. Bellingham United's head coach, Brendan Quilici, is also one of the squad's top players. United also has top local Bellingham players Nick Cashmere, Matt Sanchez and Chris Jepson making an impact on the field.
At the beginning of each season, tryouts are held with many players coming in as former players from Western Washington University as well as other colleges. Local current high school standout players such as Tyler Hughes, Danny Fazio and Carl Peterson were also at tryouts, and are fighting to break into the lineup each week.
This Bellingham-based team is sure to provide an experience you won't soon forget. Check the Bellingham United schedule and get your tickets soon. Come experience the action, local support and fun of the Bellingham United Indoor Soccer Team. Tickets are available online.
See you at the Sportsplex!