The incredible feeling of skating across an ice rink, says Steve Baker, is hard to describe to someone who has never tried it.
"Once you can do it, it's the feeling of effortless glide," says Baker, new skating director for the Bellingham Sportsplex Skating Academy. "It's a little bit like skiing, except you don't need a hill. It's just a really cool feeling."
The 62-year-old, who commutes to Bellingham from his home in Edmonds, has been on the job for about a month now, and things are going great. Baker brings to his position a lifetime of skating experience that began in the United Kingdom. Growing up about 100 miles south of Scotland's border with Great Britain (his accent often makes people think he's Scottish), Baker decided to try skating around age 12, after accompanying his sister to her skating lessons. His initial, unguided skating attempts, however, were more dangerous than dazzling.
"I was crazy," he says with a laugh. "My sister's coach said to my parents, 'You need to get him some lessons before he kills himself.' And that was it. I took a lesson and really enjoyed the instruction, and never stopped."
Baker invested himself, and became a multi-time Northern, Midland and Scottish skating champion. He was also a British National Pair Champion and UK team member at the Junior World Championships and World Professional Championships.
In 1997, he moved to the United States with his family and began offering skating lessons. Baker has privately coached multiple national champions and international competitors for the USA, becoming a developmental coach for Team USA in 2008. Two years later, he became an international Team USA coach.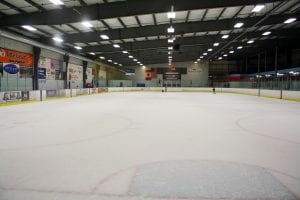 Aside from private coaching, Baker has held a variety of directing and promotional positions in the skating industry. In Seattle, he previously served as skating director for Seattle Skating Club before working as a promoter for Skate America. In 2008, a Skate America event he helped organize at Everett's Angel of the Winds Area set an all-time attendance record of more than 29,600 people.
Baker says he's excited about the challenge of running a program in Bellingham, as getting customers in Seattle was never difficult in such a densely-populated place. Here, he says, more outreach is needed, especially for their target demographic of 5- to 15-year-old schoolchildren. The goal is to let everyone know there's a fun, safe, year-round place to learn and practice ice skating.
As skating director, Baker says he hopes to further grow class sizes for the academy's Learn to Skate program, which offers classes for a variety of different age and experience levels at the Sportsplex's SaviBank Ice Arena. In addition, the Sportsplex offers public skating sessions, and Baker is quick to point out that ice skating is always a great family activity. Parents can skate with their children in a contained environment in which children are never out of sight.
Although he's helped coach people from ages 3 to 90, Baker says the younger a child starts skating, the better their learning curve tends to be.
"They're fearless when they start young," he says.
Besides instruction from Baker, Sportsplex skating classes feature additional coaching staff who are professional, attentive and enthusiastic.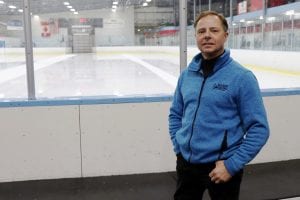 Learn to Skate classes are currently offered once-a-week in four-week sessions, and consist of 30-minute instruction periods followed by a 30-minute free-skate. The course for 3- to 5 year-olds, called "Snowplow Sam," features fun and games to make the initial skating experience enjoyable and memorable.
Basic Skills sessions are also available, teaching the fundamentals of ice skating at six different levels for both children and adults. Sessions for basic skating skills for skaters wanting to get into hockey are also available. Advanced FUNdamentals are also available, helping skaters develop agility, balance, coordination and speed. Skaters will learn forward and backward skating, stops, one-foot glides, curves and edges, crossovers and spins, among other things.
A Sportsplex membership is required for all classes, and can be purchased by calling 360-676-1919 or registering online. Steve Baker can also be reached personally regarding any questions on lessons, sessions and coaching at 360-676-1919 ext. 106, or by email at stephenb@bellinghamsportsplex.com.
Adult skate sessions are offered daily, Monday through Friday, from 8:30 a.m. to 10:00 a.m. Public skating sessions, which include rental skates if participants lack their own, take place Mondays from 3:00 p.m. to 4:45 p.m., and also from 11:00 a.m. to 1:00 p.m. on Saturdays and 1:00 p.m. to 3:00 p.m. on Sundays.
The Sportsplex will be adding its first 'Parent & Tot' class in March. Please call 360-676-1919 for more information.
For other dates and times, please see the Sportsplex Skating Academy website.
Sponsored