For those up and coming soccer players, the Bellingham Sportsplex has an active soccer academy. The Hammers Soccer Academy is open to any child in the community looking to discover and experience the sport of soccer.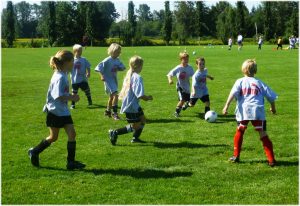 Starting with the Lil' Hammers, this program is geared for kids ages three- to six-years-old. Young participants are introduced to the basic skills of soccer by Hammers FC Academy instructors complete with action-packed games and a lot of fun.
Does your young player want to try soccer before becoming a part of the program? The Lil Hammers drop in soccer program on Tuesdays and Thursdays is a great opportunity to discover soccer for those little ones learning to love the sport. The program has activities that work the child's balance, coordination and movement based around a soccer ball. The kids also learn to take instruction and coaching from someone other than their parent.
Hammers FC Academy also offers Winter and Summer tournament programs for kids 9 to 11-years-old and includes three to four tournaments. The Academy programs provide the players with training sessions on introductory basic technical and tactical aspects of the game in preparation for the tournament play.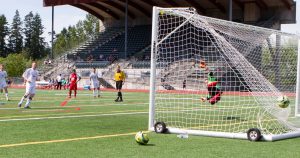 And, featured over the Winter Break is the Hammers FC Academy soccer camp for school age kids looking to experience soccer by learning basic skills and playing the game.
The camp will focus on creating a fun experience through teaching techniques, playing the game and having a lot of fun through learning the sport.
This co-ed camp requires no prior soccer experience and encourages past camp participants to come back and enjoy the camp all over again.
With very experienced coaches, many of whom are former college players or college players returning home for the holidays, the kids will have a great opportunity to learn and play with coaches with a true passion and who love introducing these young players to the game of soccer.
Registrations are accepted online for the winter camp which is held the second week of the Winter Break. Still have questions?  Give us a call at the front desk anytime at 360-676-1919.
See you at the Sportsplex!