Every year, when the clouds part and the sunshine begins to warm our skin, Pacific Northwest residents flock to grassy hills, rocky beaches, anywhere to relax and soak in the sun. Luckily for us there are a lot of great swimming spots in Whatcom County, with a long ocean shoreline, and numerous lakes sprinkled throughout. Whether you dive, doggie-paddle, skip rocks or sun tan, there is something about being by water with clear blue skies above that feels like summer.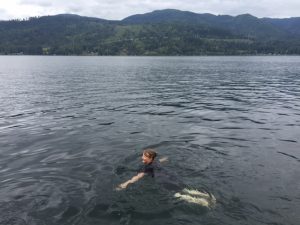 Nearly every resident has a watering hole that they favor, either because of activities offered, proximity to home, or sheer natural beauty. For one resident, it's a mixture of all three that draw her to Lake Padden. "I love to run or walk around the lake, since it's about three miles," she says excitedly, "and if it's a hot day then I get to jump in the lake afterwards."
I can definitely agree. Playing tennis, Frisbee, flag football or just having a picnic on the benches or grass in the hot sun followed by a quick dip in the water is very refreshing. Watching the boaters on kayaks or in fishing vessels is a great sight in this park too. "It's so close to my house that when I get off work, or before I start, I have enough time to go and just sit in the water, or swim a little ways," she says. "If there is more time then even better. I'll run as hard as I can and when I get tired I'll cool off in the cool water!"
Lake Padden, at the bottom of a bowl of little hills and surrounded by dense trees, is a beautiful excursion for those who want the feeling of wilderness about them. I used to be a nanny and after I would drop the kids off at school at Wade King, I would drive down Yew Street towards Lake Padden and go for a run. After the winter passed and days grew longer, hotter and sunnier, those runs became less frequent. More often with my feet in the water, dangling over the edge of a dock or wading in, I would just enjoy the sun.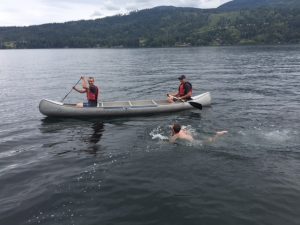 Though enjoyable, Lake Padden is fairly small for a body of water, especially when compared to its neighbor, Lake Whatcom. There are many points of access to Lake Whatcom, hidden or private, or public and accessible. Hundreds (if not thousands) of people get to swim in the clean glacier waters each summer.
Bloedel Donovan Park is an open area with plenty of space for little kids (plus a cool jungle gym!) or dogs, and a great swimming spot protected from boaters. It's always fun to pass by and see young kids standing on the wooden pillars poking from the water, ready to jump in or families sitting in the grass enjoying the sun as the summer breeze carries the laughter of children and teens splashing in the lake.
Further along, at the North Lake Whatcom Trail, you can find more secluded swimming spots. It's a summertime tradition now, for the past four summers that I have lived in Whatcom County, to walk the short trail along the water until I find a fun place to spend the day. With friends, we'll find trees to float on further out in the lake, explore fallen trees or relax under a green canopy in the shade. This area is my favorite to bring an underwater camera to (I'll usually pick up a disposable one each summer) and take snap shots of friends' goggle-covered faces in the green water.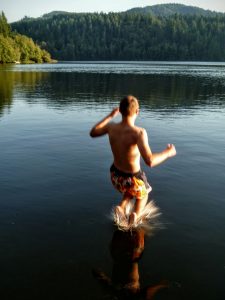 If you have ever been a student at Western, or know a student/alumni, also make sure to go to Lakewood on Lake Whatcom. They have sailboats, canoes, kayaks and paddle boards for rent for extremely low prices. One summer, nine of us went paddle boarding for a total of $27 for the day. Not only is there a lounge to rent for events and places to BBQ with picnic benches and a grassy hill, but it also offers three great docks for diving, jumping and (hopefully not) belly flopping.
Of course, if you aren't a student you may still want to get out on the water in a canoe or kayak. Silver Lake Park is gorgeous, with serene mountain views and places to camp, and it offers rentals of aquatic vessels. Take a trip out, maybe spend the night and enjoy a relaxing day out on the water.
Last summer, while walking along Locust Beach at low tide, my husband and I decided to see how far we could get before the water reached our shorts. Well, about a mile out, I was safe by a couple inches and my husband only had to roll up his shorts a little bit. We spent about an hour just wading through, in wonder at the shallow waters, before heading back and watching some skim boarders. Definitely come try this out, even just to feel the sand in your toes!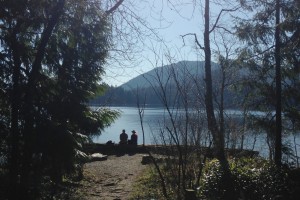 Another must-visit place, especially if you own goggles, is Clayton Beach. Last summer my husband saw jellyfish, and I always love watching the kelp under water, or spying darting fish swim by. The ocean is cold but visibility is normally clear and being on the coast offers unobstructed afternoon sunlight. Since it's a little further away from town and involves a hike to reach, it's also slightly secluded.
Here's to a fun, wet summer in the sun!
Quick Reference Guide:
Lake Whatcom: Access through various points for swimming, snorkeling and boating (kayaks, canoes, sailboats, motor boats, etc.).
Lake Padden: Take a dip in the waters or try out fishing.
Silver Lake: Canoeing and kayaking are the best for this calm, medium sized lake.
Marine Park: Try some swimming in the waves, or just relax on the sandy beach.
Locust Beach: During low tide, see how far out you can wade. It seems to be a mile or more where the water is barely above the knee! Try skim boarding here or kite surfing (or, relax and watch the skim boarders and kite surfers!)
Boulevard Park: The new sandy beach is in, meaning you can get a coffee and sit on the sand in under five minutes. Explore rocks and tides or go to Taylor Dock and jump in.
Clayton Beach: Big rocks and a cool, secluded beach in the beautiful Chuckanut Mountains mean you can read by the water and take a dip. Bring some goggles for great snorkeling.
Whatcom Falls: Explore the many spots along the river for swimming or take a chance and jump in at the falls. Make sure to jump with someone who knows where the spot is – it can be dangerous.
Arne Hannah: Get strong arms during the lap-swim time or get in the water on those cloudy summer days. Yearlong swimming!
Birch Bay Waterslides: Have a blast with water slides, hot tubs and wave pools for some old-time family fun.