Building community doesn't always look the same or happen through the same strategies. But most successful community building tends to start small, and then expand, encircling a wider and wider net of people.
The goal of the Whatcom Sports and Recreation summer soccer program is no less lofty.
Through soccer, they're growing a community of soccer-loving kids who can relate to the adult soccer aficionados in Bellingham and then, ultimately, the global community of people who care passionately about the sport, expanding connections and understanding as they go.
Whatcom Sports and Recreation holds two different soccer camps each summer at the Bellingham Sportsplex, one geared toward beginner players and the second for those with more experience. Registration is now open for both of the 2019 Hammers FC Academy and Advanced summer soccer camps.
For beginner players, Whatcom Sports and Recreation has three opportunities to attend camp, each four days long in June, July and August. The Hammers FC Academy, as they're called, is designed for kids just learning to play the game.
The camp is open to kids ages 5 to 12, and is meant to be an encouraging, safe and fun environment where they can make new friends, play outside and learn soccer skills, says Spencer Wolfe, Director of Soccer for Whatcom Sports and Recreation.
"More than anything, we're just focusing on getting an enjoyment, passion and love for what soccer can do," he says.
This year, the Hammers FC Academy will be held June 24-27, July 15-18 and August 5-8 from 9:00 a.m. to 12:00 p.m. each day.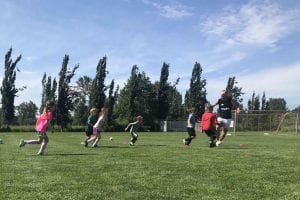 In July, the Sportsplex hosts an advanced camp for kids who have been playing for a few years and want to improve their technical soccer skills.
The advanced camp is July 15-18 from 1:00 p.m. to 4:00 p.m. each day.
Wolfe and one or two other Whatcom Sports and Recreation staff members coach the summer camps along with a handful of local trainers and players, all of whom have either played soccer their whole life, play for Western Washington University, Whatcom Community College or our local semi-pro team, Bellingham United.
They rally a highly competitive group of trainers for the kids soccer camps, not so much to drill great technique into participants, but to introduce them to people who love soccer to their core, Wolfe says.
"You're going to be surrounded by people who love soccer," he says, "so it's hopefully going to draw that out of the kids, too."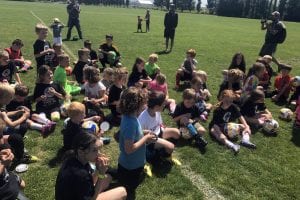 Wolfe's own love for soccer started when he was a kid growing up in Bellingham. Throughout the year, Wolfe participated in any camp or opportunity to play available to him, he says. Wolfe is new to his position at Whatcom Sports and Recreation, having started in February, but he is not new to the Whatcom County soccer community.
"It obviously made a big impact on my life, to want to come back and continue working in soccer," he says.
Soccer offers kids a variety of learning opportunities, beyond just playing the game, Wolfe says.
The sport requires a ton of teamwork, teaching kids to work together as well as creating strong friendships between teammates. It's easy, Wolfe says, to see who scores the goal, but what spectators don't always recognize is the sequence of plays by many people on the field that ultimately led to the successful shot.
"It's really one of the ultimate team games where you have to be on the same page with pretty much everyone on the field," Wolfe says. "It creates really tight bonds between people."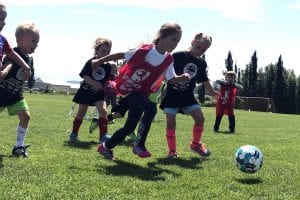 Soccer also bonds folks globally. Soccer has cultural significance for people in countries all over the world and variations in the style of play in each place, connecting folks through passion for the game and offering endless opportunities for growth.
"There are just so many ways you can play, and cultures behind it," Wolfe says. "There's always something to learn; a new way to look at things."
Within Whatcom County, these soccer camps also give kids a unique opportunity to develop relationships with the elite soccer players in town. Members of Bellingham United often coach the soccer camps, and then encourage the kids to come watch their games.
"You get a cool connection between the youngsters in the community and the really top-level players," Wolfe says.
These community connections are what Whatcom Sports and Recreation is all about. In all they do, the non-profit aims to provide affordable and enjoyable recreational opportunities for the Whatcom County community.
"For us, a huge thing is we want to make it accessible to everyone," Wolfe says.
The camps are $115 and $125, respectively. The higher cost for the advanced camp reflects the effort to recruit the highest-level coaches for the kids, Wolfe says.
"We really want to focus on having a community behind soccer," he says. "Our focus isn't necessarily training the best soccer players possible, it's encouraging a lifelong passion and joy for soccer for these kids."
Whatcom Sports and Recreation
Bellingham Sportsplex
www.bellinghamsportsplex.com
1225 Civic Field Way in Bellingham
360-676-1919
Sponsored