It's a new season for Bellingham United's indoor soccer team and with every season comes new challenges – none more significant than the fact that it's Richard Henderson's first year as player-coach. The team, winners of the Western Indoor Soccer League for three years running, look to improve upon the progress they made last year when they finished second at Nationals in Tulsa, Oklahoma.
"We want to repeat in our league for a fourth time, and then go win Nationals," Henderson says. "I know we can win it; I know we can do it. Last year we had the opportunity to win, but came up just short."
Henderson will be running the field and scoring goals at the same time he's calling the shots and setting up plays for his team. Henderson takes over for former player-coach Brendan Quilici, who led the team to the three previous WISL championships.
Currently, Bellingham United is in a break between their outdoor and indoor seasons, but tryouts will take place on October 8. Afterward, Henderson and the team will train for a week before they begin preseason, followed by the start of the regular season in November.
Henderson says the indoor team experiences less turnover than the outdoor team, and has a solid core of 8 to 10 players, with returning players every year. Players from all over the Pacific Northwest tryout for the team and even players from Canada make the trip to the Bellingham Sportsplex for tryouts.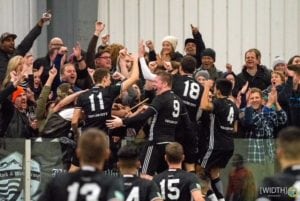 "I'm very much looking forward to training after we solidify our roster," Henderson says. "This year, I plan on making our training a more deliberate and intentional process. We're going to be working on more set pieces and even start our training earlier than we ever have."
Henderson says his focus is to get a strong structure and foundation built up before the season starts so the team can actualize their goal of winning Nationals. Henderson only wants to play soccer if it's competitive and there's no higher competition at the semi-professional level than winning a National tournament.
There are many nuances to the game of soccer indoor, and much strategy is involved to stay on top. Each team in the WISL has a home field with different dimensions, proving that home-field advantage really does matter. In fact, in the last three years, no team in the WISL with home-field advantage has lost a home playoff game. Each team strives hard throughout the season to retain that critical home-field advantage, Henderson says.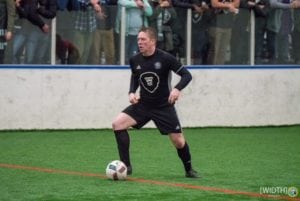 Bellingham United's home field is at the Bellingham Sportsplex. Throughout the season, a beer garden sponsored by Aslan Brewing Co. is featured at home games. Henderson says the indoor team has a loyal fan base, but they always encourage more folks to make it out to games. He says a lot of people don't realize they have a semi-professional team right here in Bellingham, on their doorstep.
"It's great that we're able to do this," Henderson says. "We get to see new places, stay fit, play competitively and play for great fans who support us every year."
Sponsored