Mark Collins loves hockey. "Hockey is a part of my family," says the Blazers Head Coach and Bellingham Sportsplex Hockey Program Director. "I've played since I was two years old. My dad played, my sister played for Team Canada, and my wife played for Team USA. You could say it's in our blood."
A native of Manitoba, Canada, Collins is a former North Dakota State University collegiate player who uses his passion for hockey to enliven the Bellingham Sportsplex program. He came to Bellingham over 15 years ago and soon began coaching at the Sportsplex. He then became the Hockey Program Director in 2012, the same year the Bellingham Blazers returned to town, and was named Blazers Head Coach shortly thereafter.
Under Collins' leadership, the Blazers won the Cascade Cup Championship two years in a row, also earning spots in the 2013 and 2014 Junior National Championships. In 2013, Collins was awarded Coach of the Year for the Northern Pacific Hockey League. Today he is a Level 5 USA Hockey certified coach.
"We have generated a fan base and a lot of interest in hockey because of these kids," says Collins. "Our kids in the Learn to Play program look up to the Blazers players. It's where they want to go."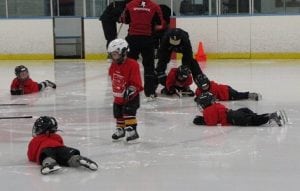 What really excites him is getting kids who've never played hockey into the Learn to Play program. "It's phenomenal to build that enthusiasm in a sport that kids have just learned to play," Collins says.
Collins still plays hockey locally and enjoys what the Adult League at the Sportsplex brings to the community. "It's a great avenue for folks to go out and play once a week and make it a social event," he says.
With a new session of Learn to Play starting right after spring break, Collins looks forward to another opportunity to build local hockey skills and enthusiasm. For more information on hockey programs and the Blazers, visit the Bellingham Sportsplex website.
See you on the ice!
Sponsored