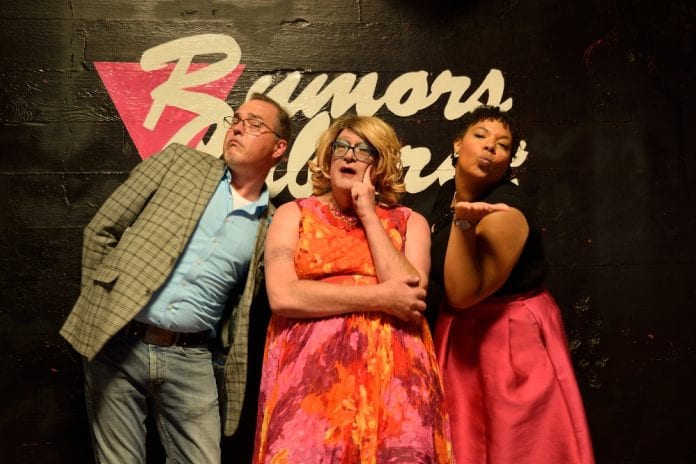 Lights dimmed, spotlight on; a performer takes the stage. Cristhian Arias-Romero is about to give the crowd a Freddie Mercury impersonation to be remembered.
The performance is for Bellingham Idol, an event taking place on Thursday nights throughout the months of September, October and November at Rumors Cabaret. Bellingham Idol is sponsored by Kristina Michele Martens of Whisky Productions and Coldwell Banker Bain, and the Smoking Crow Cannabis Dispensary.
The brainchild of Kristina Michele Martens, Bellingham Idol wouldn't be what it is without the help of her friends and the community.
"The community loves it," she says. "They have made it a great first time go-around. I am so excited to see who wins, and I can't wait for this to become an annual event. My goal is to build community, and to see different groups of people come together and have fun."
One of Martens' supportive friends, and a member of Whisky Productions, is Smoking Crow Cannabis Dispensary's General Manager Dominic Ippolito. He met Martens at a mutual networking event where she told him about her idea for Whisky Productions.
Whisky Productions is a group of influential business owners and individuals who come together to better the community and each other, Martens says. Each of the events they organize and everything they do is voluntary. Bellingham Idol is one of the first big events for Whisky Productions.
"When I told the group about my crazy idea in throwing Bellingham Idol, I was excited they wanted to help me make it happen," Martens says.
The winner of Bellingham Idol receives a $1,000 cash prize. The first round of auditions just finished, and the quarterfinals begin Thursday, October 11. The finals take place Thursday, November 15, when 45 singers are narrowed down to one winner.
Ippolito's favorite performer is Jessyca Murphy. "She sang 'Lola' by The Kinks and did a great job," he says.
Martens' favorite singer thus far has been Angelica Flores who sang the Sam Smith song "Pray," which was also a crowd-pleaser. The unique judging system Bellingham Idol incorporates makes the audience an integral part in deciding who wins.
There are three judges, who function like the Paula, Randy and Simon of "American Idol." These are Kristina Michele Martens, Kevin Coleman and Ms. Betty Desire. These three provide feedback and commentary, but contestants' progress is based on audience approval. After performers sing their songs, a decibel meter is held up and whoever gets the loudest cheers from the audience moves on.
"When Kristina brought up the idea to do an event like this, I was immediately on board," Ippolito says. "Hosting events like these is a good way to meet people and to become more involved in our community."
Community is especially important for Martens and Ippolito who are relatively new to Bellingham. Ippolito is from Hawaii and Martens is from San Diego, California. Both have only been here for two years.
"Event planning is what I want to go into," Martens says. "One day I plan to have 20 acres I can use to host and throw events that bring all types of people together."
During the Bellingham Idol quarterfinals, which run the next three weeks until the end of October, each participant will get one longer ballad-type song, a 30-second on-stage interview and a shorter pop song.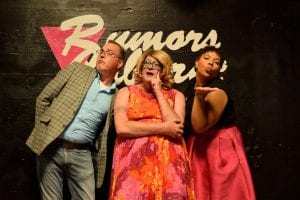 Both the semifinals and finals will see each contestant sing three different songs. Songs are sung in karaoke style with a backing track for each piece.
Ippolito and Martens look at each other excitedly and speak almost in unison saying, "We're also going to have a surprise special guest performing at the finale."
Martens has roots in the theater, so Bellingham Idol was a logical first to be thrown under the Whisky Productions umbrella. It's apparent she likes the big stage, and also likes giving others the opportunity to take that stage with her. Next on the agenda is getting Whisky Productions into the theater side of things.
She looks at Ippolito, "I'm thinking we should do a production of "Rent" next. Can you sing?"
"I can, but I don't know if I want to," he says with a laugh.
Maybe he'll get a part in the pending production, but Martens makes sure he knows his limitations, "All right, well, if you decide to be in it, I'm sorry honey, you aren't Roger."
When he asks who he can be, she suggests a character with minimal musical numbers.
"Well thanks, Kristina," he says with a smile. "Shows how much you believe in my singing voice."
These two friends love having fun, and bringing people together in the process.
"I once heard a quote: 'If you want to go fast, go alone, but if you want to go far, go together,'" Martens says. "And that's what we're going to do – make change together."
Sponsored