In December 2017, Brandon Nelson Partners set an ambitious goal: They committed to donating $10,000 to a local nonprofit once they sold their 100th house. Less than a year later, they reached that goal and donated $10,000 to Skookum Kids, a local nonprofit that helps kids in foster care.
The total donation was accumulated by each agent and the firm donating a portion of their commissions, accumulating into the sizeable $10,000 donation.
"We didn't decide on the organization right way," Brandon Nelson says. "We actually asked social media for help; we asked individuals to help find the right organization for us. Eventually we picked Skookum Kids, and we couldn't be happier to support their mission."
Skookum Kids helps children navigate the foster care system during their first 72 hours. Typically, there aren't many resources for children in the time between when they're removed from their home and when they're placed with foster parents.
Put yourself in their small shoes; all of a sudden, your parents are gone and you're forced into the hands of the state while you await an unknown future. It's a scary time.
Skookum Kids' mission is to help these children and make foster parents' and social workers' lives easier. Kids are welcomed into Skookum House where they're cared for during the intermediate period between leaving their current home and finding a foster home.
"Without Skookum House, these kids would go nowhere good," says Founding Director Ray Deck III. "Maybe some would get to hang out with social workers during the day, and then a hotel at night, but you never really know. It's certain they wouldn't get the comfort they need."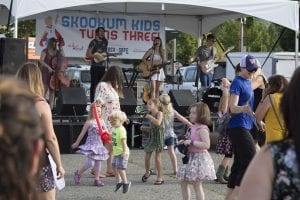 Deck III says most people didn't even realize this line of work exists. In fact, that was exactly what happened to him. Deck III was at a neighborhood association meeting a few years back when he met someone in child services. They told him about the need for a nonprofit to fill this gap. This resonated with him and he knew starting Skookum Kids was his next life mission.
More than 100 people volunteer at Skookum house throughout the year. Each has a day job, but they work at Skookum because they feel passionately about the cause and want to help the kids.
"People want to be a part of what we're doing in order to make a difference," Deck III says.  "And it doesn't take that much. You typically stay at the house between four to six hours one day each month."
Brandon Nelson says the social media poll provided them with many worthy nominations, but they choose Skookum Kids because it contributes to such a wonderful cause. Once they arrived at the organization and made their donation, Nelson says he knew he made the right decision.
"I simply asked Ray, 'How do you summarize what you do? What does $10,000 do for your organization?' And he told me, '$10,000 provides 100 nights of comfort; it costs $100 a night per kid.' Hearing that really brought home the cause for me."
In addition to Skookum House, Skookum Kids also helps families get licensed as foster parents and place children in foster homes.
"It's great that Brandon Nelson Partners did this for us," Deck III says. "I know they reached a major goal, and it's impressive they did. It's great they thought of us and allowed us to be the beneficiaries; $10,000 goes a long way."
Skookum kids brings a lot of comfort to kids who really need it, providing shoes, books, toys, meals, medical care, clothes, bedding and access to needed specialists.
On average, Skookum House takes in about four kids a week. Every year they throw a Block Party in July and a fundraiser in November to raise money for their nonprofit. This year, the fundraiser will take place on November 9 at Bellingham Technical College. It's called "Eat, Drink and Be Giving."
Brandon Nelson Partners do a lot of community sponsorship and are considering raising for another nonprofit in the future. Nelson says the event really made an impact on them and the community.
"We care about the community and giving back," Nelson says. "It feels good and we love doing it. I can't wait to do it next year again; it's very rewarding."
Sponsored