Summer has officially arrived. With June-uary behind us and the dog days upon us, we can finally soak up the sunshine we've all been waiting for. But what if it gets too warm? The name "Whatcom" itself is derived from the Nooksack word for "noisy water." Whatcom's waters await to cool us off. So dust off your swimsuits, tubes, paddles, and boards — it's time to beat the heat.
Take a Swim
Swimming — whether in a lake, creek, or tarn — is the surest way to cool off when temperatures soar. Fortunately, Whatcom County has no shortage of chilly waters. Here are a few suggestions to start with.
Bloedel Donovan Park
Lake Whatcom's Bloedel Donovan Park features a popular swimming beach. With a playground across the lawn, picnic tables, barbecue grills, and a nearby boat launch, Bloedel Donovan Park is a great spot for families to relax beside the lake. For an easy, shaded hike beneath tree cover, follow Whatcom Creek along the Railroad Trail to Whatcom Falls Park.
Whatcom Falls Park
Whatcom County is home to an abundance of waterfalls. Among them, Whatcom Falls' cascades are the most accessible from Bellingham. Walk into Whirlpool Falls to experience the rush of Whatcom Creek at this popular swimming hole. Whirlpool's punchbowl is not supervised, and cliff-jumpers take the plunge at their own risk.
Lake Padden Park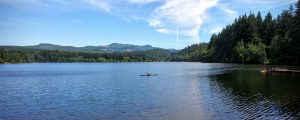 Another family favorite, Lake Padden offers excellent swimming opportunities for kids and adults. Motorized boats are not allowed on the lake, making for a friendly swimming environment. The drive-up beaches can get rather crowded, so try walking around to the far side of the lake for some solitude. Padden's docks make for great jumping off points. Just be sure to give watercraft the right-of-way in these areas.
Float the River
Tubing the Nooksack River is a classic summer experience in Whatcom County. While there's certainly more than one way to do it, we suggest floating the South Fork between Acme and Van Zandt. Stop in at the Everybody's Store to stock up on snacks and fill your tubes with air. With a group of friends, leave one car in Van Zandt and another in Acme for a 3 – 5 hour leisurely float. Always be sure to park legally and respect alcohol laws — police patrol the area regularly.
Mountain Lakes

Don't forget the Chuckanuts and North Cascades. There are far too many lakes to list here, so we'll suggest a few favorites. In the Chuckanuts, hike into Lost Lake or Fragrance Lake for a workout and a dip. Squires Lake is a quiet little getaway tucked in at the foot of Lookout Mountain — great for a short hike and swim. Head out Mount Baker Highway for big hikes and beautiful alpine lakes. Try Lake Ann near Mount Shuksan, Twin Lakes at the base of Winchester Mountain or Chain Lakes for Mount Baker views.
Paddle the Bay and Lakes
Paddling comes in many forms. You can kayak or canoe, stand-up paddle (SUP) or row. If you don't have your own human-powered watercraft, rentals are available throughout the county.
Bellingham Bay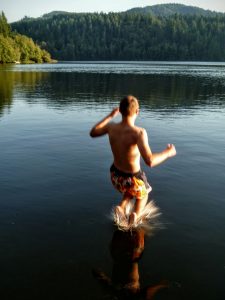 Beginner paddlers and those without access to boats can learn to paddle at the Community Boating Center. A variety of rentals are available here, including kayaks, SUP boards, and rowboats. Rentals must stay within Bellingham and Chuckanut Bays — allowing plenty of exploration for most boaters. Those seeking greater adventures across Bellingham Bay can paddle to Lummi Island for a memorable camping trip. Or launch from Wildcat Cove for unlimited possibilities.
Lakewood
On the western shore of Lake Whatcom, Lakewood is a 4,000 square foot boathouse operated by Western Washington University. WWU students, alumni, and staff can rent watercraft at Lakewood for a discounted rate. Rentals are also available to the general public at standard rates and include over 60 watercraft from canoes and kayaks to sailboards and more. Lakewood is an excellent place to learn paddlesports on the relatively calm waters of Lake Whatcom.
Paddle Sport at Lake Padden
Want to paddle at Lake Padden, but need a rental? Yeager's has you covered. They offer paddleboard and kayak rentals at the lake during summer months. In 2016, rentals are available every weekend (Friday- Sunday, 12pm – 6pm) through September 4.
North Cascades Highway
Take your kayak on tour to one of several large lakes in the North Cascades. Baker Lake offers a massive playground for paddlers, with countless beaches and several campgrounds for a weekend trip. Or launch from Colonial Creek Campground to paddle Diablo Lake. Three boat-in campsites are available along Diablo's shores. Further north, Ross Lake hosts approximately 20 boat-in sites; rentals are available at Ross Lake Resort.
This list is far from exhaustive — we've only begun to dip our toes in Whatcom County's "noisy water." For further suggestions, see our list of top spots for kayaking.