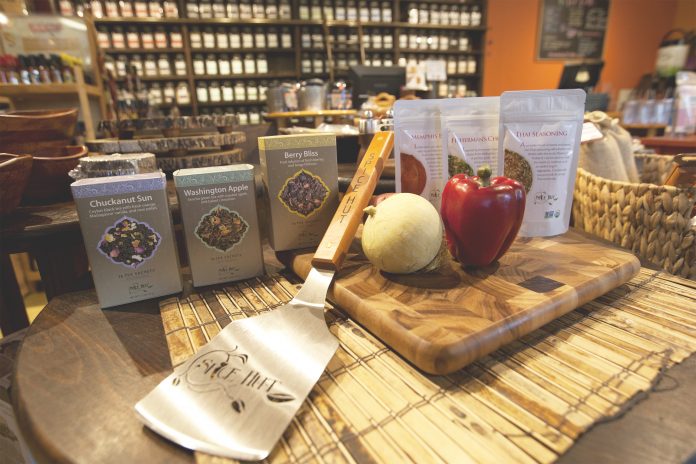 Stepping into Spice Hut, shoppers are immediately immersed into a world of traditions. Eyes roam to the back of the shop featuring canisters of 220 loose teas that arrived in Bellingham from far-flung regions of the world. The walls painted in burnt orange and the containers of teas and spices that pepper the shop invite everyone from chefs to tea connoisseurs to peruse the goods.
And if sniffing the tea blends at the sampling station situated in the shop's center doesn't engage the senses, Spice Hut owner Mundir Sidhu provides a seating area at the front of the shop for customers to savor the teas. In addition to the teas, the shop offers 120 spices and herbs and 40 seasonings produced locally at the warehouse on Axton Road. Mundir carefully sources her ingredients internationally.
According to Mundir and her son Tanvir, who helps co-run the business, "The spices and teas are handmade, certified organic, certified non-GMO, and no salts are added." This fresh and locally-made approach has worked for the Spice Hut team. Since the shop's launch in 2004, word-of-mouth reached local eateries such as Black Drop Coffee and Mount Bakery who collaborate with Mundir. Tanvir adds, "We make special spices for chefs."
The biggest sellers to date are the English tea blends and spice mixes with both chefs and beginning cooks in mind. Mundir includes recipes on the packages. She sells seasonings for Mexican, Thai, Indian and other exotic dishes we love. And for the truly adventurous, Mundir adds, "People want to try new flavors."
When asked to choose a favorite tea, Mundir pauses, chuckles and then mentions that she prefers a black Chai or the Japanese matcha and gyokuro (green) teas to start her day. Having sampled a black chai, the reason seems evident. Incidentally, the shop also sells teas that act as sleep aids. And local doctors have recommended the shop to new mothers.
With Bellingham's ever expanding ethnic diversity, an exotic tea shop in Cordata, only a few blocks away from the Community Food Coop's Cordata store, makes perfect sense. However, in 2004 when Mundir first opened the shop on Kellogg Road, the shop served a different demographic. Born in India's Punjabi region, Mundir's family relocated to British Columbia when she was around 8 years old. She relocated to Lynden in the late 1980s with her family.
In regard to pedaling exotic spices, locally-sourced herbs, and international teas, Mundir mentions that she has always had a passion for cooking. And she enjoys mixing spices and teas. "Teas and spices are in my blood."
Tanvir also shares his love for the shop's fine ingredients. "I grew up drinking teas and eating meals cooked with fresh herbs and spices. I developed an interest in cooking and experimenting with foods from all over the world. Having gourmet spices at my fingertips has allowed me to take my love for cooking to the next level!"
Tanvir brings his own expertise to his mother's business. "I went to school for business and began to involve myself in different levels of the company. Being able to share our passion for high quality gourmet spices and teas with our customers has been a very rewarding experience."
Mundir and Tanvir also place effort on community building as they enjoy interacting with customers and sourcing the best ingredients, many of which are often mixed in the shop while the customers watch. And while customers wait they can also peruse Spice Hut's website and blog where they receive education about the origins of their favorite teas.
The Spice Hut qualifies as a woman minority owned business. Tied in with the entrepreneur spirit of Whatcom County, Bellingham in particular, we can see why Bellinghamsters frequent the shop. And let's not leave out Canadian customers who brave the border to purchase their teas. From its distribution center on Axton Road, The Spice Hut sells to 60 wholesale outlets. And between the shop and wholesale, Mundir and Tanvir keep a busy schedule.
While Bellingham has its share of women-owned herbal shops and natural food stores that sell an array of teas and spices (loose and bagged), the Spice Hut offers a unique experience. From the Buddha statue that greets customers as they walk through the door to the rows of gleaming glass jars that line the walls, east meets west here and there's a feeling of traditions passed down to younger generations.
While the Spice Hut is not a medicinal healing herb shop, customers choose from the wide offering to create their own blends. The shop owners assure that they sell the freshest and finest herbs to flavor a dish or assist new mothers (under doctor recommendation). And who wouldn't enjoy relaxing with a cup of tea in a cozy shop that promotes folk wisdom?
To see the vast selection of spices and teas for yourself, visit the Spice Hut online, in person at its Cordato location (131 W Kellogg Road), or call 350-671-2800 for more information.