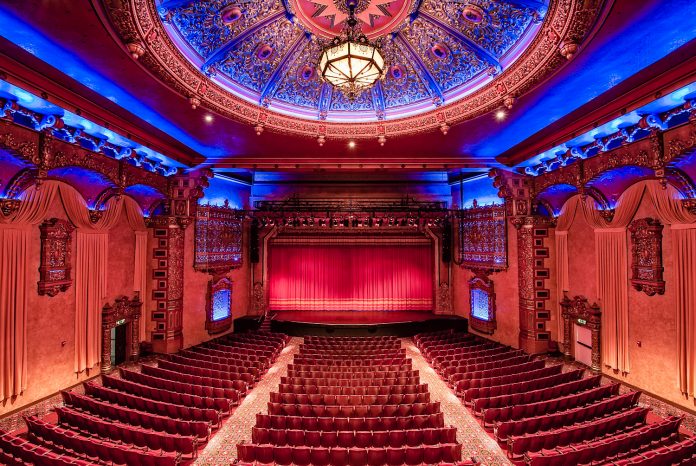 Almost 90 years ago, Mount Baker Theatre (MBT) was a luxurious movie palace — the only survivor of five built in the Bellingham-area at the time. Since then, with significant support from its involved volunteer and donor base, the theatre has evolved into the civic historic home to a premiere Pacific Northwest cultural tourism destination that helps sustains the regional community through its arts education programs and substantial economic impact.
Historic Building Provides Access to All
Mount Baker Theatre was built in 1927 in an exotic Spanish Moorish design meant to transport its small town patrons to another time and place. The building was placed on the National Historical Record in 1978, but by the 1980's it was in need of significant repair and slated for demolition. In 1984, the community rallied and saved it by developing a partnership between the city, county and community that resulted in a city-owned facility managed by the Mount Baker Theatre Corporation, a 501(c)(3) non-profit.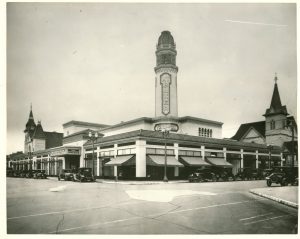 Since then, taxes have helped to fund the theatre's management and private support has supported more than $14 million in capital improvements that have transformed the theatre's three venues that currently support more than 400 events and 110,000 visitors annually.
"Many people don't know that this gorgeous building is run really efficiently and any funds we are able to make go right back into the community," explains MBT Marketing Director, Amy Guerra. "We exist to enrich this wonderful town."
Both area residents and tourists alike can see world-class entertainment without incurring the expense to travel to New York, Seattle, or Vancouver, B.C. Local performers and groups also have access to the restored building and professionally-managed stage to make their events incredible. The spaces are used by a wide variety of organizations including the Whatcom Symphony Orchestra, area performing arts schools, film festivals, Bellingham Technical College, and speakers from various civic and community groups. The Encore Room can be booked for use free of charge by arts non-profits through a community outreach program.
The theatre also hosts a number of educational programs that provide more than 17,000 regional children access to professional arts curriculum each year. Throughout the school year, the theatre plays host to stunning, culturally diverse traveling theatre groups that perform during the weekday for Whatcom and Skagit County's public, private, and homeschool communities. Missoula Children's Theatre also teaches theatre arts to children of all ages in their summer programs.
Mount Baker Theatre continues to invigorate a vibrant local economy. Various taxes contribute around $90,000 annually to the city's general fund. Approximately 40% of event attendees reside outside Whatcom County, many combining elements of the outdoors and culture in one glorious vacation. In all, the theatre's economic impact is placed at around $6 million, based partially on a study by Americans for the Arts. The theatre's annual patrons contribute $2.7 million in direct spending with our community's businesses in the form of lodging, hospitality, meals, souvenirs and transportation. Many of those same services are also used by the performing artists who briefly pass through to grace the stage, representing additional economic impact.
The theatre also stimulates the local economy just by operating in this beautiful city — its annual operating expenditures totaling $3 million. Seventeen full-time staff, many part-time positions, and a pool of 300 union stagehands live and work productions in our community.
Tremendous Volunteer and Donor Support
"We couldn't do all that we do without our volunteers and donors," explains Executive Director Brad Burdick. "We have a very well established group of about 250 active volunteers called STARS that are led by an 18-member Steering Committee. You may see them as ushers or in reception but they do so much more. They build sets, find the squeaky seats to be fixed, help with renovations, and aid in marketing as our ambassadors during tours, special events, and out in the community. They currently average about 12,000 volunteer hours annually."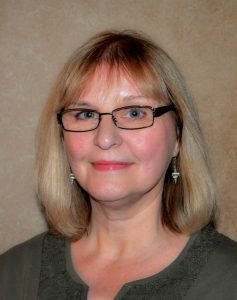 Mount Baker Theatre Development Director, John Purdie, adds, "The STARS have a sense of ownership and deep love of the building and the wider picture of its role in the community. We have a great respect and gratitude for their leadership. Evidence of their contribution is all around the building." Over the last 20 years, STARS volunteers have donated more than 131,152 hours in support of the theater.
This group of highly invested volunteers is led by three-time Steering Committee President, Evelyn Turner, who has been volunteering at MBT for more than 5 years. "The STARS make the theatre a better place and therefore the community a better place," explains Turner. "Every staff member is vocal about their appreciation for what we add to the experience." Several have donated a sensational number of hours including five volunteers who have reached 2,500 hours, 21 who have logged more than 1,000 hours, and 38 that have exceeded 500 hours. "The volunteers hours keep costs low — the equivalent of seven full-time staff — and help the theatre expose people to the arts that could not otherwise afford it or it's just not a part of their lives," adds Turner. "Our education programs bring thousands and thousands of children exposure to the arts at a cost of only a few dollars per child. As funding for the arts has been cut, we are able to keep the arts alive. That's a huge give back to the community."
The theatre also inspires its 1,000 Members to contribute $50 or more on an annual basis, while 85 business and individual sponsors underwrite around $356,000 in activities, an average of $4,200 each. "We welcome everyone to join in supporting us through membership," explains Purdie.
90

th

Birthday Celebration Planned
To honor Mount Baker Theatre's 90th year, a community party is planned for Saturday, April 29, 2017. Theatre-goers will be invited to dress in 1920's attire and join in with the spirit of time, in which the theatre was born. "We'll eat birthday cake, enjoy signature cocktails, and dance on the main stage behind a world-class swing band," says Guerra of the special party being planned.
2016-17 Season Launch Open House and On-Sale
To launch the new season, MBT and its volunteers will host an Open House and open ticketing to the public for 24 upcoming world-class events on Sunday, July 24, from 2:00 p.m. to 5:00 p.m. The celebration's theme, "There's a Whole Wide World in Here," encourages patrons to discover the joy and escape of attending the theatre itself, and see that attending a show is a destination, a vacation. The season's shows are impressive, including Alton Brown, Wynton Marsalis, Vince Gill, Ben Folds, the musicals "Once," "Fame," and "Mamma Mia!," Houston Ballet II, Garrison Keillor, and the Irish Tenors — to name a few.
Attendees can collect passport stamps for prizes as they tour the building including backstage, see video and audio of upcoming performances, and autograph the Main Stage. The afternoon is packed with family-friendly activities like paper airplane launches from the balcony and kids' face painting in the backstage dressing rooms, all to the tune of the pipe organ. Local vendors Village Books will offer show-related materials for sale and Boundary Bay Brewery will have local brews in an on-site beer garden. The afternoon's prizes will also include several chances to win free show tickets. The whole family will enjoy this festive afternoon while staff and volunteers help patrons book their 2016–17 seats and packages.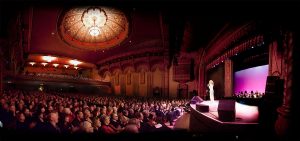 The majestic Mount Baker Theatre brings so much to the community as a performing arts centerpiece, providing access and education to both locals and tourists of every age. With the help and hard work of staff, volunteers and donors, the theatre is looking forward to celebrating its 90th year as a vital part of this lovely community.
2016-17 Season Launch! Open House and On-Sale
Sunday, July 24, 2:00 p.m. to 5:00 p.m.
www.facebook.com/events/1561439870824716
Mount Baker Theatre
104 North Commercial Street
Bellingham, WA 98225
Phone: 360-733-5793
Tickets: 360-734-6080
www.mountbakertheatre.com
Sponsored