The Cascade Range is named after waterfalls. Stretching from British Columbia to Northern California, these mountains are well known for their active volcanoes, numerous glaciers, and namesake cascades — many of which are right here in our own backyard.
There are more than 250 identified waterfalls in the North Cascades region alone; dozens exist within Whatcom County. Racing down glacier-sculpted mountainsides or tumbling through tiered forest slopes, waterfalls offer an unparalleled sensory experience. Hear the thunderous roar of waters crashing. Feel the spray on your face as you take in the view. In general, lowland falls are best viewed between fall and spring, while high country cascades are best in early summer.
Ready to take the plunge? Here are some of the easiest Whatcom waterfalls to access — either by roadside viewpoint or a short walk in the woods.
Whatcom Falls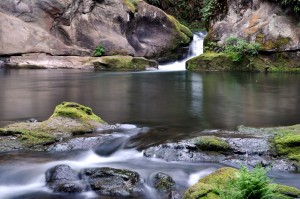 Located conveniently between Lake Whatcom and downtown, Whatcom Falls Park is a long-time Bellingham favorite. The park's main display is just 50 feet from its parking area. Viewed from a scenic footbridge over Whatcom Creek, the 30-foot wide Whatcom Falls drop approximately 20 feet, creating a dramatic display year-round. Continue downstream along the trail 0.3 miles to Whirlpool Falls, a 10-foot "plunging punchbowl." This area is a popular summertime swimming hole, though jumping into the whirlpool is discouraged.
Lookout Mountain Preserve
Featuring a new trailhead parking area with restrooms and informational signage, Lookout Mountain Preserve is now easier to access than ever. There are moe than 6 miles of forested, dog-friendly trails here. Try the short Waterfall Loop to see two 12-foot falls along Austin Creek.
Like Whatcom and Chuckanut Falls, these low-elevation cascades are best viewed during the rainier months.
Chuckanut Falls
Take a short hike through Arroyo Park to visit Chuckanut Falls. Best during winter or spring — when there's plenty of rain to feed their flow — Chuckanut Falls are accessible year-round. This 2.6-mile roundtrip trek is described in detail on the Washington Trails Association website. You'll pass a small scenic waterfall, crossing its stream over a footbridge at 0.3 miles. From there, it's another mile to Chuckanut Falls where a wooden bench and overlook await. Consider extending your hike another 3 miles along the Hemlock Trail to Raptor Ridge.
Racehorse Falls
Dropping a whopping 139 feet in a four-tiered display, Racehorse Falls are worth the mini-adventure it takes to find them. Take Mount Baker Highway east 2.3 miles from its junction with Highway 9. Turn right on Mosquito Lake Road and follow the driving directions provided by Waterfalls Northwest Survey to reach the unsigned trailhead. When the short trail peters out at a logjam, proceed cautiously upstream about 0.3 miles to view these racing falls. Watch for eagles — and maybe even salmon — during winter visits.
Nooksack Falls
Among Whatcom County's waterfalls, Nooksack Falls are perhaps the most famous. These glacial falls plummet 88 feet in two segments down the North Fork of the Nooksack River. The falls are located just half a mile off Mount Baker Highway, and a short trail leads from the parking area out to their viewing platform. Check out the interpretive signage for historical information on Puget Sound Energy's hydroelectric plant.
Ladder Creek Falls
Head out on North Cascades Highway to the town of Newhalem to visit Ladder Creek Falls. These falls are best viewed at night due to the historical light show that operates daily until 11:00 p.m. Kids and adults alike will love strolling along this colorfully illuminated path. The quarter-mile walkway is paved and offers benches for those who care to sit and admire the landscaped rock garden. At the end, you'll be greeted by Ladder Creek's three-tiered, 108-foot high falls. Unfortunately, this area was closed by the wildfires of summer 2015, but should reopen as of May 2016. Visit Seattle City Light's website for current conditions.
Gorge Creek Falls
Three miles east of Newhalem on Highway 20, Gorge Creek Falls plummet over 100 feet into Gorge Lake. This tall, narrow waterfall can be viewed from Gorge Creek Bridge. Park on the west side of the bridge, then walk out for a photo opp. These gorge-ous falls are best viewed between spring and early summer.
If your thirst for waterfalls hasn't been quenched, pick up Falcon Guides' excellent "Hiking Waterfalls in Washington" for more ideas. Online, the best resources are Northwest Waterfall Survey and Aaron's Waterfall World. Happy hunting!