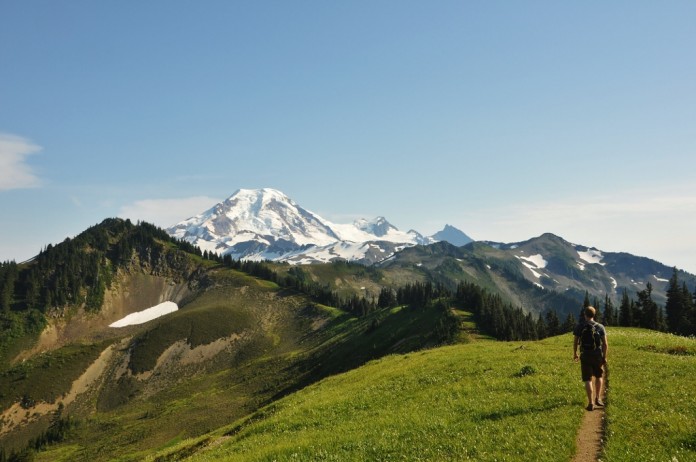 It's good to be a dog in Whatcom County. Not only do we have an abundance of off-leash parks, but our trail system is extensive and diverse. Winter or summer — rain or shine — we've got dog-accessible trails for every occasion. This round-up features seven of our favorite Fido-friendly places to hike in Whatcom County, ranging from 3- to 28-mile treks, roundtrip. All of these trails are generally accessible year round, unless otherwise noted.
Lookout Mountain Preserve

Featuring a new trailhead parking area with restrooms and informational signage, Lookout Mountain Preserve is now easier to access than ever. There are over 6 miles of forested, pet-friendly trails here. Try the short Waterfall Loop to see two 12-foot falls along Austin Creek — an abundant water source for your four-legged friends. Or check out the 3.6-mile Lookout Loop for views of Lake Whatcom and Mount Baker.
Lake Whatcom Hertz Trail
On the east bank of Lake Whatcom, the Hertz Trail offers an easy lakeside stroll for hikers and dogs alike. Older dogs (and their humans) will appreciate this trail's minimal elevation gain of just 100 feet. Interpretive signs near the trailhead explain the area's history. Read up, then enjoy walking along the former Bellingham and Eastern Railway grade, built in 1902 and since converted to a wide gravel path. The lake, streams and waterfall provide plenty of water sources for your pup. Stop at one of the scenic benches and turn around anytime — the trail ends abruptly after 3 miles.
Rock Trail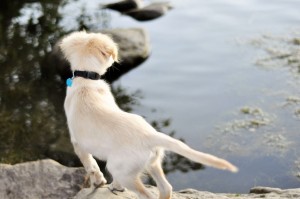 For a short but sweet workout in the Chuckanuts, Rock Trail is hard to beat. Views from the parking lot alone are fantastic on a clear day. Check out the informational sign for help identifying Samish Bay's islands, and then look north to see if you can spot any Canadian peaks. On the trail, more than 100 stair steps descend from Cyrus Gates Overlook to Lost Lake, losing about 1,200 feet in 1.2 miles. Head left at a signed junction for Lost Lake, curving around to the lake's eastern shore for a 3.5-mile roundtrip hike. The lake provides an ample water source for your pooch before the climb back to Cyrus Gates Overlook. Don't forget your Discover Pass for parking here.
Pine and Cedar Lakes
Another great Chuckanut trail, Pine and Cedar Lakes is a 5-mile roundtrip hike with 1,400 feet of elevation gain. From the Old Samish Way trailhead, the first mile of this trail is a steep grind. Make sure your pooch (and you!) are up for the challenge. At the top, both lakes offer water access for dogs to splash around in. You can do a loop around Cedar, taking in the views and stopping at benches along the way. Pine features a short boardwalk out to a secluded camping area — great for a weekend backpacking trip. Be sure to display a valid Discover Pass for parking.
East Bank Baker Lake
This excellent trail just barely qualifies as a Whatcom County hike. Near the Skagit-Whatcom border, East Bank Baker Lake trail runs 14 miles along Baker Lake's eastern shore. At times high above the lake, this rolling trail swoops down to the water at various points and crosses enough streams to keep doggies hydrated. Enjoy the old growth forest and views of Mount Baker. Good turnaround points are Anderson Point at 2 miles, and Maple Grove at 4 miles. Both offer backcountry camping amenities such as fire pits, bear boxes and privies. A valid Northwest Forest Pass is required for trailhead parking.
Thunder Knob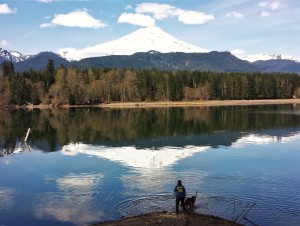 North Cascades Highway offers a variety of trails for aspiring hikers, from easy rambles to strenuous climbs. Thunder Knob falls somewhere in between. This 3.6-mile roundtrip trail gains just over 600 feet of elevation, making it the perfect leg-stretcher for drivers and their four-legged passengers. Your walk begins with an easy stroll through Colonial Creek Campground, with a view of Lake Diablo through the trees. Let the dogs have their water fix at the lake or Colonial Creek before beginning this climb — they should dry out by the time you get back to the car. Surrounded by lodgepole pine, you'll feel like you've already traversed the pass into Eastern Washington. At the top, mountain views and a Lake Diablo overlook await.
Skyline Divide
Come summertime, Mount Baker Highway is a doggone dream come true. There are many trails to choose from, with rolling ridgelines, mountain views and wildflowers galore. Skyline Divide has it all. The trail starts out steep, gaining 1,500 feet in the first two miles. Once you attain the ridge, it's all yours. Hike as far out as 4.5 miles out and 6,563 feet high to a knoll with front-row views of Mount Baker. Or simply stroll among the meadows and admire alpine views all around. Like many hikes in this area, Skyline Divide is only accessible during summer and early fall. There is no water source on the trail once snowmelt is gone, so bring plenty for yourself and the pooch. A Northwest Forest Pass is required for parking.
As a reminder, dogs should be always be leashed when hiking unless otherwise posted. For additional tips on hiking with dogs, the Washington Trails Association provides an excellent Q&A page. A comprehensive guide on the subject, "Best Hikes with Dogs Western Washington," is available from Mountaineers Books.