By Lauren Fritzen

A dog's life is not what it used to be. Growing up in the country, our family dogs roamed freely and off-leash parks were unheard of. My current pups, Leah and Gretel, may not have the freedom of days-gone-by, but their pampered, urban existence is full of forest hikes, puppy play dates, and refreshing swims.
If you and your faithful companion are ready for a change from the neighborhood leash walk, here are some great local alternatives. Best of all, you don't need to leave the city limits to keep your pooch exercised, socialized, and satisfied.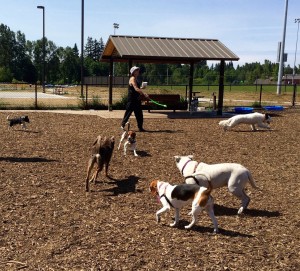 Squalicum Creek Park
The latest addition to the city's off-leash lineup, Squalicum Creek Park opened in March 2015 and was an instant hit with dogs and their owners in west Bellingham. It's fully fenced, with separate large and small dog areas (perfect for my mismatched pups), drinking water, and restrooms. The wood chip surface helps keep sogginess at bay on rainy days. The park's popular new playground, ball fields and walking trails make it a great one-stop destination for a family outing.
Little Squalicum Park
Recently revamped Little Squalicum Park is Leah and Gretel's favorite off-leash excursion. There's a parking lot just off Marine Drive, with a trail that goes by the beach (the beach itself is designated on-leash only), and winds along Squalicum Creek. There's plenty of acreage for romping, socializing, and exploring. The area is not fenced, but is well away from the road.
Sehome Hill Arboretum
Our go-to place for a quick trek in town, Sehome Hill Arboretum is perched above Western Washington University, and its secondary trails are wooded and off-leash. I get my exercise, and Leah and Gretel get lots of attention from dog-loving college students traversing the trails between class. And the views from the lookout tower are worth the stair climb.
Whatcom Falls Park
East of town near Lake Whatcom, most of Whatcom Falls Park is designated on-leash, but the Waterline Trail south of Whatcom Creek and west of the water treatment plant is off-leash. After a walk on the trails, dogs (and owners) can take a dip in Lake Whatcom at Bloedel Donovan Park between 6:00 a.m. and 10:00 p.m.
Fairhaven Dog Park
This off-leash park is adjacent to the city's sewage treatment plant, but the dogs don't mind, and there's a big field for running and playing. There are also benches, an umbrella-covered table, and usually a big jug of water for thirsty pups. You can walk the trail towards the bay for some nice views of the resident heron colony, but dogs must be leashed in this area.
Arroyo Park
South of Fairhaven off Chuckanut Drive, Arroyo Park is a beautiful, forested park with a network of trails that are all off-leash. There's a creek to splash in, a hike to a beautiful waterfall, and the trails lead upward to the larger network of Chuckanut Mountain trails (these DNR trails are not off-leash). Great place for a day hike or mountain bike ride with your active pooch.
Lake Padden Park
Southeast of town, Lake Padden Park has a well-established off-leash dog park at the south end of the lake. There's a separate small dog area with shaded seating and even a play pool for hot days. The large dog area is fenced on three sides, with access to a creek where dogs can cool off – and get muddy. Leah is very attracted to culverts, and apparently she's not alone: they've built one into a little hill that the dogs can run through without danger of getting stuck. Restrooms, running water, picnic tables and benches round out this full-service dog park. There's also a designated swimming area near the ball fields where pups can take a dip in the lake.
A gate at the south end of the dog park leads to the Lake Padden Trails, an off-leash trail system for those wanting more of an expedition. There's decent signage to keep you from getting lost in this hilly, forested area frequented by hikers, mountain bikers and horseback riders. The trail around the lake itself is on-leash only.
Don't forget to bring poop bags with you, as they aren't always provided at the dog parks, and definitely won't be on the trails. For the full skinny, read up on the park department's animal regulations.
The Grateful Dogs Off-Leash Association, a local organization devoted to protecting and enhancing off-leash areas, provides many of the amenities at our dog parks, including the new benches at Squalicum Creek Park.
There are more off-leash parks and trails to explore in greater Whatcom County, but these in-city options should keep you and your pup living the good-dog's life for years to come.