The WMBC JoyRiders is Bellingham's newest all women's mountain bike club, and they are on a mission to take the pressure and intimidation out of the sport while keeping all the fun. Organizers Tanya Sloan Storm and Zoae Spackman knew there was an unfilled niche in Whatcom County when mountain bikers seemed to be everywhere, yet virtually no women's riding clubs existed. Their goal in creating the JoyRiders was simple: "To offer a positive, supportive place for women of all levels and disciplines of mountain biking."
Tanya and Zoae, both certified mountain biking instructors through the IMBA, have been riding together for six years and have led casual women's rides in the summertime for almost four years. Both women have had a longstanding desire to find a real community of women bikers. When they couldn't find what they were looking for, they decided to take matters into their own hands. The idea for the club has been growing and formulating for several years, and they are thrilled to be launching the club just in time for the summer cycling season.
The JoyRiders host two women's rides per month from April through September. They describe their rides as "casual, no-drop rides." Rides will take place the 1st and 3rd Thursdays of the month.
"I've found that the number one obstacle for women when it comes to mountain biking is intimidation," Tanya says. The JoyRiders' antidote to this stumbling block is creating a pressure-free, safety-oriented group where no one is ever criticized. Before rides, women's bike gear is inspected, along with the bikes themselves, to ensure proper fit and safety. After the bike check, Tanya and Zoae go through a basic mountain bike skills rundown. Newbies are encouraged to go at their own pace. If there are advanced and beginning riders in the group, they'll split by ability level. Indeed, Tanya relishes staying back with the beginners. "I'm a slow climber. So if someone comes who's intimidated to climb, I get to pretend to hang back with them. It's great," she says with a laugh.
Tanya and Zoae met in 2012, and both women admit they would have never become friends if not for mountain biking. They listed all the ways they are different but agree that none of that matters on the trail. In addition to their passion for mountain biking, Tanya and Zoae are both mothers of school-aged kids, and their two worlds meet at their respective Thursday kids' mountain biking groups. Tanya is leading rides at Roosevelt Elementary and Zoae is leading kids from multiple elementary schools up at Galbraith. Both rides take place on Thursday early release days.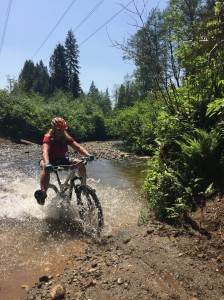 Zoae has been mountain biking for 12 years. She began riding when her BMX-er husband took her on a mountain bike ride. "Learning from your significant other is actually the worst way to learn," Zoae claims. Despite this, Zoae continued riding and asked her husband to "build her a squishy bike." From then on out, she was hooked on biking.
Tanya started biking 10 years ago. She rode some in college, but shifted to triathlons. When she met her husband, he taught her how to mountain bike. The two lived in North Carolina at the time, and Tanya joined an all women's mountain biking club there called "Dirt Divas." She's been searching for the sense of community she found in the Dirt Divas ever since and is very excited to bring something similar to Whatcom County women.
When asked what they would say to women who were on the fence about learning to mountain bike, Zoae says, "When you ride with other women, it's easy to say to yourself, 'Well, if she can do it, I can do it.'" Tanya adds, "If folks think it's too dangerous, well that's just a reason to come learn with us! We will get you up and down the hills safely."
Tanya likens her time mountain biking to a meditative state. "When I'm mountain biking, I cannot think about anything else. The flow state that it brings — it hones all of life down this one single thing. I love it."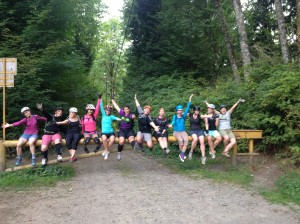 The WMBC JoyRiders is kicking off their inaugural cycling season with a free event on Saturday, April 16, at 10:00 a.m. All women interested in mountain biking are invited to join the fun. Riders will meet at the Galbraith south side parking lot (on Samish Way). Club leaders will conduct a bike and safety check, and groups will divide by level. Beginners are more than welcome. Post-ride, participants will reconvene at Kulshan Brewing Company at 2:00 p.m. for the launch party. Festivities include a free raffle for specialty bike clothing and accessories, and each participant will take home a free beer cozy and pint glass. Families and friends are welcome at the after party, and Kulshan is even chipping in a dollar per pint to the WMBC from 2:00 p.m. to 5:00 p.m.
For more information about WMBC JoyRiders, including a full schedule of upcoming events, visit their website here.