By Stacee Sledge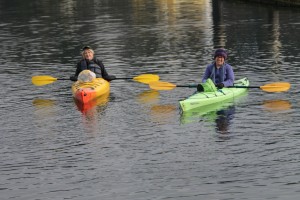 With the change of season comes the gorgeous cascading of colors throughout Whatcom County. And, for those who prefer their temperatures on the less scorching side, this is also a fantastic time of year to be outdoors as much as or even more than during the gorgeous summer months.
While you could take a drive to take in the verdant variety of leaves or a hike or bike ride to explore fall scenes in the countryside, an even better way to do so is by kayak.
Think about it: It's a lot more exercise than sitting in a car, but it's not as strenuous as pedaling or trekking up and down hills. Gliding through one of the area's many quiet bays or along one the picturesque rivers is a fun and relaxing way to get out into nature and see the leaves from a new perspective — and you don't need a helmet. Plus, it's an activity that's gentle yet active and intriguing enough to be perfect for all ages – and for everyone from singles to couples or the whole family.
Ted Wang, co-owner with Kelly Patrick of Salish Sea Kayak School, knows Whatcom County kayaking inside and out. Here, he shares with WhatcomTalk a few of his favorite fall kayak destinations.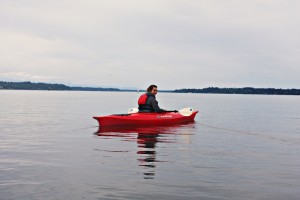 Wildcat Cove in Larrabee State Park
You can go either north to Chuckanut Bay or South toward Samish Bay. Both directions have nice wooded scenery, along with the interesting Chuckanut sandstone formations and not a lot of residential development close at hand. Currents are very mild and don't present difficulties even for beginner paddlers. Just be aware that wind can stir up big waves. Samish Bay is very shallow, so be careful not to be marooned at low tide!
Bowman Bay (option 1)
One option is to paddle towards Anacortes, then cross the channel to Burrows and Allan Islands. This is as close to a San Juan Islands paddling experience as one can get without venturing into the heart of the San Juan's themselves. Paddlers need to be aware that there are some stronger currents around the islands and some tide rips.
The lighthouse on Burrows is a gorgeous picnic spot, with views of the Olympic Mountains and Rosario Strait. I would regard this paddle as appropriate for kayakers with strong intermediate skills, not beginners.
Another option is to launch at Washington Park in Anacortes and paddle around Fidalgo Head, but currents and exposure to westerly winds also make this less suitable for beginners.
Bowman Bay (option 2)
The other Bowman Bay option is, of course, to paddle around to the south and enter the Deception Pass area. At slack tide, this is an easy paddle through Canoe Pass (the smaller of the two channels) into Similk Bay. When the tide is running, however, this is advanced water with strong currents, very cold water, and tidal rapids. Recommended for advanced paddlers only.
South end of Lake Whatcom
A pleasant kayaking day paddle can be found on the south end of Lake Whatcom. The public launch is next to the fire station on South Bay Road. Once you clear the bay at the ramp, great scenery opens up. In early fall, the water is generally warm. Paddlers must have the Whatcom County/City of Bellingham Invasive Species inspection tag on their boats, and a Discover Pass is needed for parking at the ramp. Unless a north wind is blowing hard, this is a good paddle for the less experienced.
Gooseberry Point to Lummi Island
Finally, the paddle from Gooseberry Point south to the Lummi Island DNR campsite and back is a longer paddle with nice views across the bay to Bellingham and the undeveloped parts of Lummi Island close at hand. Care needs to be taken to avoid times with strong currents when crossing Hale Passage, particularly when wind opposes the current.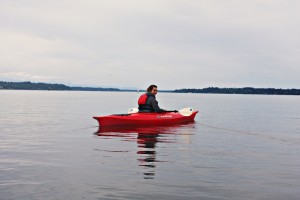 Another option is to paddle across Hale Passage and turn northerly around Point Migley, then south into Legoe Bay or beyond to Lummi Rocks. Paddlers need to respect the Lummi Nation and not land on Portage Island, which is part of the Reservation, unless in an emergency.
Makes you want to grab your kayak quick, doesn't it? Read more about Salish Sea Kayak School, and then make your plan to get out on the water soon.
Todd Elsworth, executive director of Recreation Northwest and contributor to Bellingham Whatcom County Tourism, also shared with WhatcomTalk a list of some of his favorite area kayak spots:
Up Whatcom Creek – Without a Paddle
Launch your Paddle Adventure from Wildcat Cove at Larrabee State Park
Kayaking the Calm Waters of the Nooksack River Delta
Get OUT THERE and Paddle or Row on Lake Whatcom