After years of hard work and dedication, Friends of Birch Bay Library (FOBBL) will finally see their plans for a community library find an avenue for success. FOBBL President Dianne Marrs-Smith sat down with WhatcomTalk to update the community on the organization's newest plans to renovate the Vogt home and convert it into a library express.
"The house is really beloved and it's really a part of Birch Bay, Whatcom County Library System (WCLS) staff got their wheels spinning and came up with a plan to use the first floor of the house as a library express," says Dianne. "The hope was that the Department of Commerce would approve the change so we could still use our state appropriation toward the project. That was submitted in August of last year, and there was a waiting period; we learned in December that it was denied."
Fundraising
Ultimately, FOBBL volunteers and WCLS staff went down to Olympia and told the Senate about their project, emphasizing the Birch Bay community's need for a library. The denial was reversed and WCLS is now planning renovation of the Vogt home while FOBBL volunteers raise the last of the funds needed to successfully convert the property.
"We know our project now has funds through the state appropriation, and we've raised about $231,000 in private funds. Our plan is to continue to fundraise," Dianne says. "We have a shortage of a little less than $300,000."
FOBBL is tying their fundraising efforts into the wildly popular summer events in Birch Bay and will start an online collection campaign in June.
"We'll be at all of the Birch Bay Chamber events for fundraising, and have a couple of ideas for different fundraisers," says Dianne. "One is a fun run, hopefully in August. Then, we're hoping for a donor match. We've talked to one local business and we're hoping they'll be able to do a matching campaign where people can donate, and they'll match up to a certain dollar amount."
Moving Forward
The fantastic news is that the Friends of Birch Bay Library are finally seeing their tireless work come to fruition and they want to encourage folks to contribute if they can. The plans are at last moving forward, and they need the community to help give them one last leg up.
The money toward renovations, including the state appropriation, totals about $2.6 million for various projects around the property.
"The plan is to use the first floor of the house," Dianne says. "The library express will be in the house. Your library card will be the key to get you into the library, whether it's staffed or not, seven days a week, during specific hours. You'll be able to pick up your holds, use computers, do some printing. We'll have a meeting room space for people to use. We'll have a small collection for people to check out and we'll have our reading porch, with the inside of the house as another reading space."
The library express will also host programs for kids and adults, keeping the outdoor space for community events and further programming. "Instead of getting a 7,000-square-foot library, we're getting 1,700 square feet with 6,000 square feet of outdoor space," says Dianne. "We'll have outdoor programs and will be able to do community events there; it will be really nice for people to come and use library services. It will be a lot different than the bookmobile."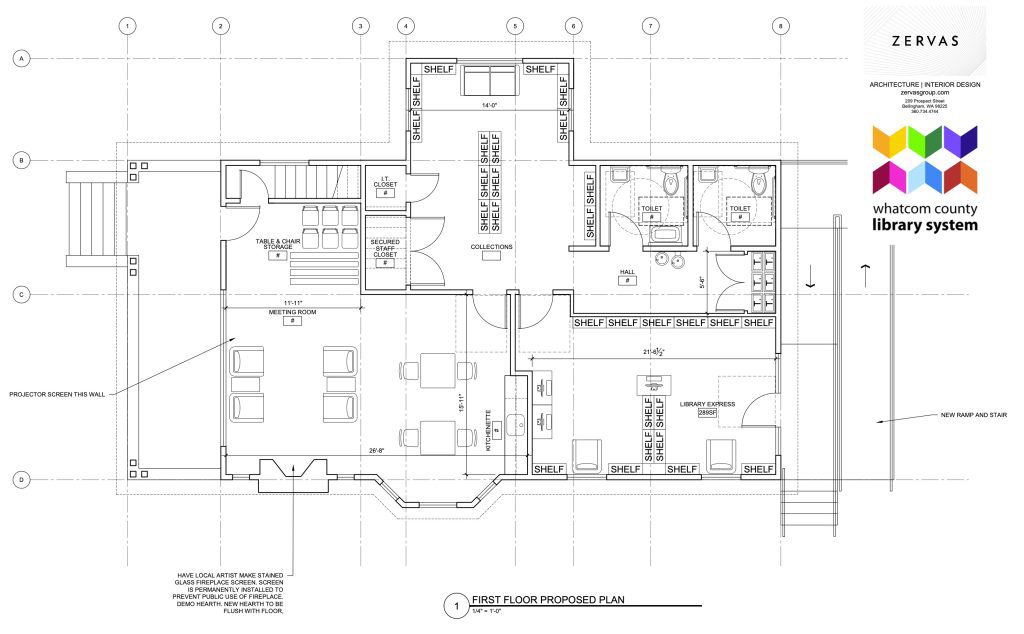 Building Renovations
The cost will also cover projects such as bringing the building up to code, refurbishing the house, repairing the foundation, fixing siding, and installing a new driveway, fire hydrant, and ramp to make the property ADA accessible.
"It's going to look exactly like it currently does, just with a facelift," Dianne says. "When you walk in it's going to be opened up and completely updated. This is going to give people the opportunity to use the library over several different hours in the day. It's an exciting time for Birch Bay."