I spend a lot of time in the kitchen. I love to cook and experiment with new recipes. When friends come over they usually start out in the kitchen with me – snacking and talking while we prepare a meal to share. Kitchens are the heart of a home because they're the room where we prepare nourishment for our families and communities.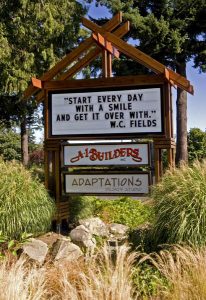 Because it's the center of so much daily activity, the kitchen is usually one of the first rooms that comes to mind when people consider home improvements. From appliance updates to gaining more counter space, most anyone could give a list of what they think would make their kitchen more comfortable and efficient.
A-1 Builders & Adaptations Design Studio has been setting the standard in Whatcom County for design/build remodeling and repairs for more than six decades. Their award-winning team is dedicated to reflecting Whatcom County's commitments to sustainability and the value of long-term thinking, which is how they became property preservation specialists.
Since purchasing the business in 1976, owner Rick Dubrow has seen his fair share of remodels. Sure, A-1's projects span a wide spectrum of home improvements and repairs – bathrooms, basements, additions, whole-house remodels – but let's stay with this kitchen scenario. Why? The thing just about everyone wants to remodel? You guessed it: their kitchen.
But all too often when customers call about a remodel, the A-1 Builders & Adaptations Design Studio team finds underlying deterioration that should be dealt with before, or during, a significant remodeling project.
"I'll approach the house and be led to the kitchen, noticing a significant slope in the floor, bulging siding or troubling paint failure on the exterior," said Dubrow. He and his team often end up being the bearers of bad news for homeowners who were hopeful to knock out a wall or add an island counter. But underlying problems like rot from water damage can jeopardize the future of the house itself. "Imagine you're wanting cosmetic surgery on your face but your arm is torn off and you're bleeding," Dubrow said. "So our approach is: Sure, let's do improvements, but let's make sure your house isn't deteriorating faster than it needs to be."
The A-1 team, when such conditions warrant it, performs a Pre-Remodel Condition Evaluation [PRCE] as part of their design and discovery process. PRCEs are essentially wellness exams for the house that help ensure the integrity and longevity of the home. These exams include detailed photographs of hard-to-reach spaces such as the crawlspace and attic, a detailed list of trouble areas by priority, and preliminary, good-faith estimates of what they think it might cost to fix each issue.
PRCEs can cost between $200-500, which is small in the grand scheme of a large remodel project, especially considering they can save a property owner thousands of dollars in the long-run.
"We have an in-house expression: Pay us now or pay us later," shared Dubrow on his blog, The Hammer. We all know the temptation of cutting corners to save a little money now. The problem with doing so on a house is that low-cost solutions have a way of creating high-cost problems later. "When clients are faced with trying to save some dough, it's easy to jump into a low price while overlooking why a lower price may be less. In the end we find that you get what you pay for."
In 2016, about a third of all the work A-1 Builders performed were repairs related to those dream renovation projects customers had wanted to tackle. A founding board member of Sustainable Connections and current board member of RE Sources, Dubrow is committed to helping home and property owners make good choices that are also good for the environment.
"We helped birth the green building effort in Whatcom County," he shared, "and perhaps the greenest thing you can do is to install whatever material you pick so that it lasts in place as long as possible. It's called Life Cycle Assessment. You're the steward of these resources, so make them last for the long haul no matter how long you intend to live there."
It's easy to avoid the warning signs you see around your house but Dubrow wants to warn homeowners that the temporary bliss of pretending the problem isn't there only leads to more issues later. He recommends that you find the right business for the job as early as possible once you start to see the warning signs of deterioration. "If a surface you see starts to deform – building materials that twist or crack; tile coming off your tub surround; exterior caulking pulling away; curling or missing roofing –, pay attention to it and get on it right away."
Dubrow and his team want homeowners to be attentive to problems and find the right people to fix them as soon as they can to improve the sustainability of their house. "This is property preservation," Dubrow explained. "The damage can be much like bone cancer in your home:. if you let it go the price you pay – financially and emotionally — can grow exponentially.  Hence the need for periodic wellness exams."
Ready to see if your dream remodel is in the cards for you? Give A-1 Builders & Adaptations Design Studio a call at 360-734-5249 or stop by their showroom at 3310 Northwest Avenue in Bellingham.
Sponsored