Whatcom County is abundant with natural beauty and opportunity. But in order to keep it that way, there must be people willing to lead the charge in protecting public lands. Recreation Northwest formed four years ago when co-executive directors Todd Elsworth and April Claxton realized Bellingham needed a non-profit organization focused on the ideas of recreation and conservation.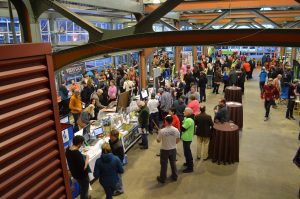 Since Recreation Northwest's inception, they have thrown their annual Recreation Northwest EXPO event. The EXPO is aimed at bringing people together via Washington State's various outdoor recreation opportunities and outdoor recreation retailers. The EXPO will be held Feb. 25 from 1:00 p.m. to 6:00 p.m. at the Bellingham Cruise Terminal. It is free to attend.
Elsworth said each year the EXPO gets larger and he is happy with how much it has grown since it was started. In addition to the EXPO, Recreation Northwest is hosting their Outdoor Recreation Summit for the second consecutive year. The summit will contain keynote speakers discussing various aspects concerning the outdoor industry from economic benefits to policy issues.
"The Expo is where the public can be exposed to the variety of recreation businesses, organizations and programs that are available locally and statewide. The Summit is our way to help drive the development of Washington's recreation economy as a renewable resource," Elsworth said.
The summit will take place the day before the EXPO on Feb. 24 at Bellingham Technical College's Settlemyer Hall from 9:00 a.m. to 4:00 p.m. It will feature a variety of keynote speakers specializing in the outdoor industry including Jon Snyder, Governor Jay Inslee's policy advisor on outdoor recreation and economic development.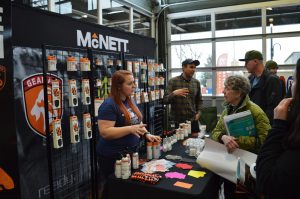 Elsworth said the idea for the summit came out of a study Recreation Northwest did with Whatcom County. They investigated the economic impact of various factors affecting the recreation industry. "We want to make recreation recognizable as an economic driver and a valid industry," Elsworth said. "We need to support Washington State recreation as an important business."
This year the EXPO will feature more exhibitors than they have ever hosted before. Because of this reason the team at Recreation Northwest decided to move the EXPO to the Bellingham Cruise Terminal, a larger venue than used in previous years.
With a larger venue comes more space. With more space comes the opportunity to provide each exhibitor with a generous amount of room to display their wares. Elsworth said this is one of the most exciting parts of the EXPO for 2017. Last year they were only able to supply exhibitors with 6-by-6 foot tables, but this year some exhibitors get 10-by-10 foot booths for their items.
"We are fortunate in Washington to have access to public lands and a vast amount of outdoor recreation opportunities," Elsworth said. "Lots of outdoor brands can be created here and we want to give them a place to showcase what they have created."
Some of the exhibitors at this year's EXPO include Bellingham REI, Swift Industries, Washington Trails Association, Washington Water Trails, Ski to Sea and the Chuckanut Classic/Mt Baker Bike Club. However, this is only a small sample size of the 70 or more exhibitors that will be in attendance.
Washington is a leading example in outdoor recreation for states around the whole country, Elsworth said. In order to reach a greater audience and share the ideas being fostered in Washington State with people around the world, the Recreation Northwest summit keynotes will be livestreamed on their Facebook page.
There are many perks to attending this year's EXPO. Live gear demonstrations, small clinics and door prizes from the exhibitors will be running throughout the day. Both the summit and EXPO are sure to get you excited and prepared for the upcoming dry season. After all, spring is right around the corner and there is no better time to go out and explore the wonderful outdoor landscapes Whatcom County has to offer. When the clouds part and sunshine breaks through, there is no better playground in the Pacific Northwest than the Northern Cascades region.
Sponsored