When you walk into Chazzzam Signs & Vehicle Restyling, you'll probably hear loud music. You'll see work getting done on projects all around you and you'll feel the high energy of the room.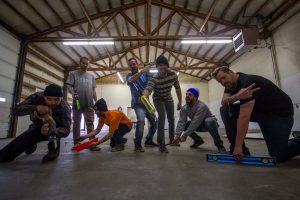 That's what makes Chazzzam tick.
Brothers Chas and Sam Malich and longtime friend Jerry Spraggins are the owners of Chazzzam, a shop created and located in Bellingham in 2012. Chazzzam was the product of what they visualized in a signs, graphics and restyling kind of shop. "We knew in the market there was something that was lacking. Somebody wasn't filling a void in this town that needed to be filled," Jerry said.
"We saw that void as an opportunity," Chas added.
Work in a sign shop wasn't anything new to Sam and Chas before the creation of Chazzzam. In fact, Chas said he and his brother were born into the industry. Their father owned some sign shops which they had the experience of working in over many years.
Thinking that they would not follow the path of their father, the brothers went to school in other areas of expertise. Still, they found their way back in the familiar business of signs. "We ended up figuring out it was a niche industry and a place where we could really utilize our skills," Chas said.
In addition to the vast amount of experience and technique surrounding signs, the Chazzzam team developed a new talent as their business budded: vehicle wrapping. "Our wraps are not made of tortillas or lettuce, so people always wonder what the heck it is," Chas said, laughing.
Vehicle wrapping replaces the act of painting a vehicle. Whether a customer wants the color of their car changed or a business needs their van to act as an advertisement, wraps greatly range in variety and get any job done.
Lasting between five to 10 years, a very general wrap could run around $2,000 to $5,000. They can also be changed or redone whenever desired.
"We have some companies that will change their wrap once a year or once every two years to coincide with how their company is progressing," Jerry said. "They understand the value of that purchase and how many times people will see that new wrap."
You can't tell the difference between a painted vehicle and a wrapped vehicle. Sam, who went to automotive school and has experience as a painter, confirmed this. "People just think it looks very cool," Sam said. "They usually don't know why and assume it's a custom paint job."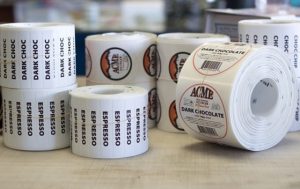 Between high-end signs, stickers, banners, murals, labels, wraps and other projects, it takes a lot of space and the effort of nine crew members to run Chazzzam. Most recently, in the midst of their five-year business anniversary, everyone at Chazzzam is dedicating their time to their big move to 1918 Iowa St. in Bellingham.
In this new space, Chazzzam will have doubled their capacity to 10,000 square feet. From fresh offices and work areas to new equipment such as a car lift, Sam says efficiency and quality will surely increase.
"It's important for us to continue to build relationships – with customers and competitors – while taking our own space," Chas said. "Bellingham has a strong sense of community and we know relationships and connections are key. We don't just want to be a business, we want to give back to the community and make sure we are a staple in this environment for a long time. That's exciting for us."
Chazzzam has participated in fundraisers and events concerning topics such as cancer awareness and Big Brothers Big Sisters. Jerry, Sam and Chas agree that Chazzzam's future is far from finished.
You can find Chazzzam at their new location or take a peek at what they're up to through their website, Facebook or Instagram.