Thirty minutes northeast of Bellingham at Deming Speedway, Makenzi (Kenzi) Thomas, 24, sports a black Star Wars "The Force Awakens" T-shirt under her racing gear. With a driven attitude, Thomas is equipped to race.
Dust from the track rises in heaps, covering the bleachers as spectators cheer cars reaching speeds just over 70 mph. Staff sells raffle tickets to the enthusiastic crowd while the smell of burgers and pizza hangs in the air.
Thomas, a Bellingham native, said she's been a part of this racing community since she was young, and at age 10 she began racing mini sprint cars with her father. A mini sprint car is a high-powered race car intended for usually short, circular, dirt tracks. Now Thomas has the opportunity to race a Ford Focus Midget, which is a different vehicle and separate race than mini sprints.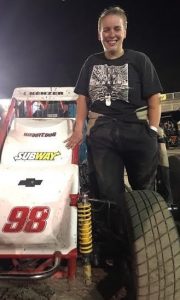 "It's so weird to say, but I race Midgets now," Thomas laughed.
She gets to race on account of her long-time racing friend, Ryan Cully. When Cully bought this Midget and asked if Thomas would drive, she had no doubts.
"Well yeah, you don't turn down a racecar," she said grinning.
Thomas and Cully are a part of team RPM Race Co.
"I've raced my whole life with my dad and family, and now I'm with a different family," Thomas said. "I'm spoiled to have been given the opportunity to ever have driven a racecar — and I'm so grateful for that."
Thomas said she has always "rolled with the punches" while racing, whereas this team is "more high strung." She said she was content with some of her performances, but that she is working on pushing herself to be a little riskier during competitions.
Modifying her driving style and being a part of a new team "has been a weird adjustment but so fun," Thomas said.
Cully, 24, who raced since he was 11, is thrilled with Thomas and her transition to the team.
"Makenzi has a subdued aggression and is incredibly calculated while she drives," Cully said. "I like her as part of my team but off the track, Makenzi is just a stellar person."
The racing community could not agree more. Just recently, Thomas took responsibility for her slight mistake during a race that damaged another driver's car. Although unintentional and despite the fact that anyone can crash while racing, Thomas said she still feels horrible and made sure to immediately apologize to the other driver, who was thankful and forgiving.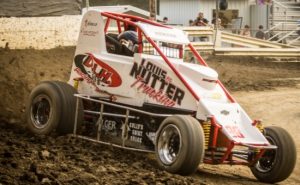 "Kenzi impresses me with her desire," said Kaleb Hart, 34, experienced pit announcer and writer for Skagit Speedway and Deming Speedway. "There aren't other racers out there that seem to want to race as much as she does."
Hart said Thomas is dependable and sportsmanlike in race appearances and makes it to every race possible. Through her consistency on the track and in the racing community, Hart said he can understand how racing is an important source for Thomas's happiness.
Another foundation for Thomas's joy is her upcoming wedding this October. Her fiancé and girlfriend of seven years, Maggie Ferguson, 23, understands Thomas's passion toward racing.
"Sometimes it's hard to see how much work, effort, money, time and energy Kenzi puts forth, to maybe not even finish a race," Ferguson said. "But racing is obviously what makes her happy, so it really is worth it in the end."
Ferguson said she does not know everything about racing, yet attends the races, assists in the pits, and makes it out to RPM's shop nights to help maintain and wash the race vehicles.
"I'm there to help," Ferguson said. "Racing has made Kenzi a harder worker" and also complements her artistic side.
Ferguson said how Thomas is self-taught in graphic design. Thomas's vision is to have her own business titled Landshark Media where her expertise in racing and interest in design could morph into an affordable one-stop shop for racers to get social media help and purchase gear like T-shirts and stickers.
Thomas has had paid designing jobs already, Ferguson said.
Many people are eager to see how Thomas's work ethic, passion and humble kindness will carry her life.
"I'm super excited to be a part of her future," Ferguson said.
Join the family, friends, and racing fans at Deming Speedway to witness Thomas and many others do what they love most out on the track by taking a look at the current schedule.