Being able to pack your little one in a stroller and hit the glorious trails in Whatcom County is such a huge parenting milestone for local families. Whether you were a trail hound before you had kids and can't wait to get the crunchy Northwest walking routes under your feet again or you're discovering them for the first time, with kiddos in tow, there are countless places where you can get outdoors with a stroller.
North Lake Whatcom Trail

One of our family's favorite local trails, both with a stroller and without, is the North Lake Whatcom Trail, or the Hertz Trail, as it's also known. This trail is located at the very end of Lake Whatcom where North Shore Road eventually runs out. This trail is not only super flat and easy to push a stroller along, but it's also perfect for older siblings who might want to bike alongside you. There's a perfect turn-around point about a mile in where the large waterfall meets the footbridge — have a quick snack, splash in the little stream, and start making your way back.
Pros: This trail has a great tree cover the entire way out, so a few sprinkles won't be a problem.
Cons: The small parking lot can be packed on sunny days. Don't miss the additional parking spaces up the hill, just past the bathrooms.
Jim Kaemingk, Sr. City Trail
Spending time in at Million Smiles Playground Park in Lynden is always a treat, but have you ever wondered where the trail that heads out from the playground ends? Grab your stroller and find out! The Jim Kaemingk, Sr. City Trail begins in the playground's parking lot. Head east on the trail, along Fishtrap Creek, ending up at Bender Fields, nearly a mile away.
Pros: A lightweight stroller is all you need to navigate this nicely paved path.
Cons: If you start at Million Smiles Playground Park, it might be hard to get the kids off the playground and on the trail.
South Bay Trail
One of Bellingham's most popular trails for the stroller-laden and stroller-free alike, the South Bay Trail takes you from downtown Bellingham to Fairhaven along a 2.5-mile path. We like parking in Fairhaven where the parking is free and heading toward downtown, making a pit-stop to play at Boulevard Park and grab a treat (read: coffee) at the park's Woods Coffee location. Roundtrip, this trail is quite long at over 5-miles, so plan on being out and about for the day if you're going to tackle the entire thing!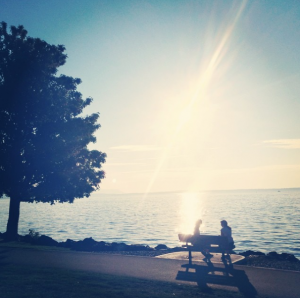 Pros: There are countless places to stop and play, explore, and adventure along this trail for little ones who might get restless in the stroller or for older siblings who need a break.
Cons: This trail can be quite bumpy in the places where it's not paved. An all-terrain stroller works best for a smooth-ish ride.
Squalicum Harbor
While calling this a trail is a bit of a stretch, there's no doubt that the walk that encompasses Squalicum Harbor is uber stroller friendly. Grab a parking spot near the Hotel Bellwether and take the path that leads along the front of the hotel, past the restaurants and to the parking lot. Make a quick jaunt across where the boats launch into the bay (stop and watch, if you can!) and through the businesses to meet up with the trail on the other side. You can continue on this waterfront walking trail to Zuanich Point Park, the perfect spot to play before turning back around.
Pros: Make the Marine Life Center touch tanks a stop along the way. You can park your stroller just outside.
Cons: Even on a sunny day, it can be quite windy along the bay, so don't forget to bundle up!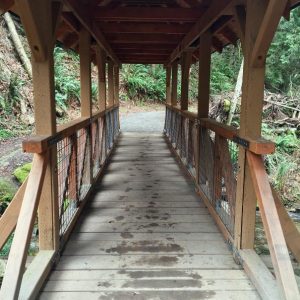 Whatcom Falls Park
If there was ever a spot in Whatcom County that was made for strollers, it's the trail system surrounding Whatcom Falls Park. We love parking in the little lot where Alabama Street meets Electric Avenue and North Shore Drive. You can jump right onto the trail and head into the park for some playtime on the playground before heading back to the car — with a kiddo catching some z's in the stroller — if you're lucky.
Pros: There are so many starting points on this trail and you can take a different route each time you visit.
Cons: It's easy to get carried away and turn your walk into an adventure without planning to. Make sure you bring extra snacks.