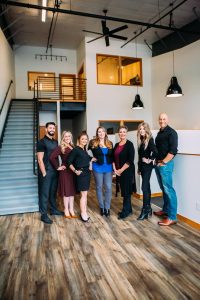 Nothing contributes to the success of buying or selling your home more than working with people whose goals are aligned with your own. That philosophy, coupled with unmatched service and support, has helped Brandon Nelson Partners become the highest-rated independent real estate firm in Whatcom County. Their success is predicated on helping clients make good, informed decisions with clarity and confidence at every stage of the buying or selling experience. This elevated level of professionalism has led to incredible loyalty from those who have worked with the firm and has resulted in over 80 percent of their business coming from repeat clients and referrals.
How has a firm with just seven Realtors achieved such a sterling reputation in the real estate industry? It starts at the top. Local Realtor Paulina Antczak describes founder Brandon Nelson as a visionary who focuses on the success of his clients and community, and it's easy to see why. "We're raising the industry standards of service and striving to understand every aspect of real estate," says Nelson. "We are always asking 'How can we do this better? How we can do more for our clients?'" As a result, this close-knit group is averaging a home sale every 2.5 days.
This unending desire to improve is a common thread among the Realtors at the firm and extends beyond the limits of their professional success and into the lives of those around them. A world-class athlete in his own right, Nelson has sponsored and organized numerous local races and the firm has been a positive influence through community events, fundraisers and personal attention to those in need.
To learn more, and to see how Brandon Nelson Partners can help you with your next real estate decision, check out BrandonNelson.com or give them a ring at 360-319-0696.
Brandon Nelson Partners Facebook page
Check out their 250+ 5-star reviews