Brandon Nelson, owner of Brandon Nelson Partners, is no stranger to realty. Brandon has been a Whatcom County Realtor since 2006, and has met the needs of countless clients throughout the years. But what makes Brandon's approach so unique? What drives him to get up every day and do this work? And what does he do when he isn't selling houses?
Brandon's background as a builder and home inspector sets him apart from the rest. He knows houses inside and out. This has proven invaluable for his clients over the years. With his experience, Brandon can explain, show and negotiate through otherwise scary scenarios for both homebuyers and sellers.
His favorite part of being a Realtor is establishing a successful and trusting relationship with a client. Brandon gives each client the full treatment, optimizing their home for market. The optimization process includes de-cluttering, repairing, deep cleaning, brightening, dressing up (or staging) and making the house easy to see.
"Selling a home for top dollar is about creating an emotional experience for the buyer," Brandon says. "The emotions we're aiming for are delight, confidence and desire."
In his spare time, Brandon and his family are seasoned outdoor athletes. They race kayaks, backpack in the Mount Baker Wilderness, mountain bike, hike, fish and swim. Think of any outdoor activity – chances are this family does it. Brandon says they call it the "Northwest Way of Life," and take full advantage of the outdoor opportunities Whatcom County provides.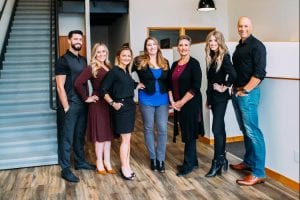 "I feel like I'm living the dream life," Brandon says.
He also helps others achieve their dream life; getting families the home they always wanted or helping sell a house that owners never thought would succeed on the market.
Last summer a family in the Sunnyland neighborhood gave Brandon a call; they had a huge house and hadn't gotten any guidance on how to prepare it for sale. So Brandon and his team went back to square one and looked at the house as a whole. As it turned out, this family's dream home was right in front of their eyes – they just needed a remodel consultation to have the confidence to sell it.
Over the next two weeks, Brandon brought in a horde of landscapers, painters, pressure washers, sheetrock installers and cleaners to fix up the place. In just 48 hours after hitting the market, Brandon had the house under contract and it sold for $26,000 over the listed price. "The gratitude that family expressed, and wrote about in their review after the sale, was something I'll never forget," he says.
Sponsored