Music changed Jack Lee's life. "I was born to sing," says the Solstice Senior Living resident. "It's kind of what I live for – the next chance to sing – and I get very, very excited."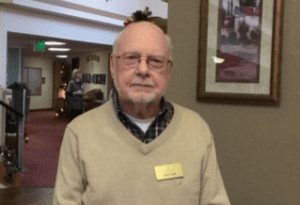 Lee once sang in front of an entire church congregation. "They chose me to do a solo called Panis Angelicus," he says. "I had an entire choir behind me. It was the biggest thrill I've ever had."
And singing isn't his only specialty. He's is a man of many talents: a vocalist, musician, writer and volunteer – a source of comfort for lonely hospital patients. He plays guitar, flute and piano, "badly," as he modestly explains.
His deep, smooth, honey voice reverberates when he speaks. You'd never guess he turns 90 in June. Lee seems to be defying time; charismatic, lively, and referring to his personal website as his "baby."
Lee has noticed his voice getting "better and better, deeper and smoother and much mellower," with age. "I love to sing," he says.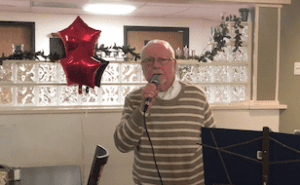 He perfected his craft with practice. "As a child, I sang in the choir," he says. "I had a twin brother and we did a lot of singing together. We sang at school and in church choirs. We were adorable," he adds with a laugh.
Lee's pleasant demeanor and charming character are a pleasure to be around – just like his music. "Most of my music is from the '30s and '40s," he says. "It's music that all the people here [at Solstice Senior Living] probably danced to at the senior prom, night and day; a lot of Cole Porter, a lot of Sinatra."
Lee is a recent addition to Solstice Senior Living. When they threw a New Year's Eve party for their patrons, he was the main event. Residents danced the night away to classic favorites of their time.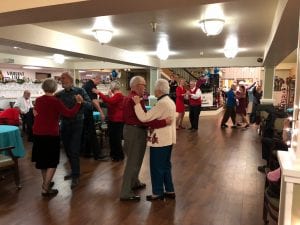 Before a performance, "I don't get nervous, I get excited," says Lee. "New Year's Eve, I thought seven o'clock was never going to come. I want to sing! I love to see people's reactions when I sing the first song. It's usually a look of surprise."
Lee has recorded five CDs. "About five years ago I took the CDs and sent them to Songcast, who then shared them with Spotify and Apple Music," he says. "I now have close to 100 songs on the web, played all over the world."
In total, his songs have been streamed or downloaded over 16,000 times in many countries including Afghanistan, Belgium, Greece, the Netherlands and Argentina. People in countries all over the world know his music.
"It's quite a thrill to know that they're playing "Danny Boy" in Bangladesh," he says.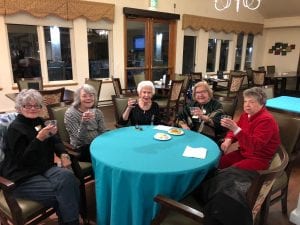 Several years ago, he bought and put together a portable sound system, while caring for his ailing wife. "I went and sang in every nursing home and senior center in Whatcom County," he says.
Lee is currently the patient ambassador at PeaceHealth St. Joseph Medical Center. Every Monday morning he visits patients, offering a friendly smile and good conversation. He sang for over two years in the hospital rehab unit, until it closed.
Music has healing powers, for both the audience and the singer. Lee has endured major tragedies in his life; he lost his daughter to a brain tumor, his twin brother, and his beloved wife of 63 years to multiple sclerosis. Despite this, he continues to volunteer and bring joy to others.
During a 43-year career in the life insurance business, Lee grew bored with the industry. So he decided to stretch his creative muscles.
"Somebody once told me my writing was clever and I didn't realize," he says. "I began writing and discovered I was pretty good at it."
Since then, he's written essays for the Bellingham Herald and several East Coast publications. "My essays are all about love, money, sex and death," says Lee. "Life – they're about life."
These essays are charming, well written and colorful. He describes his experiences in a unique way, illustrating his character and charisma. He speaks of his personal losses, loves and life; and they are, in fact, quite clever. A few can be found on his website, jackleesworld.com, and he's currently looking for a publisher to create a book.
You can find Lee's music on one of his five CDs, Come Fly With Me, Holiday Treasures, Kid's Stuff, For Lovers Only, and  Irish Tunes. Songs can also be found for purchase or streaming on Spotify, Apple Music and Songcast.
Sponsored