Winter; the days are shorter, conversations longer and drinks stronger. We spend more time indoors (especially here in the Pacific Northwest) and enter a sort of hibernation mode. This allows us to focus on unwinding, relaxing and sharing moments with those who matter most. And there's no better place to create memories than at Galloway's, Historic Fairhaven's deco-era cocktail bar.
And as we adjust to the winter season, Galloway's is making some changes, as well. Manager Alli Sutherland has a slew of exciting new events and menu items – both food and drink – lined up. She intends to ensure her patrons enjoy these cold months the right way: with fine food and a delicious cocktail in hand.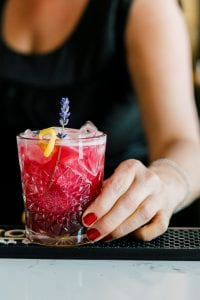 Prior to winter, Galloway's completed a whole menu revamp. Their new offerings include a bevy of different drink options, plus many small bites and sweets. The change requires both Sutherland and her staff to be on their toes. The entire bar staff has to come together to make sure the change is implemented correctly. It's a lot at once – no easy task.
"It's been really exciting to see just how much the business has grown over the last year," Sutherland says. "Not only that, but it's been amazing to see how our staff members have grown with it, too."
You can now order 35 different cocktails at Galloway's. These are a mix of house creations, winter favorites and Classic Prohibition-era drinks. The new menu holds many fun options for both the traditional and adventurous imbiber.
Perhaps the most exciting drinks are their house-infused cocktails. For example, the 10th St. Cider (an homage to their location) features an in-house infused orange and cinnamon bourbon. Delicious.
And you'll love their Cacharetto Sour, made with Novo Fogo Brazilian Cachaca, Saliza Amaretto, organic lemon and egg white. This exquisite cocktail is an excellent sipper that pairs perfectly with warm conversation on a cold winter's night.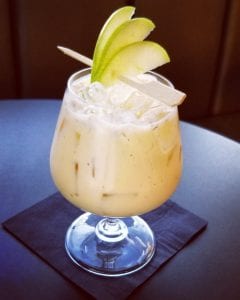 One of their holiday specials, BelleWood Acres' Spiked Nog, is both delicious and local. Its ingredients are sourced from within Whatcom County, making this drink both sustainable and highly drinkable. It combines Bellwood Acres Eau de Vie Apple Brandy, a house-made apple cider syrup and Twin Brook Creamery egg nog.
When the weather is cold and nasty, you'll want to warm up with more than just one of these delightful concoctions.
To accompany the change in drink options, Sutherland has made changes to their current line-up of food pairings, as well. The winter menu features heartier options to match Bellingham's cold and rainy weather, such as polenta and baked brie.
The new changes are a fun addition to Galloway's already booming popularity. "We've been so well received in Fairhaven since we opened," Sutherland says. "It's fantastic. People here are so friendly to us, we want to make seasonal changes we think they'll enjoy and appreciate."
And it isn't just food and drink that are changing at Galloway's this winter season. Live music is now happening, a welcome addition to the 1920s speakeasy atmosphere the bar already exudes. Sutherland says they'll have musical offerings once a month at Galloway's, on the last Sunday of each month.
"I'm looking forward to this new year and am really excited," says Sutherland. "And I think our guests will be, too."
Galloway's is located at 1200 10th Street, #102, in Bellingham.