For Jacson Bevens, real estate isn't just a job – it's a career path that brings happiness to himself and others. His clients' enthusiastic responses to Jacson's excellent service is what makes the job worthwhile, and ensuring that satisfaction is what drives him in every transaction.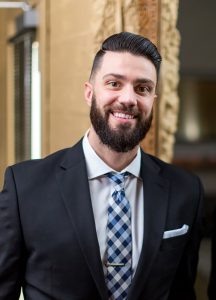 "It may sound cheesy, but I legitimately love the joy that a successful purchase or sale brings people," Jacson says. "When you're someone's Realtor, you become a very important person in their lives. During a transaction, you're that can't-miss phone call, the text that takes priority and an opinion that matters greatly. You're front and center in their minds and I take that responsibility seriously."
For Jacson, communication is key. His availability and responsiveness are among his strongest assets. He's quick with a call, text and email and is always ready to talk shop. He loves digging into the details of clients' properties and learning as much about them as possible. "The more I can learn about a property, the more tools my clients have at their disposal to help get a deal done," he said.
Jacson's business includes residential homes as well as multi-family and investment properties. He says investing in real estate can be one of the most effective ways to secure your family's financial future, especially in an area like Whatcom County. Says Jacson, "I encourage everyone to truly consider what home ownership could mean for you and your loved ones' future. And if you already own a home, imagine what an investment property can mean for you moving forward."
One memorable experience from Jacson's real estate career occurred when a client encountered a tremendous financial obstacle during the transaction. "She is an older client who found herself in the position of raising her nine-year-old granddaughter on her own," said Jacson. "She had finally gotten to the point where she could achieve her lifelong dream of owning a home. When the transaction hit a snag, we worked overtime together to figure out how to overcome it and when we eventually closed and she got the keys, her relief and joy literally brought me to tears."
A huge Seahawks fan, Jacson loves to watch and play sports in his free time. He's fascinated by human excellence, which is especially apparent at the highest level of athletic competition. He writes for Field Gulls, a Seahawks news and analysis site, and is the creator and podcast host of Seahawks Cigar Thoughts. When he's not closing deals and soaking up sports, Jacson loves spending time with his wife and family.
Sponsored