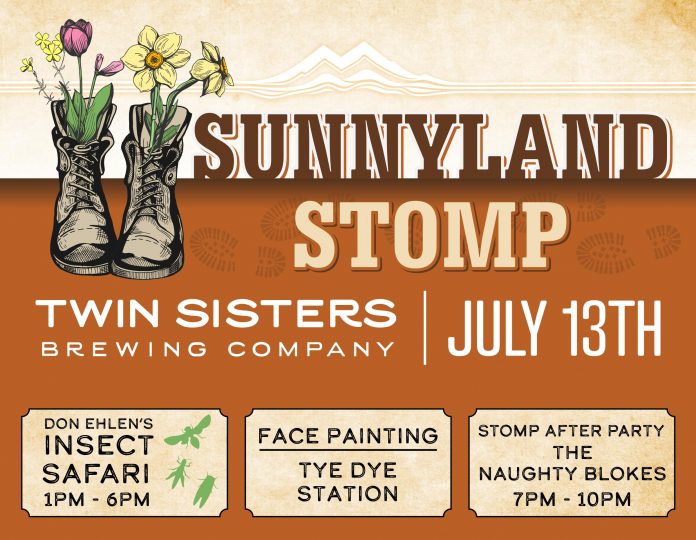 When:
2019-07-13T00:00:00-07:00
2019-07-14T00:00:00-07:00
Where:
Twin Sisters Brewing Company
500 Carolina Street
Contact:
Twin Sisters Brewing Company
360-922-6700
Get ready for the Sunnyland STOMP at Twin Sisters Brewing Company! We've got fun things happening all day long with a little something for everyone:
1. Brunch!
– It's never a good idea to STOMP on an empty stomach. Omelet station, Stein-mosas, and The Beast, oh my!
– We start up at 10am and brunch is served 'til 2pm
2. Summer BBQ!
– We'll have the outdoor grills firing and plenty of yummy eats including burgers, dogs, and vegetarian options
– We start up at 2pm and serve 'til we run out!
3. Don Ehlen's Insect Safari supporting Common Threads Farm! (1pm – 6pm)
– Renowned entomologist Don Ehlen will be on hand to share his amazing collection of over 2,000 live (and not-so-alive!) specimens from around the world! These aren't your average backyard ladybugs and bumblebees…come see for yourself!
– Face-Painting by Common Threads Farm
– Suggested donation of $10 per adult to support Common Threads cooking and gardening programs
4. Tye Dye Station!
– Grab a Bellingham Beer Garden tee for $5 and put some color on it
– Available to take in a bag wet OR come back to pick it up later in the day when it's dry
5. STOMP After Party!
– Live music from Sunnyland's own The Naughty Blokes!
– Music starts at 7pm and goes 'til 10pm
All events are free to attend and open to all ages!