Since originating as four towns over 100 years ago, Bellingham has developed a storied history. Many such stories are documented by historical markers: signs, stones, and plaques posted where formative events took place. The Historical Marker Database, a prominent online reference guide, has nearly 30 entries in Bellingham.
Touring Bellingham's historical markers reveals different areas' personalities. Readers can rediscover pioneer pride at the northern city limits, commercial buzz downtown, and wild west charm and maritime industry in Fairhaven.
North Bellingham
The State Parks Commission erected one of Bellingham's largest historical signs at Telegraph Road by the Guide Meridian. The sign describes how "Old Telegraph Road" originated along an 1865-1867 telegraph line leading northward to Alaska and British Columbia. Western Union Telegraph Company planned to "connect New York with London via the Bering Strait Cable" through Russia but quickly replaced this line with other services.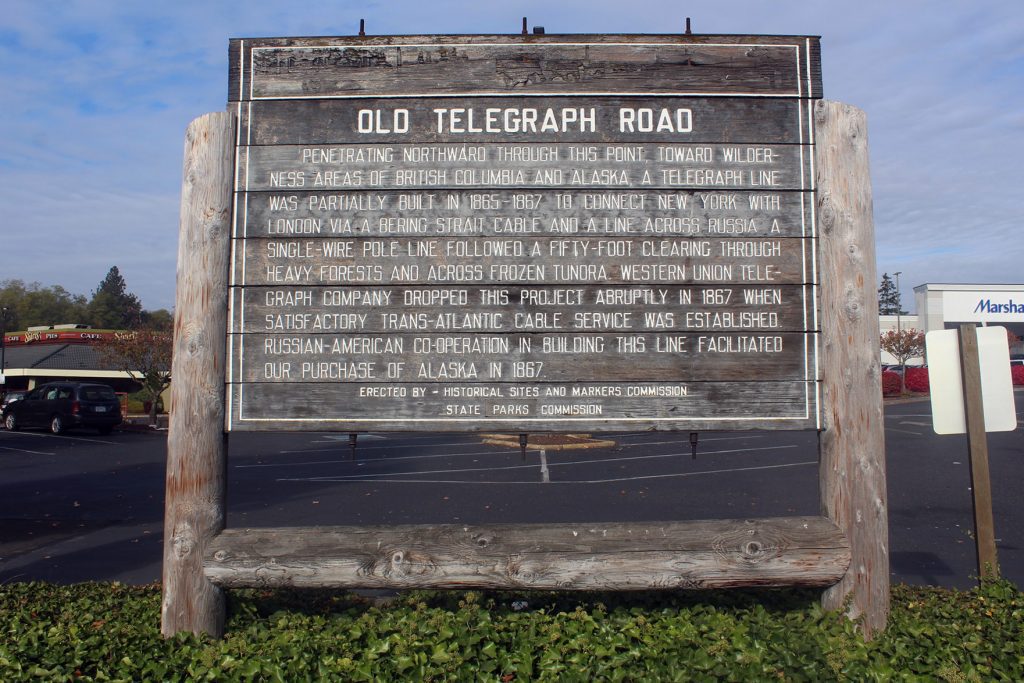 Above Whatcom Creek on Dupont Street, the Daughters of the American Revolution's sign for Pickett Bridge reads: "First built in 1857 as a Military Bridge by Captain George E. Pickett." This U.S. Army Captain and later Confederate Army General built Bellingham's oldest building at 910 Bancroft Street in 1856. The Daughters of the Pioneers of Washington run Pickett House as a museum today.
Washington Territorial Courthouse (1308 E Street) has markers commemorating its status as Washington's oldest brick building. The 1858 structure, built from Philadelphia bricks during the Fraser River Gold Rush, started as T.G. Richards and Company Store and became a courthouse from 1863 to 1891.
One sign commemorates the Dawn Redwood at Whatcom County Courthouse (311 Grand Avenue). This tree is one of the largest living specimens in the country, planted with seeds from China. Horticulturists believed the prehistoric species to be extinct until finding living specimens there.
Downtown Bellingham
The City of Bellingham has installed "City Info" kiosks downtown. One between West Champion Street and Bay Street describes the history of the downtown commercial hub and performance theater. In 1905, Bellingham's commercial hub hosted over 300 businesses — including antiquated trades such as "bazaars, dyeworks, haberdashers and bottling works." Bellingham's early performance theaters included opera houses, vaudeville shows, and multiple other entertainment houses. Only Mount Baker Theatre and Bellingham Theatre Guild survive today.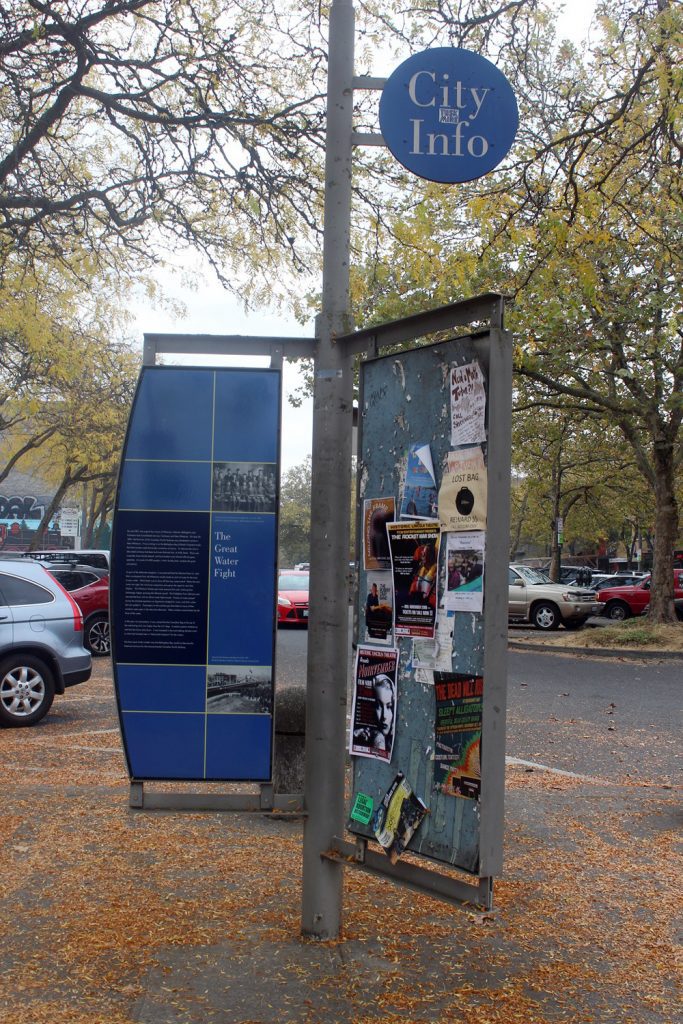 The kiosk at Cornwall Avenue by East Holly Street describes Bellingham's streetcars and Tulip Festival. From 1891 through 1938, Bellingham's streetcar system would span 14 miles through the waterfronts and neighborhoods until discontinuation. Bellingham's Tulip Festival took place throughout the 1920s, attracting over 60,000 visitors to parades and fields of over 100,000 bulbs planted per year. The 1929 stock market crash ended festivities until 1947 brought the Blossom Time Parade, which now commemorates Ski to Sea.
At East Magnolia Avenue and Railroad Avenue, a kiosk describes Bellingham Public Market and the Great Water Fight. Bellingham Public Market started in 1909, attracting merchants from the San Juan islands and stimulating the commercial district's growth around it for decades. The "Great Water Fight" was a welcoming celebration gone awry for the Canadian Pacific Railway in 1891. Rival firefighters tasked with creating a water arch instead sprayed each other, drenching passengers and Bellingham's hopes for a transcontinental railroad terminus.
Fairhaven
Fairhaven has over 50 historical markers along Harris Avenue. Publisher and historian Tyrone Tillson started installing these stone plaques with a community grant for Fairhaven Historic Association in 1988. These commemorate regional history from 2,800 years ago to the 1900s. The Historical Marker Database documents the markers on Mark Twain's 1895 visit, the 1905 counterfeiters' hideout, and the 1890 town pillory.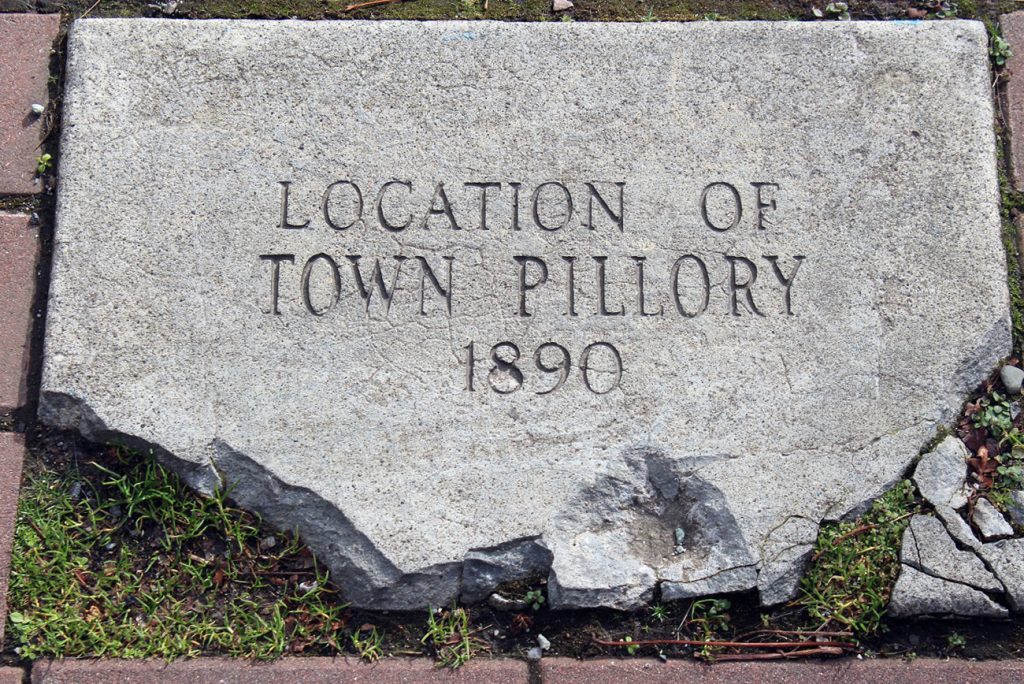 Other markers commemorate local benefactors. The Judson Plaza is dedicated to Phoebe Goodell Judson, the "Mother of Lynden" who named it in 1871. A bust of Charles X. Larrabee in McKenzie Alley describes his many donations and business ventures. He deeded the land for Fairhaven Library in 1904, commemorated with its own 2004 centennial plaque by Friends of Fairhaven Library.
The Port of Bellingham displays many interpretive signs at Bellingham Cruise Terminal (355 Harris Avenue). These describe early Bellingham Bay and Fairhaven, original Lummi inhabitants, Pacific American Fisheries, Commercial Point shipyard, Northwest Shipbuilding Company, and the Schooner Zodiac. Pacific American Fisheries, once the world's largest salmon cannery, operated from 1899 to 1966 — building Commercial Point Shipyard in 1916 and leasing it to Northwest Shipbuilding Company in 1942 to 1944. The Schooner Zodiac is a 1924 vessel that visitors can still book for a sail today.
Outside the ferry terminal, Port and Bellingham Railway Museum signs commemorate Fairhaven's former Great Northern Railway station and living 1909 empress tree from Pacific American Fisheries. Other Railway Museum markers describe the Puget Sound Sawmills and Shingle Company (Harris and 8th) and Fairhaven Canning Company, source of the "tin rock" at present-day Boulevard Park. City signs describe how community efforts and Parks and Recreation Department director Byron Elmendorf helped build Boulevard Park by 1980.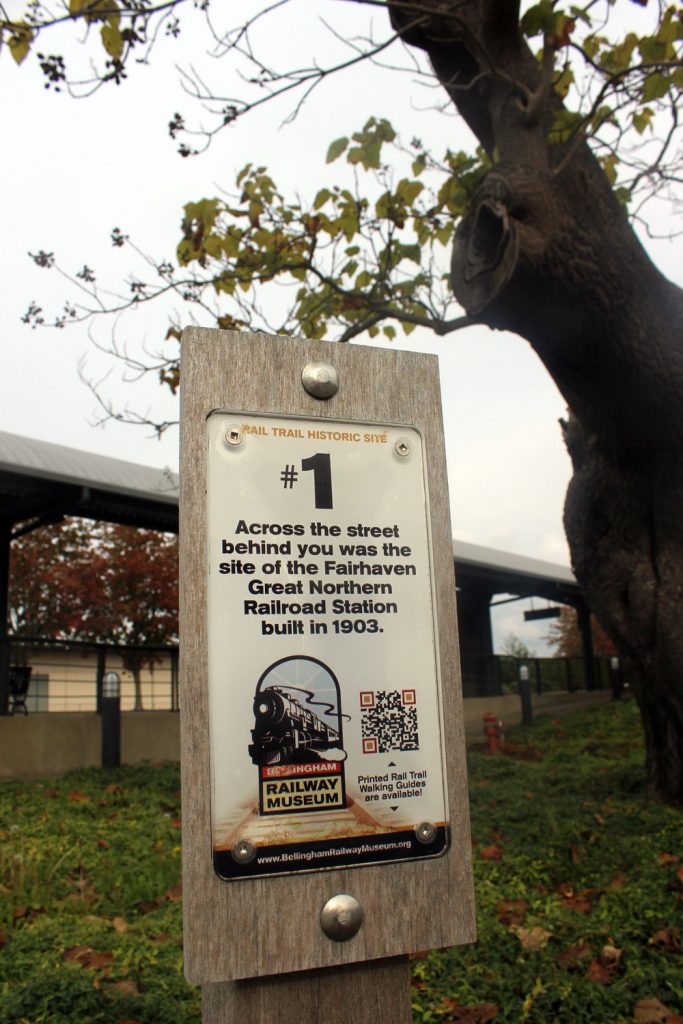 The "Daylighting Padden Creek" sign on Old Fairhaven Parkway near 20th Street describes how the City of Bellingham rerouted the creek in 2015. It had been diverted underground in the 1890s to accommodate the Great Northern Railroad, which never arrived.
Many more historical markers await discovery in Bellingham's significant buildings and parks.