Winterhawk Leighton admits to being reluctant to the change at first.
Graduation had gutted the offensive line at Ferndale High School. The Golden Eagles had evolved into one of the state's storied programs over the past two decades due largely to their traditionally dominating ground attack.
When you saw Ferndale was on your schedule you knew you were in for a physical game, and the boys up front were the main reason for that.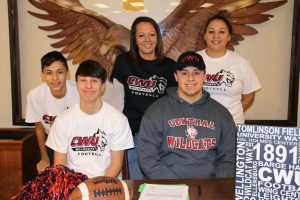 But last summer was different for coach Jamie Plenkovich and his staff. Usually, the only holes they were used to seeing were the exceptionally large ones the offensive linemen had constantly opened up for the Ferndale running backs to scamper through over the years.
Heading into last season, unfortunately, the line itself was littered with holes needing to be filled.
Enter Leighton – the team's starting tight end the previous two seasons.
An athletic specimen at 6-foot-4 and 260 pounds, Leighton was the prime candidate to make the move into the trenches.
"At first I wasn't sure about it," Leighton said about the transition, "but I'd do anything for this team."
Leighton, however, didn't just fill a void. He excelled at the new position, earning first-team all-WESCO and all-county honors while leading the Golden Eagles back to the state playoffs for the first time since 2012.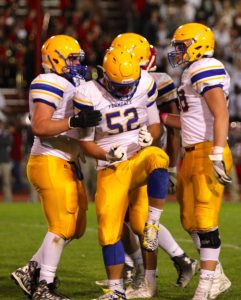 "It's asking a lot out of someone to go from catching the ball to playing the interior line," Plenkovich said, "but Winterhawk is a team-first guy and was always willing to make sacrifices for the benefit of the team. I think that shows how much character and leadership skills he possesses. He was one of the key reasons for us success last year."
It was a year of redemption for Leighton and his fellow seniors – many of which started two years ago as sophomores – this past football season.
It was baptism by fire for Leighton and his young teammates two years ago as they limped to a 3-6 record – the program's first non-winning season in more than 20 years.
"That sophomore season was a tough year for everyone," Leighton said, "but it definitely served as our motivation."
As a junior Leighton helped the Golden Eagles rebound dramatically as they went 7-4 and advanced to the district round of the playoffs.
This past season, with Leighton paving the way on offense and causing all sorts of headaches for the opposition from his defensive line position, Ferndale finished with a record of 9-2.
Against Capital in a 35-7 district playoff victory, Leighton was a force on defense, basically being unblockable at times.
The Golden Eagles saw their stellar season come to an end in a first round state playoff loss to eventual 3A champion O'Dea. Leighton's play on the offensive line was instrumental in the team's success as he helped Ferndale produce a pair of 1,000-yard rushers in Ben Broselle and Cole Semu.
"All I've ever wanted to do with wear that yellow helmet," Leighton said. "I've loved everything about this program. It has such a great tradition. The list of former players is incredible. The coaches are incredible. I just wanted to be a part of it. This last year meant a lot for the seniors because we felt like we returned Ferndale football to where to belongs."
Even though he hanged up the much-desired yellow helmet, Leighton's gridiron days are far from over as he will play next season at Central Washington University.
CWU coaches first got a glimpse of Leighton during the Wildcats' summer camp. Their initial interest in him was as a defensive lineman, but now envision him remaining on the offensive line.
"It's going to be a challenge, but I am really looking forward to it," Leighton said. "I am going to go from Wing-T blocking to zone blocking so I still have a lot to learn."
It's a learning curve, however, Plenkovich believes his former standout will have no issue overcoming.
"Central Washington University is getting a great individual, and I'm not even talking the football side of things. He's just a neat kid," Plenkovich said. "He is going to be a great presence for them in the locker room. Moving on to that next level is a big step for everyone, but he's a player who will put in the work that's needed and do what's asked from him, and provide leadership."
Leighton, who is a member of the Lummi Nation, selected Central Washington over several other colleges, including the University of Idaho.
"My mom's side of the family is here, and my dad's side of the family is in Idaho. Ellensburg is right in the middle. So I'm halfway to both," Leighton said. "I'm always going to be involved with my Ferndale family and my Lummi family, even all the way down in Ellensburg."
Right now Leighton's spare time outside of school consists of two things – running and lifting as he preps for the next stage of his football career.
"I'm just trying to get stronger and work on my cardio," Leighton said. "I'm excited. Central felt like a great fit for me the first time I was there. I just want to do everything I can to get ready for that."