Anyone who's driven onto Semiahmoo Spit knows it's a special spot. There are majestic vistas in every direction — Mount Constitution on Orcas Island to the south, Mount Baker to the east, and the Canadian Coastal Range straight north, with the lapping waves of Drayton Harbor on one side, Semiahmoo Bay on the other.
Boats moored at Semiahmoo Marina are enveloped by these breathtaking views.
Doug Romano has been Semiahmoo Marina's harbormaster for six years and has kept his boat at the Marina for 13 years.
"Our customer is anybody with a boat," Romano says with a chuckle. For folks who moor their boats in other area marinas, the price difference at Semiahmoo Marina can be pleasingly shocking.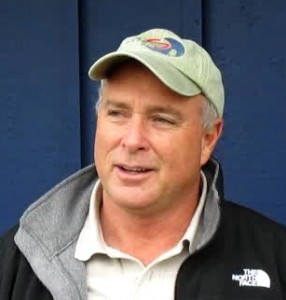 "This is a great place at a great value," Romano continues. "Our moorage rates are extremely affordable; lower than our competition next door and in Bellingham."
And unlike most other marinas, Semiahmoo Marina offers condominium slips as well as rentals, meaning boaters can control their own property and watch its value appreciate.
"The cost to purchase a slip here is exceptionally low, probably four times less than Anacortes, which is the next place south you can purchase a slip."
And Romano is quick to point out that slips across the border in Canada can cost 20 times as much — if you can find one available. Semiahmoo Marina is home to a mix of Canadian and U.S. boat owners.
Aside from its great value, why else would someone choose Semiahmoo Marina over others?
"We're a resort-style marina," says Romano, who describes other area marinas as places to simply store your boat.
Semiahmoo Marina is meant to also be a place to hang out. "It's got a strong community feel," Romano says. "You get to know everybody."
Amenities include a bathhouse with laundry area and free showers. The marina's café was recently remodeled and redecorated. Even on a gray day, it's a bright, welcoming place to grab a cup of coffee, breakfast or lunch.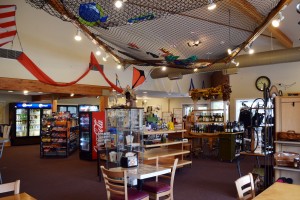 From breakfast sandwiches, waffles or biscuits and gravy to an array of hot sandwiches, soup and more, the café has plenty to offer hungry visitors.
The store includes select groceries, wine, boating supplies and much more, including Semiahmoo Marina-wear and lovely gift items — many of which are made by local artists and jewelry makers. You'll even find folding bicycles. "We do it all," Romano says, smiling. "These fold up nicely for boats; I have two of them myself."
Another perk of parking a boat at Semiahmoo Marina is its proximity to the fantastic, renovated Semiahmoo Resort. "People can walk just steps away and sit in a pub, get a nice meal or enjoy waterside dining," Romano adds.
During the off-season, Semiahmoo Marina is home to around 10 boaters who live aboard their vessels. That number triples in the summer.
Warmer weather also means lots of outdoor congregating.
"This patio area and its fire pit is used in the spring and summer for barbecues and parties," Romano says, "and we have a band that plays on Friday nights. It's a really comfortable atmosphere."
Harbormaster Romano and his team's job is to keep the marina and its occupants safe and to make sure the boats are in their slips.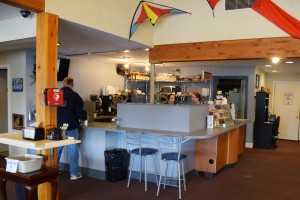 "We're constantly checking boats," Romano says. "Prior to storms, we make sure everyone's boat is tied up correctly."
The marina also has a boat watch program where, for a fee, Romano and his staff will keep a scheduled eye on any vessel, going aboard and making sure it has power, that the heat's on, the bilges are dry, and so on.
It means priceless peace of mind for the boater who, for example, winters in Palm Springs.
Folks who bought their slips when the marina was built in 1981 are now of an age that is beginning to move out of boating. Romano is looking for new, younger boaters to come take advantage of the fantastic value of Semiahmoo Marina — and its stunning views.
"We're looking for someone who's excited about boating and likes to use their boat," he says. "They want to be in a pleasant place; not just a storage yard, but a marina with a nice view and friendly staff."
Romano knows firsthand that Semiahmoo Marina is a wonderful place to live.
"I've lived on and off my boat for the past 13 years," he says. "I'm a kayaker and a paddle boarder — that's one of the reasons I fell into this, because I just love being here."
The harbormaster's office sits high above the café and store building with sweeping 360-degree views of the marina.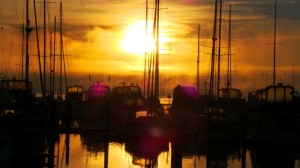 "I can see boats coming and going, and who's at the fuel dock," Romano says. "I can see if somebody needs help coming in and then radio one of the team to let them know."
Romano is clearly proud of all Semiahmoo Marina offers. "On top of being a beautiful marina, this is one of the nicest anchorages," he says. "It's just incredible. You can get the sunrise and the sunset all in the same day without ever moving your boat."
Over the past seven years, Semiahmoo Marina has spent $2.5 million on renovations and operates on a long-range, phased maintenance plan to stay ahead of repairs.
"We take small chunks of the marina at a time and do total replacement projects," Romano explains.
But these regular repairs don't mean excessive or surprise condominium association dues. "We have small dues," Romano explains, "equal to $5 per lineal foot of the slip ."
The intent is that every time someone returns to the marina after being gone — even if just for a few weeks — they see upgrades, from a new menu board at the café or electronic media board at the marina gate. The latest addition to the marina is a gorgeous stainless steel gate, complete with the marina's logo cut into the design.
"The person who wasn't here for several months, they're going to come back and see all this cool stuff."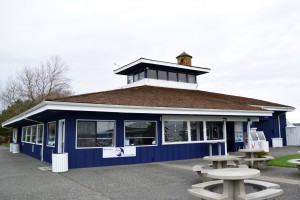 To learn more about buying or leasing a slip at Semiahmoo Marina, visit Semiahmoo Marina's website, and then stop by the marina office Monday through Saturday between 9:00 a.m. and 5:00 p.m. to arrange moorage.
Semiahmoo Marina
9540 Semiahmoo Pkwy
Blaine, WA 98230
360-371-0440
semiahmoomarina.com
Sponsored