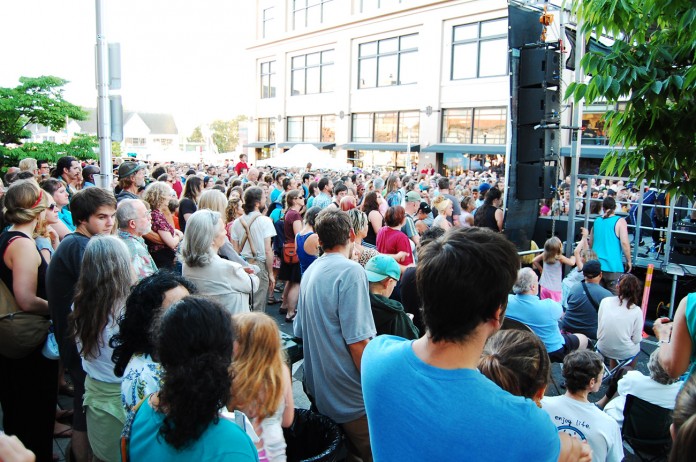 By Stacee Sledge

Summertime is finally upon us! For many, that means kids who hang around and complain of having nothing to do. (Oh, how wrong they are—who wants to do some yard work?) For others, it simply means the consistently beaming sunshine is beckoning us to play hooky.
WhatcomTalk has pulled together a list of 30 family-friendly things to do—for free!—this summer in Bellingham and around Whatcom County. How many can you check off your summer bucket list?
Grab your bikes and hit any of Bellingham's area trails. You can also try your hand at the Bellingham Dirt Jump Park, designed for riders at all skill levels.
Tour the original Hovander House at Hovander Homestead Park, Fridays to Sundays, 12:30 to 4:30 p.m., through Labor Day.
The Marine Life Center is open seven days a week, teaching kids about marine life and habitat in Bellingham Bay—and letting them explore through the terrific touch pool.
Downtown Sounds hits Bellingham's Arts District each Wednesday evening from July 1 through July 29, with a great line-up of free, family-friendly live music. This year's artists include Third World, Acorn Project, Polecat, Ayron Jones and The Way, and Five Alarm Funk.
Whatcom County is chock full of fabulous farmers markets. Take the kids and stroll through the Bellingham Farmers Market, Bellingham Farmers Wednesday Market in Fairhaven, Ferndale Public Market, Lummi Island Farmers Market, Blaine Gardeners Market, and Lynden Farmers Market.
After you've hit one of the markets, pick from our area's plethora of parks and plan a picnic. Or perhaps think outside the usual picnic box and throw a camping breakfast or a dinner under the stars.
Wander around Sehome Arboretum. Walk the trails and through the tunnel, and then climb the observation tower for spectacular water and city views.
Stroll the boardwalk from Boulevard Park to Taylor Dock, taking a break to throw rocks into the bay. Want to keep on walking? Continue down the trail to Fairhaven and let the kids run loose around the Village Green, followed by a bit of browsing at Village Books and Paper Dreams.
Head to the Family Interactive Gallery at Whatcom Museum—yes, for free!—by reserving a pass through the Bellingham Public Library.
Speaking of the Bellingham Public Library: It always has a slew of spectacular, kid-friendly events on its calendar, from crafts and games to movie matinees and story times.
Go fish! Cast your fishing line into Derby Pond in Whatcom Falls Park—it's free for kids 14 and under. And don't forget to peek in at the fish hatchery while you're there.
Haggen again will partner with the Port of Bellingham and the Bellingham/Whatcom Chamber of Commerce for the 15th annual Haggen Family 4th of July celebration at Zuanich Park and the Squalicum Boathouse.
The family-friendly Bellingham Pride parade floats through downtown Bellingham on Sunday, July 12 along Cornwall Avenue.
Let's go fly a kite. Zuanich Park is the perfect place for kites, and littler ones can also enjoy the playground equipment. Everyone will appreciate a stroll around the marina with its beautiful boats.
Celebrate the 120th annual Whatcom Old Settlers Picnic at Pioneer Park in Ferndale, July 23–26, with parades, a car show, live music, fun runs, and more.
Go in search of as many Little Free Libraries as you can find—they're popping up in lots of different neighborhoods. Take a tome, and leave one behind.
When the temperatures soar, cool off at the Cornwall or Fairhaven spray parks, open from 1:00 p.m. to 7:00 p.m. daily (beginning mid-June) through Labor Day. You can also get your toes wet at the water feature in front of the Barkley Village Gazebo.
Enjoy outdoor music concerts at Maritime Heritage Park, Boulevard Park, Elizabeth Park, and Woodstock Farm.
Cool off by jumping into Lake Padden, Lake Samish, or Lake Whatcom. Area watering holes bring sweet relief on those sizzling summer days.
Plan a backyard camping trip—little ones love it. Pitch the tent on your own lawn—that way, when you need more marshmallows or nature calls in the middle of the night, the comforts of home are just a couple steps away.
Have you explored the newly improved Squalicum Creek Park yet? See who can zing down the zip line the most times.
Peruse our list of twelve family-friendly Whatcom walks and hikes, and then lace up those shoes and hit some trails.
Downtown's Art Walk happens the first Friday of each month throughout the year, but there's something extra special about hitting it in the summer months.
Visit any of our area state parks for free on August 25 in honor of National Park Service's 99

th

 birthday.
Three of the four local beaches we discuss in this article require no Discover Pass—and all of them are perfect for exploring as a family.
The Ferndale Public Library offers tons of fun, free programs over the summer for kids and teens, from watching and discussing anime and Minecraft to building paper airplanes and a spaceship with a former astronaut.
Tour the wonderful outdoor sculpture collection spread across Western Washington University's campus. You'll also find fantastic outdoor sculptures scattered through downtown Bellingham and Fairhaven—and don't forget Big Rock Garden!
Find an elementary school playground you've never been to and let the kids run loose in a new-to-them space.
Take a (stupendously gorgeous) drive. Make your way down to the Skagit Valley and back along cliff-hugging Chuckanut Drive (also known as Washington State Route 11). You'll enjoy one of the most breathtaking stretches of scenery-drenched highways to be had and can stop at one of several pullouts to take in the stunning island views—and a selfie of the whole family.
I'd argue that you'd find no sunsets more beautiful than those that dip down over Bellingham Bay each summer evening. Watch the sun spectacularly slip below the horizon from any of our gorgeous waterside parks or from the Alabama Street Overpass along the Railroad Trail.
Awesome options abound for fabulous, free, family-friendly activities all across Whatcom County. If you have a favorite we didn't include on our list, please drop us a line at submit@whatcomtalk.com and tell us about it. Happy summertime adventuring, Whatcom County!