By Laura Rogers

Spectacular natural attractions are everywhere you look in Whatcom County. But our beaches don't always get the spotlight in the way that Baker or Galbraith or the Chuckanuts do. What's the key to falling in love with rough-around-the-edges Whatcom beaches, you might ask? Answer: Just go. Once there, the tide pools, the climbing rocks, the views, (in many cases) the solitude, and the wind in your hair will easily win you over. Also, as a parent, I have to say, kids are crazy over beaches. They don't care if it's cold and muddy and there is seaweed stuck to their legs. Give them some buckets and shovels, have them catch a tiny crab or two, and you're golden.
One of the most remarkable things about Whatcom beaches is simply their proximity. I can get a sudden beach-hankering and be at Locust in five minutes. And all of my favorite beaches are less than 20 minutes away. If you are curious about the beaches around this beautiful place, make yourself a beach calendar and hit one every weekend, or take a beach happy hour after work once a week. You won't regret it. And, bonus, most of them are free!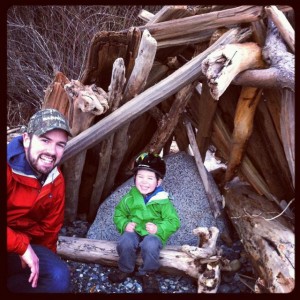 Point Whitehorn – This place is truly magical. I was delighted to discover this relatively new North County beach several years ago when my daughter was tiny. We would head out for the better part of the day, and take our time; my six month old tied to my back, my 2-year-old on his Strider bike. The trail is short – 3/4 of a mile, and flat. It's forested and marshy and beautiful with quite a few boardwalks scattered throughout the hike.
When the trail ends, there's a short downhill section to the beach. Emerging onto the expansive beach with island views and dramatic cliff-faces is breathtaking and delicious. Kids will quickly locate all the driftwood – for climbing on, fort building, and….well, you name it. The beach is rocky, but the pristine beauty of the spot more than makes up for it.
Georgia Straight and Vancouver Island are the natural landmarks you'll see straight ahead and there are about two miles of picturesque beach to be explored. Many times, we even had the beach to ourselves.
Details: No pass needed, ample parking, porta-potty
Directions: From I-5 North, go to the Grandview Exit, head West on Grandview until you're almost to the water. Parking area and signage for Point Whitehorn are on your left.
Locust Beach – Locust is an easy favorite in my book. Located just three miles from downtown Bellingham, this beach is a hidden gem. The key to Locust is to watch the tides. Check out the app TideTrac, and visit on a low tide. The resulting beach is something out of a fairytale or a moonwalk. It feels other-worldly. At low-tide the water recedes and leaves a shimmering, ripply, smooth-sand-mud surface to walk across. Without knowing better, you'd think the beachcombers here were walking on water. It's possible to walk out for what feels like a mile. This effect is due to the area being part of the Nooksack River Delta.
Kids have a ball running around out there and usually can't resist slinging a little mud. Also, because of the abundance of calm, shallow water at the beach, skimboarders can be seen practicing their stunts nearly every time we go. Up on the beach near the trees and pilings, hammacks are usually out and the college set usually present, but families are there too. The hike to the beach is another easy one: maybe 1/4 of a mile down the trail, including some stairs. Locust is a must-play beach.
Details: No pass needed, limited street parking, no bathroom
Directions: Follow Holly Street to Marine Drive, continue 3 miles to just past Pack-a-Nut and turn left on Locust Ave. Park on the street and heed the parking signage. Walk under the railroad tracks and go right down the trail.
Larrabee Beach – Playing at the state park isn't complete without a walk down to Larrabee Beach and Samish Bay. This is another very compact, kid-friendly hike to the beach. Are you sensing a theme? There is a play structure, grassy romping zone, amphitheater, tunnel, and beach with tide pools, all within a quarter mile of the parking lot.
Once you're on the beach, there is usually a lot to see. The little cove is full of life. I've never been there and not seen a great blue heron hanging out on the rocks. The tide pools are full of tiny crabs and other discover-ables. And, there are, more often than not, kayakers putting in or arriving back. Rock-climbers can even be seen scaling the cliffs, using their ropes and harnesses.
If you want to do more than a simple trip to the beach, there are a lot of options. Many trails take off from Larrabee and there's camping, fishing, crabbing, and clamming. It's a hub of adventure!
Details: Discover Pass required – $10 for a day pass, $30 for an annual pass. Bathrooms, playground located on site.
Directions: Take Chuckanut Drive (Hwy 11) South about 9 miles from downtown Bellingham, and look for signs to Larrabee State Park.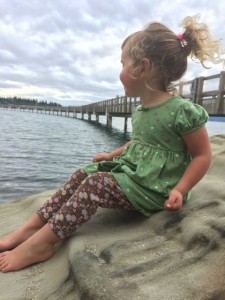 Boulevard and Taylor Dock – This one might feel like a no-brainer to locals, but there are multiple small beaches around the docks that are a little more out of the way than the main attraction.
I like to go to the first beach (if coming from Fairhaven) that is kind of tucked under Taylor dock. It's a small, quiet beach on Bellingham Bay with some outstanding sandstone climbing rocks, and a gorgeous view of Taylor Dock and the islands. It's another easy walk, starting either from Taylor Dock parking area or Boulevard Park. We usually bring a couple buckets and shovels for digging, and a picnic.
If you're feeling adventurous, it's easy to continue down the dock to more beaches. There's the large beach at Boulevard Park, or another small, less-popular, broken-up-shell covered beach toward the north end of the park. Note to parents: Always keep an eye out for the very-nearby railroad tracks.
Details: Free parking, bathrooms, coffee shop, playground.
Directions: Take State Street south from downtown Bellingham. Turn right on Bayview Drive. Take another quick left on State Street, continue onto 10th street and park near the Chrysalis Inn to access Taylor Dock.