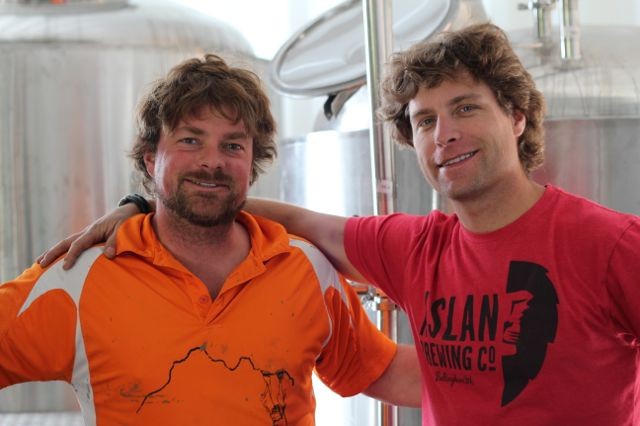 By Laura Rogers
Bellingham is loaded with fantastic breweries. Locals know how Kulshan struck gold a few years ago with their James Street brewery, Boundary and Chuckanut are trusted Bellingham mainstays, and last year we welcomed Aslan Brewing and Wander Brewing. It's almost hard to believe there is room for more breweries in our fair city. I said almost. If there's one thing locals here know how to do well, it's how to gather over a pint with friends. And so the brewery machine is full steam ahead in 2015, with four more slated to open this year. What a delicious year it will be!
If a brewery was ever designed to fit right into the Fairhaven scene, Stones Throw Brewing Company is the one. The brewery's residential-style setup and creative use of small space will make their patrons and neighbors alike, feel right at home. Billing itself as "The Closest Pint to Adventure," Stones Throw has the added advantage of being the only Bellingham brewery (of nine!) located in Fairhaven.
Sitting unassumingly on a mostly residential street, the new brewery has a modest entrance, but a crazy-cool design out back. The production area, beer storage tanks, and even the bathrooms will all be housed in large shipping containers. What's more, the containers are stacked, and the top of one container will function as a rooftop patio. The quaint taproom (a revamped two car garage) and a sunny beer garden will sit out front. Behind the taproom there will be steps going down to the tree-lined backyard beer garden, complete with fire pit. When it comes to seating, there will be a bevy of options.
Operating a business out of shipping containers may be new to Bellingham, but there are others doing it. Starbucks, for one, has a coffee shop made from shipping containers in Ballard. Stones Throw owners even consulted with them when taking on the idea. Portable buildings are not the only unique part of their building process. They are also employing sustainable practices such as installing radiant floor heat in the taproom, which will be warmed by expelled heat from the beer coolers. Keeping the beer cold is going to keep the taproom warm.
Co-owner Tony Luciano is looking forward to their official opening in June or July. Like a lot of new breweries, they plan to start with the basics and the favorites. He says they'll be "focusing on easy-drinking beers and not too many choices. Things like porters, stouts, IPA's, pale ales, and blondes will be here, but I'm open to doing specialty beers. The clients will dictate what stays and what goes and what's coming in. We will build it and just watch it evolve."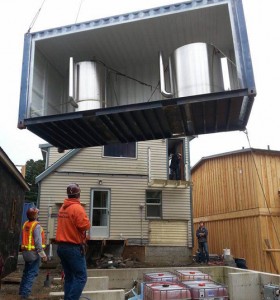 Stones Throw is looking to offer food from Fairhaven eateries at the brewery. With the theme of keeping it simple and building a friendly neighborhood vibe, they will have basic bar food available like soft pretzels and pizza by the slice, but with a locavore twist. The bar food will be brought in from "places such as Mount Bakery, Fairhaven Pizza, or Pizzazza. Maybe even a mac and cheese option from Mambo to keep the kids happy."
There will also be ginger ale and root beer for the younger set. Tony and co-owner Jack Pflueger also have plans for neighborhood barbecues and potlucks in the works. "We've lived here for a while now and really want to be a part of the Fairhaven community."
Tony began brewing in 1998 after meeting the owner of what was then the Whatcom Brewery, on a ferry to Alaska. He joined him in brewing and learned rather quickly, brewing 10 kegs at a time. A serendipitous twist came when Tony began studying organic chemistry at Western. "The teacher was explaining all the enzymes and chemical reactions and I was like, 'hey, those are things I read about in my beer books – will you explain it?' He did, and my beer got pretty good." He's been making beer ever since, and a few years ago realized Fairhaven was his spot to make the dream a reality. "All the trails are here.  It's where I go crabbing, kayaking, and now, plan to run a brewery."
People can stay current with Stones Throw happenings by going to their website and signing up for their email list. They will contact those on the list about a few soft opening parties, and people can also follow them on Facebook.
Subdued Brewing Company is just getting off the ground.  K2, Kulshan's second location at 1538 Kentucky Ave. and Gruff Brewing at 104 E Maple downtown Bellingham both plan to open this year as well. A two kilometer race called K2K, which will run from Kulshan's first location to it's new location, is planned for June 28.